Winter Break Camps for Los Angeles Kids on School Vacation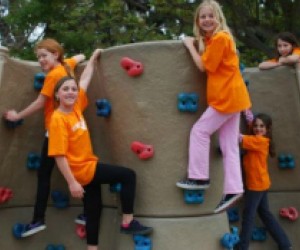 The holidays bring so many kinds of seasonal fun for families to enjoy and form memories - parades, fireworks, ice skating, family drives to see Christmas lights - and a winter break to fit them all in. There's just one little thing about that winter break: there's no school. None at all. And as much as we love having our kids with us all the time, that doesn't mean we want our kids with us all the time! If winter break poses logistical problems - or even just sanity problems - for your family, time to find a camp. How about one of the 10 camps below? Or check some of the other camps listed in our camp guide to see if your favorite summer camp has a winter vacation plan!
Broadway Gymnastic School
5433 Beethoven Street
Los Angeles, CA 90066
310.302.0035
9am-3pm (before & after care available)
Ages 3.5-11
Broadway Gymnastics has been around a while, and its camps get great parent reviews on both fun factor and value for money. New students are invited to attend one free class before camp to help things feel familiar on the first day of camp.
Creative Space
11916 W. Pico Blvd.
LA, CA 90064
310.231.7600
9am-2pm
Ages 3-8
Creative Space is holding winter break camp for the younger set at its main studio on Pico. Every day has a different theme, such as safari surfers, animal adventures, hula hangout, pajama party, and dinosaur dig.
Enterprise Farms
3919 Rigali Ave.
Los Angeles, CA 90039
323.665.8977
9pm-4pm
Ages 6+
Horseback riding, games, arts, and crafts - doesn't that about sum up all a kid could want from a camp? Enterprise Farms offers a fun-filled, horse-filled winter break program right in the heart of LA - just east of Griffith Park, at the Paddock Riding Club.
Prime Time Sports Camp
Daniel Webster Middle School
11330 West Graham Place
Los Angeles, CA 90064
310.288.4132
9:30am-3:30pm (extended care available)
Ages 4-14
Prime Time is a great day camp for sports fanatics, offering a holiday camp that covers a variety of different sports run by a team of coaches, educators, and sports pros. Focus is on building self-esteem and confidence while training kids in more than ten different team sports.

Robotics and Things
Sumac Elementary School
6050 North Calmfield Ave.
Agoura, CA 91301
805.660.1809
9am-3:30pm
Ages 7-14
A camp that is bigger on quality than quantity, Robotics and Things is offering only three days of winter break camp, but those days are filled with hands-on educational experiences. Kids who fantasize about building robots can live out their fantasies, applying science, math, and engineering principles to intricate robotics kits that leave Legos (much as we love them) in the dust.
Smart Space
Culver West Alexander Park Recreation Room
4162 Wade St., Culver City, CA 90232
+ two other locations
310.399.0137
Mon-Fri 9am-2pm
Ages 5-12
Smart Space is classic arts camp at its best, with locations in Culver City, Beverly Hills, and Santa Monica during the Winter Break. Local residents in each community are eligible for discounts.
Studio LOL
11634 Ventura Blvd
Studio City, CA 91604
818.660.3460
9am-2pm
Ages 7-13
Winter break ought to be a laugh, right? Camp at Studio LOL offers kids a chance to focus on building confidence, communication, and performance skills through improv, sketch comedy, and working to find the "funny" in their daily lives.
Super Soccer Stars
Clover Park
2600 Ocean Park Boulevard
Santa Monica, CA 90405
310.458.2239
9am-12pm
Ages 6-12
If bending it like Beckham is what puts smiles on your kid's face, then Super Soccer Stars is the way to go. It's only a half day of camp, but kids can kick out a whole day of energy in that time.
Tom Sawyer Camp
Aveson Charter School
1919 E. Pinecrest Drive
Altadena, CA 91001
626.794.1156
8am-6pm
Ages 4-14
Although Tom Sawyer Camp's winter break camp says that it takes place at Aveson Charter School, the action-packed schedule implies otherwise; daily field trips include great destinations like Danny's Farm Petting Zoo, La Brea Tar Pits, and Griffith Park Observatory. No kid, not even Tom Sawyer, could get bored at this camp.
Unincorporated Education
8377 W. Third Street
Los Angeles, CA 90048
323.655.0515
Mon-Fri 9:30am-2:30pm
Ages 7-14
The studio formerly known as Hands-on Third offers its popular Project Funway camp, where kids learn to sew, re-purpose, design, and create fashion items. The fun culminates in a fashion show for friends and family.