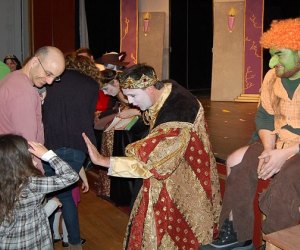 New Jersey Theater Alliance Stages Festival: Your Guide to Kid-Friendly Shows
If you'd like to introduce your kids to the magic of theater, check out the performances and theater-related activities that are a part of the 2016 New Jersey Theatre Alliance Stages Festival. With over 80 kid-friendly performances, workshops, classes, and camp samplers offered throughout New Jersey free or at low-cost, The Stages Festival is the perfect introduction to professional theater for children of all ages. All events are produced by the professional theaters of New Jersey. According to Ruth Zamoyta, the New Jersey Theatre Alliance Stages' Development & Communications Director, parents love live performances because "they get the kids off the computer, off the phone, and even away from the screens that you find on the TV or in the movie theater." She adds, when it comes to the workshops, mini-camps, and classes, "kids get to express themselves freely and creatively. In all Stages events, participants come away with a feeling of togetherness--live theatre is a shared experience, and the workshops and classes are collaborative."

Here is a list of The Stages Festival's kid-friendly, live shows, and events to explore with your little ones. There are productions and events for pre-teens (check site) as well as younger kids.

Dozens of performances take place in libraries, theatres, and community centers throughout the state. Click here for the full events calendar; many of these shows will be performed in more than one town, additional info is online. Below is a handful of productions geared towards kids; there are many more to explore:
Family-friendly versions of A Midsummer Night's Dream will be offered on March 10th at the Morris Plains Borough School and March 19th at 7:00 p.m. The Shakespeare Theatre of New Jersey in Madison. Romeo and Juliet will be presented March 18th and 19th at 11:00 am The Shakespeare Theatre in Madison.
Gabi Goes Green: Follow middle-schooler Gabi as she transforms into the Green Hero and battles Captain Carbon! George Street Playhouse's educational play will take place on February 27th at 2pm the Shea Center for Performing Arts in Wayne. George Street Playhouse will also bring their play Austin the Unstoppable, which is about an 11-year-old X-Box and junk-food junkie, to Atlantic City on March 11th at 3:15 p.m. and Vineland on March 19th at 10:00 a.m. George Street Playhouse will also present New Kid, a play about racism and peer pressure, in New Egypt on March 12th.
Miss Nelson Is Missing!: The fearsome substitute Viola Swamp takes over when the beloved teacher Miss Nelson disappears in this children's play performed by Centenary Stage Company in several locations: March 1st in Cape May at 6:00 p.m,, March 4th in Burlington at 7:00 p.m., March 5th in Jackson at 12 noon, March 8th in Brick Township at 6:00 p.m., March 10th at St. Joseph's Children's Hospital in Paterson at 6:00 p.m., March 11th in Pennington at 7:00 p.m., March 15th in Little Egg Harbor at 6:00 p.m., and March 29th in Barnegat at 2:00 p.m.
Aesop's Fables and more: East Lynne Theater in Cape May will present three performances: a modern adaptation of Aesop's Fables on March 16th, the radio play Detectives Holmes & Carter on March 19th, and "Celebrating Provincetown Players," a staged reading of plays first produced by "the first modern American theatre company" (such as Before Breakfast by Eugene O'Neill), on March 20th.
Spanish Performance of ROPES: On March 5th, Two River Theater of Red Bank will present a Spanish-language performance of its main-stage play ROPES, about a tightrope walker and his children. While adults watch the play, free childcare will be provided, with Spanish-language theatre games and stories.
A Thousand Cranes: On March 12th at 11:00am the Waretown Library in Waretown, Centenary Stage Company will present the true and poignant story of a young Japanese girl who inspired an international peace movement. This production combines Japanese and American language, music, and dance, highlighting Japanese society in the aftermath of WWII.
Dozens of Children's Plays: Children throughout the state will have an opportunity to watch professional productions of Alice in Wonderland, James and the Giant Peach, Peter and the Wolf, Stone Soup and Other Stories, and The Emperor's New Clothes produced by Pushchart Players, The Growing Stage, and Alliance Repertory in Netcong, Millville, Point Pleasant, Vineland, Forked River, Toms River, Brick, Manahawkin, and Summit.
Pre-Show Lobby Experience for The Mousetrap: On March 8th, at 1:00 p.m., McCarter Theatre Center of Princeton will make your experience of its main-stage classic, The Mousetrap, even more spine-tingling with a pre-show talk, opportunities for mystery-themed selfies, and "whodunit" activities in the lobby.
Victorian Magic: Actor/magician Robert Aberdeen delights audiences of all ages with his sleight-of-hand on March 13th in Mahwah at 2:00 p.m., March 21st in Beachwood (2:00 p.m.), and March 23rd (3:30 p.m.) in Woodbury.
Theatre Workshops for All Ages: Adults, teens, and young children can learn stage skills at several workshops offered throughout the state: "Creative Dramatics for Grown-Ups" at Dreamcatcher Repertory Theatre in Summit on March 5th, and three classes in tandem at Eagle Theatre in Hammonton on March 19th, for ages 5 to 12, 13 to 17, and 18 and over.
Stages is organized by New Jersey Theatre Alliance, a service organization for the 35 professional theatre companies of New Jersey.
Originally published 2015