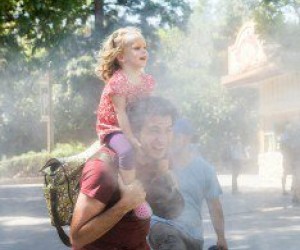 Fun & Free Things to Do with LA Kids this Weekend: Mickey's Music, Cool Zoo & Mexican Independence, Sept 13 - 14
Is it hot in here, or is it just me? (Because, you know, I'm a mom who's got it going on like that.) But no, it's That Hot, as in You Might Even Think It's Still Summer hot (which technically I suppose it is, but no it isn't because Back to School and Labor Day.) You might want to consider some indoor, AC-assisted events for the weekend. You can let down your hair with Rapunzel in the breezy El Capitan, stroll with Dinos at Staples, and jam with Mickey and Minnie at the Terrace Theatre in Long Beach. You can also learn a thing or two at the Green Festival (like maybe a way to cut back your global-warming carbon footprint so we can lower the temps a degree or two).
Of course, there's plenty of outdoor activities that are worth going out for. The lobsters and puppets are hanging out close to the water; I'm guessing they got a tip that it's cooler there. If you wait until the sun goes down, you can party with Bart Simpson or the moon. And the LA Zoo wisely scheduled its Cool at the Zoo event for this weekend, with ice sculptures and misters and free treats to keep things copacetic. (Coincidence or evil genius plan?)
Whatever you do, be sure to wear sunscreen and drink lots of water. (I may be a hot Mom, but I'm still a mother!)
Keep reading for our coolest picks for this weekend....
ALL WEEKEND

Lobster Festival - San Pedro
Aye, Matey! It's a weekend full of music, lobster, and pirates at the Port of Los Angeles Lobster Festival.

Green Festival - Downtown
Environmentalists of all ages can learn about Green Living in this 3-day festival at the Los Angeles Convention Center.

Festival of Children - Costa Mesa
The events this weekend at South Coast Plaza include Claddagh Irish Dance, Anaheim Ballet, and, on Sunday, the Children's Moon Festival and an animal show from the Friends of the Santa Ana Zoo.

Walking with Dinosaurs: Staples Center - Downtown
Dino fans can see the super-sized creatures live and in-person in this sweeping arena production. (Check out our review for the full scoop.)

Tangled (PG) - Hollywood
When will my life begin? I'm guessing it will be this weekend, when Tangled returns to El Capitan for a limited engagement. (Sofia the First will be there!)

Cool at the Zoo - Griffith Park
It's gonna be a scorcher this weekend. Cool down at the L.A. Zoo with Cool Zone misters, ice sculptures, free fruit pop samples, and "cool demos" from firefighters.

Disney Live! Mickey's Music Festival - Long Beach
Minnie, Mickey, and friends are joined by a pack of Disney favorites including Ariel, Aladdin, Woody, and Buzz, for an all-out concert experience. Get ready to dance, sing, and air guitar along!

LA County Fair - Pomona
The LA County Fair is teeming with things to do! A few examples: goat milking demos, Ballet Folklorico performances, the Chinese Circus of Beijing, meet and greets with Thor, a Celebration of Diversity Parade … and concerts from Styx, R5 with Ryland Lynch, and Jennifer Nettles.

Mexican Independence Day - Downtown
At El Pueblo Historical Monument, Mexican Independence Day is celebrated with popular and traditional entertainment, cultural activities, historic displays, food, artisan exhibits and more.

SATURDAY SEPTEMBER 13

A Faery Hunt - Simi Valley
It's time to don your tutu and wings and help the Faery hunters find the Missing Faery Light in Corriganville Park.

Lowes Build and Grow - Multiple Locations
Look! It's the latest free project at Lowe's! Can't see it? Maybe the binoculars you're making will help.

Walk into the Chumash World - Calabasas
Families can discover how local Chumash Indians have used indigenous natural resources for thousands of years to create a sustainable way of life on an easy one-mile walk.

168 Kids - Downtown
The faith-based 168 Film Festival offers a kids' program on Saturday, with special screenings, a "Kids' Red Carpet," and a discussion for moms and dads about "Your Child and Hollywood."

Tongva Park Family Saturday - Santa Monica
Tongva Park is just across the way from the Santa Monica Pier. On Saturday, someone pulled some strings to bring in Unstrung Heroes, a puppetry performance collective, for free interactive fun.

Story Theater with Victoria Goring - West LA
Victoria Goring creates new stories live from children's suggestions for some Saturday morning fun at Children's Book World.

Glendale Library Arts & Culture Presents Saturday Morning Storytime - Glendale
Kids can hear Fall-themed stories at the Glendale Galleria.

Radio Disney Meet & Greet with Piper Curda - Burbank
Radio Disney is chillin' at Burbank Ikea, along with Piper Curda from Disney Channel's I Didn't Do it.

Norton Simon Family Day - Pasadena
Families can find inspiration in artists' use of line to create a sense of flow, movement, and definition, then create their own line-based work at the Norton Simon Museum.

FIGat7th Kids Club - Downtown
Kids can make Back to School Pencil Toppers - one for themselves and one to give to a teacher or tutor as an appreciation gift.

BHCP Kids Club - Baldwin Hills
Baldwin Hills Crenshaw Plaza invites kids to make a hojalata, a unique form of tin art commonly found in Mexico.

Annual Chinatown Moon Festival - Chinatown
Lion dancers, kung fu artists, ghost story-telling, a trained capuchin monkey, and a Chinatown Photo Booth liven up a modern take on the traditional mid-autumn Harvest Festival. Families can view the moon in great detail using state-of-the-art telescopes provided by Griffith Observatory.

Eat See Hear - Pasadena
Get ready to do the truffle shuffle! Eat See Hear closes its 3rd season in Pasadena with The Goonies.

Street Food Cinema - Manhattan Beach
A special Manhattan Beach "Street Food Cinema" screening of The Princess Bride? As you wish.

Cinespia - Hollywood
There is no spoon. Only an under-the-stars screening of The Matrix at Hollywood Forever Cemetery.
Fireworks Finale: The Simpsons Take the Bowl - Hollywood
Hollywood Bowl Orchestra plays along with classic scenes from The Simpsons at the Hollywood Bowl. Special guests include Hank Azaria, Nancy Cartwright, Yeardley Smith, "Weird Al" Yankovic, Conan O'Brien, and Matt Groening. (Also Friday)

SUNDAY SEPTEMBER 14

Autry Explorers Lego Day at the Autry: Cars Meets Route 66 - Griffith Park
Cars, LEGO, and the Autry Museum: sounds like a perfect day for a kid. (There's even a Cars screening.)

Fiestas Patrias - South El Monte
Fiestas Patrias is one of the largest celebrations of Mexican Independence Day in the nation.

826LA@Hammer: Rants 'n' Raves: 'Zine Publishing for Beginners - Westwood
Kids can write, design, and produce copies of a 'zine to trade with the whole group and hand out to friends and family at this free workshop at the Hammer Museum.
PJ Library Family Fun Day - Malibu
PJ Library celebrates the New Year with Rosh Hashanah arts & crafts, shofar making, PJ Storytime, apples & honey (from Shalom Institute bees!), plus sing alongs and activities such as zip lining, archery, and a climbing wall.
Roger Day - Topanga
Nashville-based kids' singer Roger Day encourages kids and families to sing loud, jump high, and dream big.

Rosh Hashanah Festival with Doda Mollie - Mid-Wilshire
Doda Mollie helps the Zimmer celebrate Rosh Hashanah.

Free Day at OCMA - Newport Beach
It's a Fall Frenzy at Orange County Museum of Art with special dance performances by the Girl Scouts of Orange County.

Family Art Workshop - Hollywood
This weekend's free workshop at Barnsdall Park finds inspiration in Israel, with watercolors and Ketuba Hebrew calligraphy.

Family Jam: Tap Dance with Syncopated Ladies - Westwood
Syncopated Ladies make music with their feet and the ground beneath them. Kids can watch them perform then stomp along at the Fowler Museum.


And as always, there are many more activities listed on our daily events calendar. Whatever you choose to do this weekend, we hope you have oodles of fun! Stay cool, people!