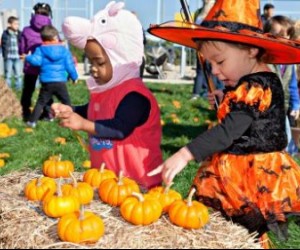 Fall is in the Air! Top 10 Autumn Outings in New Jersey
As a native Florida gal, experiencing the changing seasons is still something that's exciting for our family, even 3 years after our big move. Winter is full of snow (and more snow) of course, spring is beautiful with gorgeous flowers and summer is a great excuse to be outdoors with the kids, no matter what state you live in! But something about autumn is special – maybe it's the multi-hued leaves that carpet our backyard, the cute grins I capture on camera as our little ones romp through pumpkin patches or the fact that it's just a good excuse to wear cozy sweaters and eat apple pie!

No matter the reason, my family likes to take in the fall season in a big way. Weekends in September through November are the perfect opportunity to take a break from the busy day to day and embrace the cooler temps before it gets frigid. New Jersey offers an array of autumn activities for every age and interest – take a look at our top ten favorites:

(1) Fall Farm Fun
It wouldn't feel like fall for most families without taking a Saturday to do the classic autumn farm outing. Visit the beautiful Terhune Orchards in Princeton for a day filled with activities. Early on in the season you can pick bushels of apples and come October, select a pumpkin after a tractor ride out to the fields. During their Fall Family Fun Weekends (every Saturday & Sunday in October) you can run through a corn stalk maze, ride a pony, visit barnyard animals and snack on cider and other delicious treats from the farm store while listening to live music. For more farm fun, check out our list of the top pumpkin picking farms in the state.

(2) Pumpkin Carving
When just picking your pumpkin out at a local farm isn't enough, how about a pumpkin carving event for the whole family? A favorite is the annual Great Pumpkin Sail in Mountainside each November. Wait until the sun sets and then say goodbye to Halloween as you watch your carved pumpkin float with hundreds of others down Echo Lake in an illuminated display. Then kick back for live entertainment and refreshments in the cool autumn air. Don't forget to take a peek at our full listing of pumpkin carving events.

(3) Take a Hike
Summer is often touted as the season of the great outdoors but now that temps are cooler, it's a perfect time to lace up those sneakers and get some fresh air. Jersey offers an impressive array of hiking trails, especially around the Delaware Water Gap along the Pennsylvania border down south. For a family friendly 1.5 mile trail, Dunnfield Creek in Hardwick Township is a fun day outing. Hike through Worthington State Forest along a trout-filled creek (NJ's state fish!) while taking in the thick chestnut and oak trees in vibrant autumn hues before ending at a breathtaking waterfall. If the weather's nice, pack a picnic too! Check out other family hikes along the Delaware Water Gap.

(4) Schnitzel anyone?
For many people, it's not Halloween, but Oktoberfest that comes to mind when October rolls around. Head on down to the annual Oktoberfest at the Crystal Springs Resort to celebrate all things German at this popular festival. Bring your appetite and nosh on favorites such as bratwurst, potato pancakes, schnitzel and of course, authentic beer for mom & dad! Watch traditional German music and dancing on the main stage and keep the kids entertained with carnival games, a pie eating contest and a huge bounce house.

(5) Boo!
My kiddos are still pretty young, but for some older kids and teens, nothing says Halloween like a good fright! Sign up for a Ghost Tour of Ocean City, where your guide will reveal deep and spooky secrets of the area as you walk by candlelight. Or brave The Red Mill Haunted Village in Clinton for a historic (and ghostly) tour of the Red Mill Museum. Not recommended for kids under 12! Check out more haunted fun here.

(6) Cranberries Galore
Apples and pumpkins might get all the attention, but come autumn, another popular fruit is ripe for picking: cranberries! Celebrate this tart fruit and the bogs they grow in at the Annual Chatsworth Cranberry Festival. Jersey's harvest is the 3rd largest in the country and you can celebrate with artisan crafts, a quilt display, a classic auto show and of course, dozens of delicious cranberry goodies, from homemade seasonal breads to fresh juice.
(7) All Aboard!
When you combine trains and pumpkins, it's sure to be a hit with children! The Whippany Railway Museum hosts its annual Pumpkin Festival each October to usher in the fall harvest. Start with a 30 minute excursion onboard the 'Pumpkinliner' as you chug along the historic Whippany Trail. Then let everyone stretch their legs as you explore antique tractors, a family-friendly haunted house, an impressive scarecrow display and an old-fashioned crafts fair. Check out our full list of Harvest Festivals in New Jersey too!
(8) Small Town Charm
Sure, Jersey is full of bustling shopping malls and busy NYC commuters, but it's also home to some amazing small towns. Let the day take on a shape of its own and spend an afternoon strolling through a quaint downtown. Summit is a picturesque town in Northern Jersey located up in the Watchung Mountains. Start the afternoon with a visit to the Reeves-Reed Arboretum and admire the changing leaves in their public garden. Shop at the quaint and chic Red Balloon Children's Boutique before stopping for a late lunch at local favorite The Eatery for seasonal homemade salads and wraps. For more local day trips, visit our Guide to Great Small Towns.

(9) Pie!
For my family, nothing says fall quite like sinking your teeth into a rich, savory pumpkin or apple pie – baked fresh of course! So where can you get the real deal? My pick is Johnson's Corner Farm in Medford whose pie was voted "Best Apple Pie" in the state by South Jersey Magazine. Their Barn Bakery sells everything from fresh produce and donuts to prepared country-fresh meals but the real draw is the awesome apple pie. Go for a traditional pie or try out their apple crumb/no-sugar added or apple walnut versions. Pumpkin and sweet potato pies are also available throughout the fall and holiday seasons. And here's a listing of more places in NJ to gobble up some delicious pie.

(10) Go Play!
As much as I love a structured outing for the kids filled with corn mazes and crafts, sometimes our family just craves wide open spaces. Playgrounds where kids can let their imaginations run wild, hiking trails and open fields. For laid back fall fun, visit Dahnerts Lake County Park in Bergen County. A thick area of scenic trees opens up into a huge field complete with a lake, fountain, playground and plenty of picnic benches and gazebos to take a lunch break. After the kids have had their fill of playtime, take a stroll on the paved path that runs by the lake - a wonderful way to get your fill of those autumn colors. Check out other parks and playgrounds perfect for fall.