The Very Hungry Caterpillar Show
DR2 Theatre

NYC Easter Brunch Cruise 2023
Event Cruises NYC

Easter Fun Cruise with Egg Hunt 2023
Event Cruises NYC
Sign up for our free newsletters.
Don't Miss Out: Resources for Children with Special Needs (RCSN)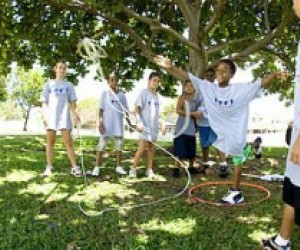 12/19/12
- By
Michaela
As a mom to four children including a tween with special needs, I'm always happy to share information about the best resources I've found for New York City special needs families. So I'm continuing my series of monthly special needs posts with a look at an organization we (and countless other families) count on for information on the best services available in NYC: Resources for Children with Special Needs.

RCSN was founded in 1983 by three local mothers and offers information about resources for NYC children and young adults with social, cognitive, physical and behavioral issues. A call to the organization's friendly staff can swiftly connect you with the appropriate programs and services for your family. RCSN is also skilled at helping parents become advocates for their children, and hosts many free workshops and events for special needs families including its upcoming annual Special Camp Fair in January.

Here's a look at some of the services Resources for Children with Special Needs offers:
Resource Information
RCSN is a great place to go to get info on what services are available for your child with special needs. Find information about after-school and recreation programs, education choices, employment opportunities or important basics from the organization's knowledgeable staff over the phone, via email and in person.

Free Workshops and Training
RCSN is one of the nation's 100 federally-funded Parent Training and Information Centers. It regularly hosts information sessions and workshops in all five boroughs on a variety of special needs subjects including how to request an Individualized Education Plan, detailed explanations of the confusing special needs school reform, advocacy skills, dispute resolution, life after high school and its annual Special Camp Fair (coming up on Saturday, January 26, 2013), where you can meet with experts from more than 70 special needs summer programs. Most of RCSN's workshops and events are free. All you need to do is register advance on the website.

The majority of the folks at RCSN are parents of children with disabilities, so they pull from their own personal experience and exhibit lots of empathy when working with families. RCSN assists individual parents and professionals via email, phone and in person by appointment. When you reach out, the staff will ask you some basic questions about your child to get you started. To learn more about this fabulous organization, watch its most recent video.

Resources for Children with Special Needs is located at 116 East 16th Street between Union Square East and Irving Place on the fifth floor (although it hosts many of its events offsite in partnership with schools and community-based organizations all over the city). Call 212-677-4650 or email info@resourcesnyc.org.