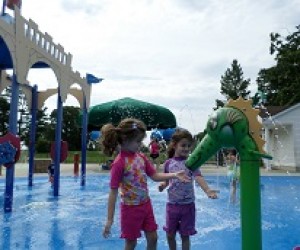 Best Spraygrounds in Central and Southern New Jersey
Beat the summer heat at one of New Jersey's spectacular water playgrounds, known as spraygrounds. On a hot summer day, my kids last 10 minutes on a conventional playground. Add some water play to the mix and we have a low-cost, low-maintenance day of fun. Spray parks and splash pads are popping up all over the state. Most of these water playgrounds are free or inexpensive and can be enjoyed by all ages. Get wet at these Central and Southern New Jersey spraygrounds, including some newcomers. For more water fun throughout the state, check out the Best Water Playgrounds in NJ and 6 Awesome New Jersey Water Parks.

Monmouth:

Dorbrook Recreation Area (Colts Neck, NJ)
If you haven't been to Dorbrook, put it on your summer to-do list! Dorbrook is the king of New Jersey spraygrounds, with two large, intricate water areas, spray contraptions, dumping buckets and water tables. Also, check out the great playground, which includes a sandbox, and my daughter's favorite, a rocking boat. Free. (732) 542-1642.

Michael J. Tighe Park (Freehold, NJ)
Spend a warm day at this busy park, which houses three playgrounds, sports amenities and picnic areas. Then cool down at the colorful splash pad. The splash area has a $4 entrance fee for children under 15 and $3 for adults. (732) 294-2000.

Middlesex:

Carteret Park (Carteret, NJ)
New to the sprayground scene, the creative water area is great for younger ones. The sprayground is fenced-in and has special hours for the 6 and under crowd. The kids will enjoy exploring the music-themed squirt structures. The park also houses a big playground with shady picnic areas. Free.(732) 541-3885.

Veteran's Park Sprayground and Playground (Monroe, NJ)
Formerly open to residents-only, Veteran's sprayground can now be enjoyed by all visitors. The bright, enclosed spray area is clean and simple enough to keep track of the kids. A playground and shaded picnic tables add to the fun. Free. (732) 656-4575

Somerset:

Michael Lepp Park (Somerville, NJ)
Somerset County finally introduced its own water playground. Debuting in July 2014, the brand new splash pad is a welcome addition to Michael Lepp Park. After checking out the water, have some dry fun at the playground and picnic areas. Free. (908) 704-6985

Cumberland:

Splash Pad at City Park (Bridgeton, NJ)
Camden residents and visitors keep cool and this new animal-themed splash pad, located by the Cohanzick Zoo. Water features include buckets, sprays, wheels and animals that squirt. There is a $2 admission theme to the facility, which also houses a concession stand and showers. (856) 455-3230.

Burlington:

Johnson's Corner Farm (Medford, NJ)
The Discover Barnyard at Johnson's Corner Farm is home to all kinds of family-fun activities, including go-carts, climbing structures, a pretend farm and a splash pad. Kids can cool off in the fenced-in spray area while parents can relax in the shade. A day-pass for the Discovery Barnyard costs $7.50/child while adults pay $3.75. (609) 654-8643.

Camden:

Camden Children's Garden (Camden, NJ)
The Violet Fountain Plaza at the Camden Children's Garden offers a unique twist on water play. Kids will love running through the flower -shaped spray structures and jumping water jets, while parents can relax on the shaded benches. Other activities at the daytrip-worthy facility include a carousel, train ride, a play tree-house and all kinds of gardens to explore. Admission is $6/person and free for under 3. (856) 365-8733.