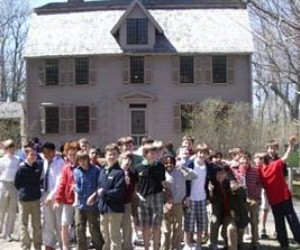 An Itinerary for Visiting Historic Concord with Kids
When you live somewhere for over 20 years, it can be easy to lose appreciation for your surroundings. We recently met up with a group of 8th graders from Richmond, VA, who were on a school trip to the Concord area and asked for their impressions as they visited historic sites in town.
Seeing the world from a 12 year old's eyes can be enlightening!
Plus, we liked their itinerary - it was a good mixture of indoor and outdoor activities and covered many of the key sights for visitors trying to make the most of two days in town. Looking for more things to do in the area? Please see our 20 Things to do in Concord post.
The students visited some of Concord's most historic sites:
Walden Pond
915 Walden Street, Concord
Why it's important: Henry David Thoreau lived at Walden Pond from mid 1845 to mid 1847. His experience at Walden helped to inspire awareness and respect for the natural environment. Walden Pond is a National Historic Landmark and is considered the birthplace of the conservation movement.
Most kids really liked this visit:
Awesome for all ages, and good picture ops.
I really liked the walk around the pond.
It was really cool to see where Thoreau spent all his time.
The water looked very inviting! I wanted to dive right in.
Had such a pretty view and was very peaceful.
Best time to go is when you are calm and ready to reflect.
A nice place to relax and think about yourself.
But some had reservations:
Don't take a walk around it - too long.
Sleepy Hollow Cemetery
Bedford Street, Concord
Why it's important: Sleepy Hollow Cemetery has an estimated 10,000 grave sites and is the burial site of a number of famous Concordians, including some of the United States' greatest authors and thinkers. On a hill known as "Author's Ridge," you can find the graves of Henry Thoreau, Nathaniel Hawthorne, Ralph Waldo Emerson, Louisa May Alcott and her father, Bronson Alcott.
This was a popular stop:
So many interesting people in one place.
Really historical and amazing to know all those people were there.
This was my favorite place because there were many historical graves and it was so huge.
I recognized so many names on the monuments/graves! It's not scary if you go during the day...
But not for everyone:
It was nice to walk around but got boring after a while.
Louisa May Alcott's Orchard House
399 Lexington Road, Concord
Why it's important: Louisa May Alcott's Orchard House is most noted for being home to the Alcott family and is where Louisa May Alcott wrote and set her beloved classic novel, Little Women, in 1868. It is one of the oldest (circa 1690), most authentically-preserved historic house museums in America.
Most of the students enjoyed the tour:
I loved it! Short and sweet, and we knew a lot about the Alcotts already, so it was even cooler.
It was like seeing Little Women come to life.
The tour was a lot easier to understand after reading Little Women.
But others had reservations:
The tour wasn't exciting, but there were a ton of things from the original house.
Not interesting for our age group.
The Old Manse
269 Monument Street, Concord
Why it's important: Built in 1770 for patriot minister William Emerson, The Old Manse is now a National Historic Landmark. It was the center of Concord's political, literary, and social revolutions in the 1800s. Ralph Waldo Emerson and Nathaniel Hawthorne both called the Manse home for a time.
Some tried to put a positive spin on the visit:
My friends disliked this, but I loved the idea of Mrs Hawthorne scratching love notes in the window with her engagement ring.
Boring for kids, but good for piano players, because they let you play the original Steinway.
But the consensus was that this is probably best for older kids and adults:
It was interesting at first, but it got kind of boring.
Interesting, but a little too informational.
Tour was way too long.
And while it's not in Concord, the deCordova Sculpture Garden (Lincoln) received very high marks.
deCordova Sculpture Garden
51 Sandy Pond Road, Lincoln
Why it's important: The Sculpture Garden is the largest park of its kind in New England - a 30-acre landscape of 60 large-scale, outdoor, modern and contemporary sculpture.
What the kids liked (nothing they didn't like):
Exquisite sculptures.
So cool!!! All of the sculptures were unique, and some were even interactive.
The art was really cool to look at - one of my favorite places.
Was very interactive, so I really enjoyed it.
The store was the best.
One day, the girls did their sightseeing via bicycle with Concord Bike Tours (available April through November).
This was another good choice for the group:
I really loved riding the bikes because we got a good feel for what Concord is like.
The cycling was so fun, especially because the weather was great.
We got to see all of Concord in a fun, entertaining way.
Was a great way to get exercise and take a tour of Concord. Lots of historical facts as well.
This was fun and burned calories.
And, of course, what would a day of sightseeing be without a break for a meal! Here are reviews of the three Concord lunch spots that the girls visited during their stay.
Nashoba Brooks Bakery
152 Commonwealth Ave, West Concord
High marks from most of the kids:
Amazing
Great food and delicious cookies!
The pizza was very good. The service was good as well.
We ate outside at the restaurant, and it was very pretty!
Very good - I have a peanut allergy and they accommodated it well.
I loved my sandwich and how fresh it tasted. My favorite place to eat.
But a few weren't impressed:
The food was just ok.
A little too different.
Farfalle Market
26 Concord Crossing, Concord
Mixed reviews - they loved it:
Good paninis - hot and cold.
Really, really, really good; tasted fresh.
Amazing! It was really, really good.
Or were lukewarm about the market:
Just OK.
Was fine, not exceptional (but my salad was good).
Too much tomato.
Main Streets Cafe
42 Main Street, Concord
Most of the students enjoyed their food:
One of my favorites, because there were lots of options and they had great drinks.
My sandwich was amazing.
Really good smoothies and frozen hot chocolate.
But a couple had reservations:
Delicious, but service was a little slow.
Was just ok.
---
Image: The Old Manse