15 Fun Indoor Playgrounds for Kids North of Boston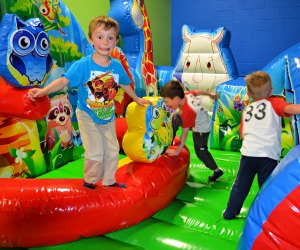 2/17/19
- By
Michelle Curran
When winter won't budge, and you've run out of at-home craft and project ideas, it may be time to hit an indoor play space. Head north and you can have your pick: From trampolines to crazy mazes to inflatables, Boston's North Shore is home to tons of play zones where kids can get their energy out. In addition to exercise and entertainment, many of these venues offer special events (like parents' nights out), healthy snacks, birthday parties, workshops, and classes. Here are 15 of our north-of-town favorites; for dozens more options in and around Boston, check out our indoor fun guide.
For more ideas for keeping kids busy on the coldest or wettest days, check out our indoor fun guide, follow our Facebook page, and subscribe to our weekly newsletter—it's free!
1. BB Kidz Klub—Westford & Leominster
BB Kidz Klub is a great spot when you have both big and little kids. The younger kiddos can enjoy a special infant/toddler area filled with trains, a kitchen, doll house, blocks, mats, and more. Bigger kids can bounce and climb all their energy out on multiple bounce houses, a giant blow up slide, and climbing structures. They even have a race track area for some indoor wheeling fun.
2. Itsy Bitsy Zone—Salisbury
Catering to the under-6 crowd, Itsy Bitsy Zone has an actual playground, complete with slides, a fire pole, and climbing structures. Along with the playground, there are tons of toys, a play kitchen, soft building blocks, ride-on bikes, make-believe fun, and a small bouncy house. During the weekends, check the schedule ahead of time for open play hours because this play space is also a great place to book a birthday party.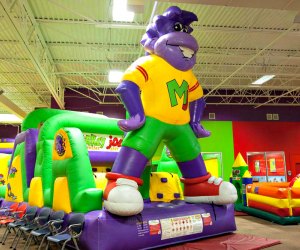 Bouncing around on giant inflatables is the focus at Monkey Joe's. Photo courtesy of Monkey Joe's
3. Monkey Joe's—Danvers
Kids will literally bounce their sillies out at Monkey Joe's. This large indoor space is filled with bounce houses, inflatable slides, and obstacle courses, including a bounce house just for toddlers and preschoolers. Along with the inflatables are arcade style games and prizes. While outside food is not permitted, Monkey Joe's brings in pizza, along with other snacks and drinks, for purchase.
4. Sky Zone—Danvers
Want a different way to bounce? Try out this indoor trampoline park instead. At Sky Zone, kids can bounce and flip on wall-to-wall trampolines. There are also foam pits to dive into, a ninja warrior obstacle course, and a place to bounce and shoot hoops. Check out the calendar for special toddler times where kids 5 and under get the place to themselves to bounce without the older kiddos.
5. Loch Ness Playcenter—Chelmsford
Let your kids burn off extra energy when they bounce, climb, and slide at Loch Ness Playcenter, an indoor play space loaded with active fun, including a wooden castle, bouncy house, and an obstacle course. A special soft-play area for infants and toddlers give parents of pint-sized players peace of mind. You can also plan your little one's next birthday party at Loch Ness Playcenter.
6. aMAZEment Action Playcenter at Cedarland—Haverhill
Get lost in the aMAZEment giant indoor play maze, featuring a Triple Wave Slide, Sports Court, Multi-Level Tube Slides, and a Moon Bounce. Afterwards, test your skills at the arcade and earn a prize from the redemption center. Add a round of mini golf or some time on the ropes course to your open playtime for an extra exciting adventure. At aMAZEment, a separate Toddler Play Area offers a giant sand room, chalk and train tables, and a tree house for loads of pretend play.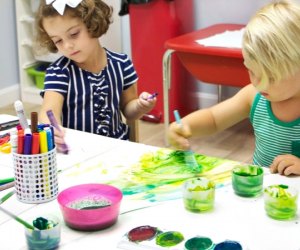 Children's Piazza features high-quality wooden toys and arts and crafts activities. Photo courtesy of The Children's Piazza
7. The Children's Piazza—Beverly & Peabody
The Children's Piazza, with two locations to choose from in Beverly or Peabody, provides exercise, learning, and fun for children up through age 6. Kids create their own active adventures on the giant, wooden playsets equipped with challenging climbs and slides. Or, they can put their imaginations to work in the gourmet kitchen, doll nursery, and puppet theater. Ride the rails at the train table or get down to building at the workbench. A cushioned area with toys, mirrors, and climbing obstacles is just right for infants and toddlers.
8. Bonkers—Peabody
At Bonkers, kids can run and play in their giant maze, play tons of arcade games, roll to win at mini bowling, and even ride the Frog Hopper. This play space also has an extensive food menu, including pizza, sandwiches, burgers, and even beer and wine for the adults.
9. Jump On In—Woburn, Nashua & Boston
Walk on air at Jump On In, where everything's inflatable. Bounce houses, obstacle courses, slides, tunnels, trampolines, and mazes all help to cure kids' winter wiggles. Call ahead as Open Jump times are limited. You can also reserve your session online. This is also a big birthday party spot.
10. Luv 2 Play—North Hampton, NH
Just over the border in New Hampshire is Luv 2 Play, with more than 3,000 square feet of indoor fun. Kids can burn off energy on the two-story playground, play arcade games, build with kinetic sand, and more. There is also two separate section for toddlers and babies, so kids of all ages can play safely.
11. VinKari Safari—Woburn
Have a wild time at VinKari Safari, a safari-themed indoor playground best for children up through age 7. Brightly decorated with multiple stations set up in several rooms, kids can bounce, slide, build, and ride to their heart's content and then some. VinKari Safari is also a prime spot for pretend play, with train tables, kitchens, and more.
12. Xtreme Craze—Woburn
This is not just an indoor playground. Along with tons of inflatables to bounce and slide on, Xtreme Craze also has laser tag, combining hide & seek and tag into the ultimate game for kids. Wrap up your day of fun in the game room for some arcade fun!
13. Launch Trampoline Park—Methuen
Launch Trampoline Park is yet another place to bounce out that pent-up winter energy. Like the name says, trampolines are the big attraction here, but there is more to do than bounce: Play dodgeball, shoot hoops, perfect stunts, walk a tight rope, and more—all on trampolines. Check the calendar for weekly toddler time hours for kids 5 and under.
14. Cowabungas—North Reading
At Cowabungas, it's all about the inflatables. Your kids can bounce, climb, and slide their way through this huge open gym with a tropical theme. For tiny bouncers, there's Toddler Tiki Island, a bounce area just for little ones 4 and under.
15. Coco Keys—Danvers
While technically not a play space, this awesome indoor water park will definitely keep kids busy when they can't play outside. Coco Keys has a kiddie pool and lazy river for younger kids and four wild water slides and an obstacle park area for the bigger kids. You can buy a day pass or make a weekend of it and book a stay at the attached DoubleTree Hotel. Check out our indoor water parks roundup for more splashy fun in the area.