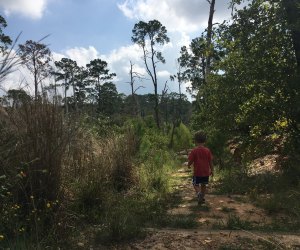 Family Camping at Bastrop State Park
About two hours northwest of Houston is the beautiful Bastrop State Park, and it's a campground I've enjoyed visiting for as long as I can remember. Although the Bastrop of my childhood no longer exists, the park is rising from the ashes after the 2011 Bastrop County Complex wildfire. There is evidence of new life and growth everywhere you look.
My family and I most recently camped here in mid-October (sadly, it was still scorchingly hot), and had a great time with our kids; a 3-year-old and 1-year-old. Read on for what you can expect, from activities to the best hiking trails.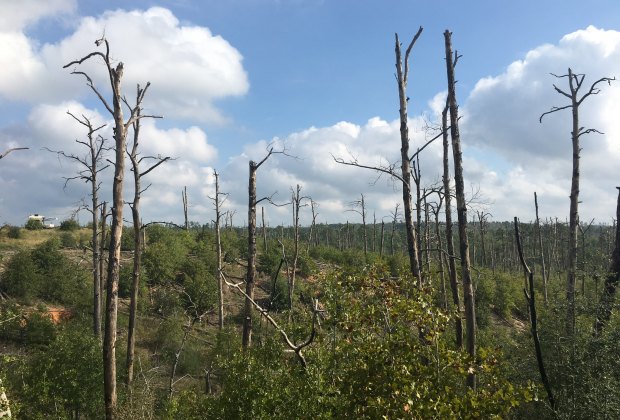 New trees bud across Bastrop.
The wildfire nearly destroyed Bastrop State Park. In the picture above, you can see new growth is everywhere, and it was a great conversational point for my toddler to talk about the new and the old; about the environment's ability to ressurect itself and how we can both help and hurt it in the process.
RELATED: Houston-area Campgrounds With Super Cool Amenities
However, while much of the forest was burned, it looked like firefighters took a last stand near the campsites, because all of them still have towering pine trees, and it's nice to have the shade near the sites and picnic tables.
Here's a breakdown of things you can do and see at the park. Make sure you check the event calendar before you go, because there are family-friendly activities happening every day.
Hike
Because most of the forest's tallest trees are now bare trunks, there is not much shade on the trails. For that reason, these are best enjoyed in the fall and winter unless you don't mind sweating a little. OK, a lot. There are eight trails throughout the park ranging from short, quarter-mile stretches to the 8.6-mile Lost Pines Loop.
At park headquarters, you'll receive a map with info on which trails are easiest. Our (RV) campsite was right by a trailhead, which was convenient because the parking for said trail was about a half a mile away. Make sure you have plenty of sunscreen and water bottles whenever you hike!
Noteworthy pitstops include the field of Bracken Ferns, an ancient plant with fossil records dating to 55 million years ago; bridges, culverts, and retaining walls designed by the Texas Civilian Conservation Corps; and Fehr's Overloop, which is a beautiful structure offering a stunning view of the park and forest.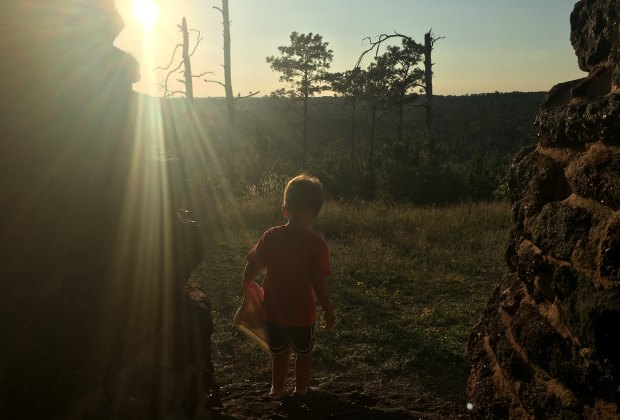 Hanging out at Fehr's Overlook.
Play
Because our kids are still young, we spent most of our time walking around the campsites as the toddler rode his plasma car and at the playground. It's a great playground with several slides, swings, and it's shaded. It's right next to one of the bathrooms that have recently been remodeled, so if you're camping in a tent or restroom-less RV, you won't be disappointed by the showers.
The playground area is also the starting point for many guided hikes.
Other facilities on-site include a pool that's open during the summer, and a Historic Golf Shelter you can tour.
RELATED: Best Campgrounds Around Houston
Visit Buescher
If you're not up for much hiking, you can see plenty of the forest - both the burned and untouched sections - by driving to adjacent Buescher State Park. You'll see heartbreaking vistas of broken trees next to patches of healthy pines virtually untouched by the fire; it was the highlight of the trip for me. (And now whenever we see trees around Houston, my toddler says, "Look mom! Green trees! They make you happy!")
Admission to Buescher State Park is included in your Bastrop fees, and it has playgrounds and a lake you can visit where activities include fishing, canoeing, and kayaking.
It's important to note that cycling is a very popular activity in both parks, so you'll have to share the road. Or if your family loves biking (and a challenge, because the roads are hilly), make sure to pack your wheels!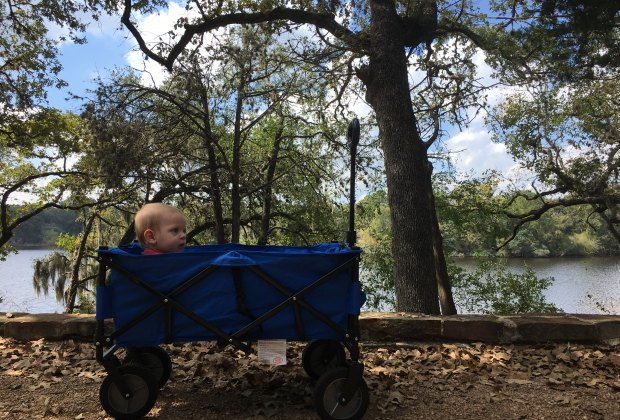 Enjoying the views at Buescher State Park.
The beautiful views and well-kept campsites and facilities make Bastrop an awesome family camping stop and reprieve from busy city life.
More Information
Bastrop is home to an endangered species named after our very own city - the Houston Toad. The Piney Woods is the perfect place to catch a glimpse of this endangered amphibian.
Fees: $5 (adults, daily admission), Free (kids 12 and under), $25 (overnight fee, per night)
Hours: 8 a.m.-4:30 p.m. (December-February, June-September), 8 a.m.-4:30 p.m. (March-May, October-November; Sat.-Thurs., 8 a.m.-6:30 p.m. Fri.)
If you arrive to check in after the main office is closed, you can pay your fees in the morning.
There are camping sites for RVs, tents, and cabins to rent.
There are lots of nearby attractions, including the Monument Hill and Kreische Brewery State Historic Sites, Lake Somerville State Park, and McKinney Falls State Park.
All photos by Carrie Taylor