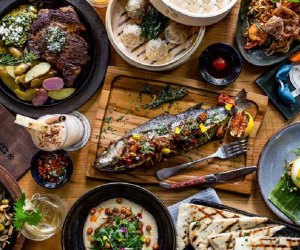 Easter Brunch & Dinner Takeout and Delivery Picks in Houston
Easter or Passover meals will not be the same this year; fewer seats around the table; less preparation needed. These Houston-area restaurants are working hard to still make the holiday special for families with special Easter breakfast, brunch, and dinner meal options for delivery or takeout. Check out our picks for Easter 2020, from barbecue to lamb chops to DIY mimosa bars in a box.
Decorate the table with Easter crafts and dyed eggs, set up a creative Easter egg hunt, connect with loved ones via Zoom or FaceTime (maybe try your hand at virtual charades), and savor the holiday.
Restaurants for Easter Takeout inside the Loop
Frank's Americana Revival - Upper Kirby
713-572-8600
Frank's serves family-style portions of comfort foods from seafood to prime rib to loaded baked potatoes.
Alice Blue - The Heights
713-864-2050
Family meals cost $150 and include a choice of lamb or beef tenderloin as the main entree.
Traveler's Table - Midtown
832-409-5785
A three-course meal is $50 a person.
Weights & Measures - Midtown
713-654-1970
Order modern southern comfort food from Weights & Measures - it's menu includes a whole roast chicken and jalapeno-cheddar bread.
Feges BBQ - Uptown
Order online to pick up your Easter meal on Saturday, April 11.
B&B Butchers & Restaurant, The Annie Café & Bar and Turner's - Midtown
862-767-4828
Order an Easter meal from this trio of delicious Houston eateries - they have ready-to-bake options as well as pre-cooked meals. have teamed up to offer ready-to-roast or precooked entrees, sides and desserts. Call through 4 p.m. Saturday, April 11.
Restaurants for Easter Takeout in the Greater Houston Area
Lazy Dog Restaurant & Bar - Cypress
713-597-5347
For a fun way to order in, take advantage of Lazy Dog's DIY Easter brunch kits.
Goode Company - Various locations
The Goode Company is offering free delivery within three miles of its stores for orders of $60 or more. See the website for a location closest to you.
Willie's Grill and Icehouse - Various locations
While Willie's laid-back eateries with their fabulous sandbox play areas are closed, you can still order a cheeseburger for delivery or pick-up! (Their full menu is available, but really you can't go wrong with a cheeseburger.)
Perry's Steakhouse & Grille - Various locations
Order Perry's best menu options for Easter, including those delicious pork chops. The kids' menu is also available.
Peli Peli - Various locations
Peli Peli's South African cuisine is available for $50 per meal kit. Bonus for adults: There are DIY mimosa and bloody mary kits available.