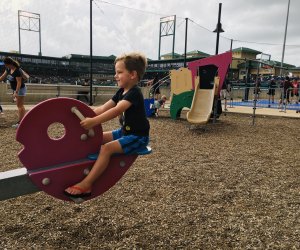 21 Things to Do With Preschoolers in Houston Before They Turn 5
A child's first few years before kindergarten are some of the most precious. They are rapidly growing and developing in front of our eyes, and while the days may be long, that means there is lots of time to visit Houston's many amazing kid-friendly attractions. There is so much to do with your preschooler before they turn 5 and heads to school, but here are some of our favorites.
For more family-friendly fun, check out our list of 100 Things to Do With Houston Kids Before They Grow Up.

Learning about other countries and cultures at The Children's Museum of Houston.
1. Play at The Woodlands Children's Museum, where kids can play dress up, listen to stories, and explore the fun rotating exhibits. This museum is perfectly sized for preschoolers (it's a fraction of the size of the downtown Children's Museum of Houston, making it ideal for keeping track of small ones).
2. Feed your little one's love for trains at the Rosenberg Railroad Museum. Admission is free for kids ages 2 and under.
Related: Ultimate Indoor Fun Guide for Houston Families
3. Splash and play at the splash pad at the Houston Zoo, and get the most out of the children's petting zoo nearby.
4. Take your preschooler on a guided hike at the city's best parks and trails.
5. Listen to story time at the Museum of Fine Arts, which is free for kids ages 3 and under. Believe it or not, there are lots of things to do at the MFAH for young children!
6. Go out to eat at our favorite restaurants with stellar playgrounds - many of which are best enjoyed by younger kids!

The baseball-themed splash pad at Weber Baseball Park is one of our favorites! Photo courtesy city of Weber.
7. Cool off for free during Houston's warmer months at one of these awesome splash pads.
8. Play at our favorite playgrounds around Houston perfect for smaller children - with enclosed play areas, age- and height-appropriate attractions, and spots for picnics and snack breaks.
9. Visit one of the Houston-area's many museums for FREE. Our guide has free admission days and times for the best museums around town.
10. Enroll your child in a free class at one of the many area stores that offer them, like crafting at Home Depot and learning to code at the Apple store.
11. Check out the most unique storytimes around the city held at fun spots like museums, parks, and gardens.
Related: Must-See Houston Museums You've (Probably) Never Heard Of
12. Spend the day or afternoon in Galveston where you can visit the sweet children's museum, see some dolphins, or take a relaxing boat ride.
13. Taste delicious ice cream and tour the iconic Blue Bell Creamery in Brenham, just 45 minutes northwest of Houston.
14. Two words: Educational day trip! Okay, three words. One of the best things about spending time with your preschooler before they start school is that you have the freedom to spend an entire day or afternoon learning and playing together.
15. Go berry picking at an area farm! These spots are best enjoyed during the week when the crowds are small and you can really take your time picking produce and soaking up the atmosphere.
16. Visit a water park perfect for younger kids, like Splashway or Yogi Bear Jellystone Park where you can make it a weekend vacation.
17. Head south of town to ride some rides and enjoy the breeze off the Kemah Boardwalk.
18. See the animals and play in the water park at Moody Gardens.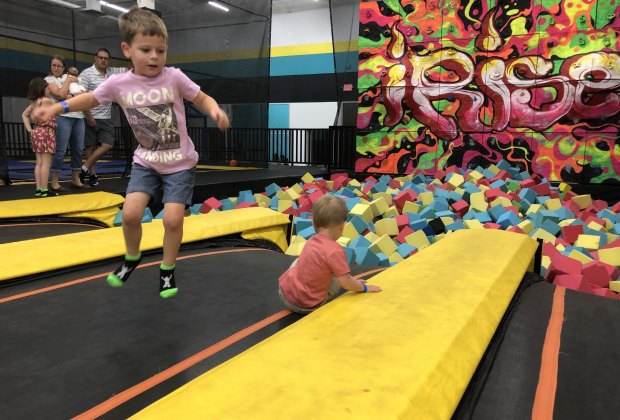 Jumping the day away at iRise Trampoline Park.
19. Jump off some energy at a trampoline park. Yes, kids will always love trampolines, but it's pretty adorable to watch chubby little toddler legs bouncing gleefully around. Plus, kids ages 5 and under are typically cheaper!
Related: Why Your Kids Will Love Visiting George Ranch Historical Park in Southwest Houston
20. Bring them to the rodeo. If you've never attended the annual Houston Livestock Show and Rodeo with your kids, know that there is a certain wonder they will view all of the exhibits and activities that will make your heart explode! Plus, the kids' attractions are top-notch, like our favorite, Fun on the Farm, where kids learn about farm life and even get a treat at the end.
21. Watch a baseball game at Constellation Field, home to the Sugar Land Skeeters. Constellation Field has stellar amenties for kids, including an awesome playground, splash pad, and merry-go-round.
All photos by the author unless otherwise noted.