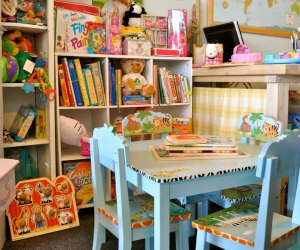 Kid Consignment Shops in Fairfield County
I don't know about you guys, but this girl is all about second-hand shopping, especially for kids. Let's face it, kids outgrow their stuff pretty darn fast. Between everyday wear and tear and growth spurts, I am forever playing catchup with my kids' closets. It seems like those pants I just bought my son are now high-waters and those rain boots from the last rain are now too small.
For many, consignment stores offer not only a great place to shop but also a place to make a little extra cash. Fairfield County has some pretty great options for buying and selling your children's clothing, shoes, toys and gear. And, for more kid consignment, check out what Hartford and New Haven counties have to offer.
The Gumdrop Swap-Fairfield
With its unique spin on children's consignment allowing you to purchase new and gently used kids & maternity items at a fraction of retail, the Gumdrop Swap has been "swapping" clothes for points for 7 years. When you bring your gently used children's items you earn points called gumdrops, which track how much you're entitled to at 50% off in-store purchases.
428 Old Stratfield Rd, Fairfield 06825
Around the Rosy-Westport
Around the Rosy purchases gently used children's clothing, toys, and furniture and re-sells them at budget-friendly prices. With one of the largest selections of upscale & boutique brand labels in the state, Around the Rosy stocks its Westport shop with labels like Petit Bateau, Bonpoint, Lilly Pulitzer, Marie Chantal, Burberry and more at 30-40% of retail cost. Consigners can bring in seasonal items, by appointment, that will be displayed for 90 days with deeper discounts given after 30 days. Consigners earn 40% of the sale in cash or 60% in store credit.
222 Post Road West Westport 06880
The Children's Attic-Darien
This small, family-owned and operated, children's clothing consignment shop in Tokeneke offers a carefully curated selection of favorite brands like Crewcuts, Janie and Jack, Mini Boden and Patagonia. Consigners are welcome to bring 20 clean, pressed and in-season items by appointment only and will receive 40% of the selling price.
282 Tokeneke Road Darien 06820
I Spy Consignment-Monroe
Located on the first floor of a darling pink house with a lawn full of gently used strollers, I Spy Consignment welcomes cost-conscious shoppers looking for an upscale children's consignment store. Consigners can bring in their children's clothing size 0-14, as long as they're pressed. Brands like Gap, Hanna Anderson, Mini Boden and Petit Bateau are customer favorites. Toys and equipment are also welcome, but customers must call ahead to make sure there is enough room.
415 Main St. Monroe 06468
The Children's Cottage at the Carriage House-Ridgefield
The Children's Cottage carries quality, high-end clothing with brands like Baby LuLu, Heart Strings and Crew Cuts. Consignment is by appointment only. Items must be in-season and in sync with current fashion trends.
23 Catoonah St., Ridgefield 06877
Once Upon a Child-Milford
This kid-consignment purchases everyday and will pay you on the spot for your goods. Chockfull of clothing, baby gear and toys, Once Upon a Child is the go-to spot for major savings. All in-store products sell for up to 70% off retail cost. And, you can consign all seasons all year long with no appointment, no hangers and no max on the amount of items you bring in.
86 Turnpike Square Milford 06460
Photo courtesy of Around the Rosy