Restaurants Open on Thanksgiving in Connecticut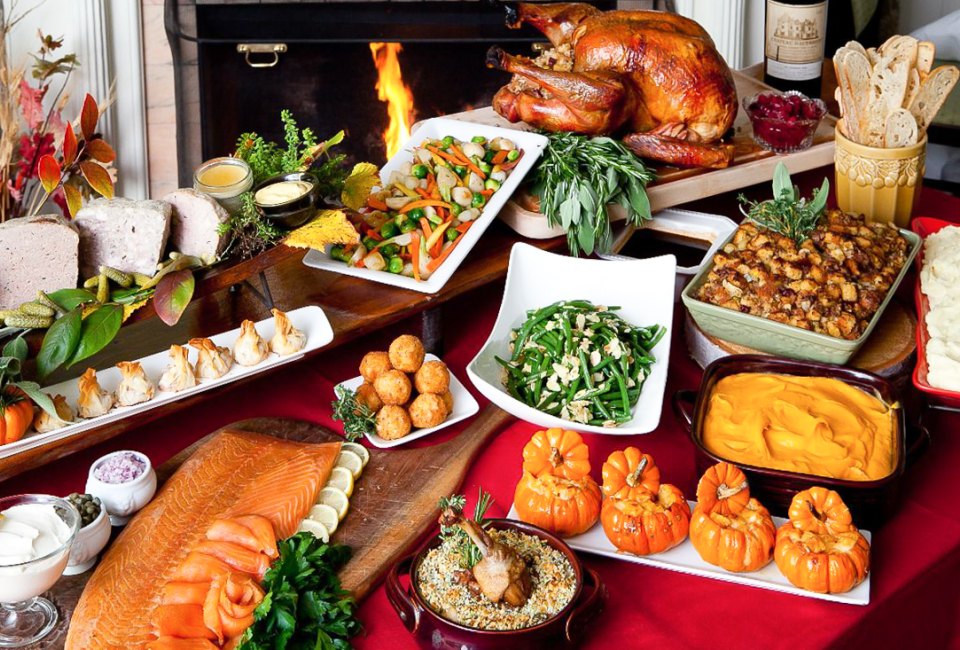 10/28/22
- By
Jennifer Coe
Locals are lucky to have so many amazing restaurants open on Thanksgiving in Connecticut. Thanksgiving 2022 will bring families together again as everyone is looking forward to relaxing with some good food and stimulating conversation. If you aren't looking forward to actually cooking that meal (or maybe you all can't agree on the menu), there are many restaurants open on Thanksgiving in Connecticut serving up delicious and creative, farm-inspired holiday meals.
Read on for our guide to restaurants open on Thanksgiving in Connecticut. Many of these restaurants open on Thanksgiving offer special pricing for kids. We recommend making reservations ASAP, as limited seating can fill up quickly. And if you're looking for a few extra laughs over the long Thanksgiving weekend, check out 25 Thanksgiving Jokes for Kids They'll Gobble Up. And have fun throughout the season with 50 Thanksgiving Crafts, Games, and Activities for Kids and Families.
Restaurants Open on Thanksgiving Near Hartford
Take in this picturesque hotel and autumn colors and then enjoy their Thanksgiving buffets, either breakfast or lunch. Explore the options, and choose from fresh pastries, smoked bacon, and sausage, or create something special at the chef's omelet station. If you come for lunch, dig into the amazing sides like pumpkin ravioli, whipped potatoes, and green bean casserole. You can choose either slow roasted turkey or prime rib at the carving stations. Adults are $68.95 per person, children 5-12 are $21.95, and children 5 and under are free. The Thanksgiving buffet is available from 10 am to 3 pm.
What a beautiful place to have a memorable holiday dinner. Reserve seats early enough, and you could request to sit near the outdoor waterfall. Enjoy a pre-fixe Thanksgiving menu including 3 courses and a dessert. Choose from roasted honeynut squash, roast turkey, maple-glazed ham, and so much more. All the traditional sides are available such as winter squash, cornbread stuffing, and brussels sprouts. Adults are $72 per person, and children 12 and under are $36. Seatings are available from 11 am to 5 pm.

Try the butternut squash bisque! Photo courtesy of the Mill on the River.
This is another stunning place to eat by rushing water, where families up to 8 can enjoy a pre-fixe menu. Warning: wear elastic waistband pants! There are fun appetizers like pumpkin ravioli, crab cakes, and calamari. Then, try a tasty soup or salad and then (I know!) your main course: either turkey, ham, Prime Rib, salmon, shrimp, or rigatoni al vodka. Choose from seasonal side dishes, and top it all off with a cup of coffee and a piece of apple or pecan pie. Advance reservations by telephone required, no reservations will be taken online; $49.95 per person.

A pleasant place to eat (as well as a banquet facility), the Nutmeg can accommodate large family groups. The Thanksgiving menu includes appetizers, traditional turkey with gravy, marmalade-glazed ham, and even roasted pork with roasted apple sauce. There's also homemade mac and cheese, corn, cranberry sauce, and sweet potatoes. Reservations required; $59.99 per person. Seatings are from 11 am to 5 pm.

The Simsbury Inn will offer a number of stations for its Thanksgiving Buffet. Photo courtesy The Simsbury Inn, Facebook
The Simsbury Inn is offering a relaxed buffet-style meal. Start with something from the Fall soup station followed by a taste of seafood. Wander over to the baked brie display where you can get warmed brie topped with honey and cranberries. Then dive into the dinner portion of the buffet, with turkey and gravy, crab cake crusted salmon, and maple glazed pork loin. The sides include piles of mashed potatoes and haricot verts (that's a fancy way to say green beans). There's more at the carving station and even a pie bar on the dessert menu. Call to reserve your table; adults are $68.95 per person; children age 5 and over $23.95. Seatings are 11:30 am and 2 pm.
A Villa Louisa is a corporate and private event banquet hall which will be serving Thanksgiving dinner in 2022. Choose from one of the two seatings for the holiday where an "all you can eat buffet" will be offered with chicken casserole, pumpkin ravioli and sliced turkey. Side dishes will include mashed poatatoes, Portugese stuffing, candied sweet potatoes and carrots. Also make sure to leave room for dessert. $39.95 per person; Children 10 and under $19.95.
Restaurants Open on Thanksgiving in Connecticut - Fairfield
Get your fork and knife ready for one of the nine time slots for Bernard's pre-fixe Thanksgiving Day meal. Reservations are available starting at 12 pm and ending at 6 pm. The Thanksgiving meal includes appetizers like butternut squash soup and lobster fricassee. Then choose a trusty traditional turkey for an entree, if you aren't game for the roasted pork chop or Icelandic cod. Then choose from a trio of desserts. $140 per adult; $75 for children.
Overlooking the Richter Park Golf Course, families can enjoy an affordable holiday meal in style. Four courses are available for Thanksgiving Day, including dessert. Sink your teeth into a wonderful shrimp cocktail or penne al la vodka appetizer and then choose from rack of lamb, salmon, pan seared red snapper, or a traditional turkey breast with stuffing, sweet potatoes and cranberry sauce on the side. There are so many desserts to choose from: chocolate mousse cake, carrot cake, apple pie, and more. $70 per person.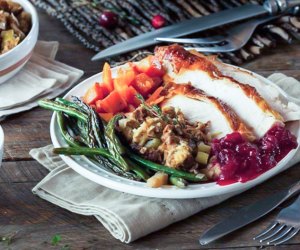 Connecticut restaurants will fill your plate this Thanksgiving! Photo courtesy of Artisan in Southport
New England-inspired American cuisine with an on-the-water appeal. Artisan is offering a pre-fixe Thanksgiving meal that starts with brandied lobster bisque, delicata squash. a nod to Southern Connecticut's Italian heritage with proscuitto and stracciatella. For your main entree, there are several things to choose from including NY strip steak and halibut. Of course, there's also a traditional meal with turkey, gravy, yams and pototoes. All of this is $85 for adults. There is a children's menu ($15).
Restaurants Open on Thanksgiving in Connecticut - Litchfield

Enjoy a pastoral autumn view on Thanksgiving in Warren. Photo courtesy of the Hopkins Inn
Sitting on the north end of beautiful Lake Waramaug, Hopkins Inn is full of scenic autumn colors. Families can soak in the view and take part in a traditional Thanskgiving Day meal with some German touches. Enjoy hearts of artichoke or butternut squash soup for an appetizer, or perhaps try the Bundterteller. The main entree selections include roast turkey, salmon with herb butter, sea scallops, or Wiener Schnitzel. End your holiday meal with one of 15 desserts, from a Linzer torte to a Toblerone sundae. Call for reservations; $65 per person.
Restaurants Open on Thanksgiving in Connecticut - New Haven
Celebrate the holiday with family at a place that knows how to handle large groups. Enjoy a starter of fresh herb soup or garden salad and then dive into your roast turkey, honey glazed ham, or hazelnut-crusted salmon. Enjoy a cup of coffee with some apple or pumpkin pie or a slice of cheesecake. $49.95 per person.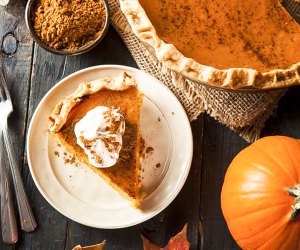 Save room for the sumptuous Thanksgiving desserts offered at Connecticut's restaurants. Photo courtesy of The Wharf Restaurant
The Wharf is serving a Thanksgiving buffet again this year, and there are so many delicious choices! The food stations create so much diversity for a holiday menu. Start with a soup or salad, and check out the raw bar. Get a slice of turkey or rib roast from the carvery, but then don't forget to take a looksee at the omelet station. End your meal at the sweets station, of course! Make reservations online; $85 per adult; $45 per child ages 6-12 years old. Children 5 and under are free. Reservations are required.
Enjoy an affordable Thanksgiving meal at Founders House. Start with a sweet potato bisque or or sweet potato salad with avocado. Then pull up your seat to eat the roasted turkey, honey bourbon glazed ham, slow roasted prime rib or baked stuffed shrimp. Finish your meal with pumpkin pie. While there, order a special Thanksgiving drink like the Apple Cider Mule, the Shelby, or a Pumpkin Rum Martini. The meal is $39.95 per person. Founders House is also offering "Heat and Eat" Thanksgiving dinner packages for pick-up by 11:30 am Thanskgiving Day.
Fresh Salt will be seating families on Thanksgiving Day from 11am to 4pm for an amazing holiday meal. The theme for the meal is "Harvest Table" and includes a fruit and cheese sampling and shrimp cocktail to start. It then moves on to an "autumn" salad of your choice followed by your desired entree. Choose from seared swordfish, wild mushroom ravioli, pan seared chicken. Or you can head over to the carvery for your traditional turkey. Adults meals are $89.95 and children are $39.95.
Restaurants Open on Thanksgiving in Eastern Connecticut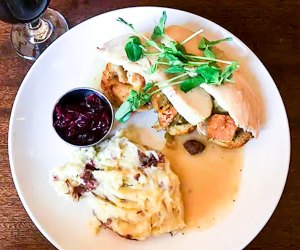 Try Thanksgiving dinner at a 250-year-old historic inn in Mystic. Photo courtesy of The Daniel Packer Inn
Have your Thanksgiving dinner at a 250-year-old historic inn. Enjoy the prix fixe menu for 2022, which includes pumpkin bisque, cinnamon creme fresche, and stuffed portabello mushrooms, to start! After you have had your salad course, dig into traditional roast turkey with herb sausage stuffing and carmelized sweet potatoes. Try their vegan shepherd's pie if you are looking for vegetarian options. Some items can also be prepared gluten free. Serving noon to 8 pm; $58 per person.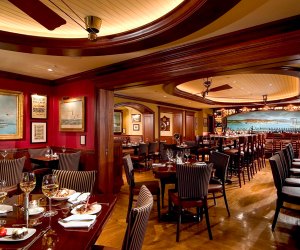 These seats will be full once the Thanksgiving carving stations are ready! Photo courtesy of the Griswold Inn
This is one of the oldest continuously operated inns in Connecticut. Seatings will be available at the The Griswold Inn from 11a to 7pm. The Inn will be offering a vast menu for the holiday starting with salads with field greens, goat cheese, yellow beets, pickled red onion and asparagus. For your entree, you may choose from five different choices at the carving station like traditional turkey, prime rib, pork loin, or baked cod. Warm apple pie or midnight chocolate torte is available for dessert. Adults are $60; children under 12 are $24.
If you family is interested in a brunch instead of a dinner, Hilton Mystic is serving Thanksgiving at two seatings, 11am and 2 pm. Come to the ballroom with family and rest while the meal is served. Start with a charcuteri and soup appetizer and then enjoy turkey fresh from the carvery and piping hot. There are many sides on the menu including a filling bacon and chopped egg salad with cremini mushrooms and baby Romaine. Cranberry sauce, mashed potato bar with fixings, brown butter and sage ravioli and brussells sprouts. A children's menu is available. The meal is $69 per adult and children ages 5-11 $33. Maximum table size is 10.
Order Thanksgiving Takeout
Milwright's is offering take-out as well, if you'd rather eat at home. Roast turkey or salmon? The maple glazed ham or sirloin? You choose. Throw in a side of cranberry sauce, and cheesy mashed potatos. $200 feeds a family of four. Orders must be picked up Thanksgiving Day from 10 am to 2 pm.

Order a whole smoked turkey for Thanksgiving takeout. Photo courtesy of Bear's Smokehouse
Try Bear's for something different this Thanksgiving. This smokehouse has a huge menu of offerings, from whole smoked turkey or smoked glazed ham to baby back ribs. There are sides like mashed sweet or red potatoes, macaroni with loads of great cheese, roasted carrots, and more. Choose from 3 salads to share with your guests. You can even add spirits to your online order. Pick up times are November 23 and 24.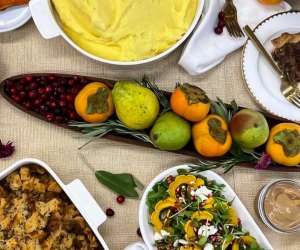 North Haven's SKBT can take care of all the Thanksgiving sides! Photo courtesy of Small Kitchen, Big Taste.
Everything but the turkey. Imagine firing up the oven on Thanksgiving morning, slipping all the pre-made deliciousness in to warm it up, and then serving it to your family on time. No fuss! Small Kitchen, Big Taste is taking a la carte orders. Choose from a cheese and charcuterie board, sourdough and sausage stuffing, classic herb stuffing, How about an apple brown butter pie or chocolate bourbon pecan pie for dessert? Place your order before November 15.
Enjoy the holiday and let Anthony's put the meal together for you. The all-inclusive meal includes turkey, stuffing, and gravy, mashed potatoes, sweet potato casserole, and apple or pumpkin pie. Choose from 3 different dishes for the pasta course. $35 per person. Please place your order by November 18.
The take-out menu for Thanksgiving 2022 is up and includes enough food for a group of 8-10 or a group of 12-14. The menu includes a full size turkey, traditional sausage stuffing, sauteed vegetables, candied yams, smashed potatoes, and more. For dessert, your group can dig into a full size pumpkin pie. Heat and eat will guarantee you a relaxed holiday!