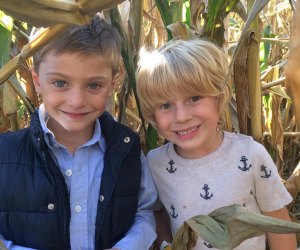 Slingshot a Pumpkin, Dive into a Corn Pit, and Get Lost at Benedict's Home and Garden
Ever use a four-foot slingshot to launch a pumpkin at a target? No? How about dive head first into a pit of corn? Well, let us point you in the direction of Benedict's Home and Garden in Monroe. And, while we're talking Fairfield County pumpkins and corn pits, check out our fall fun guide and subscribe our newsletter so you won't miss corn maze, apple orchard, or harvest festival this season.
Nestled on Purdy Hill Road off Route 25, Benedict's Home and Garden is a sprawling nursery and agrarian supply store selling everything from pumpkins to chickens to John Deere toy tractors. (Just preparing you in case you should pop into the store.)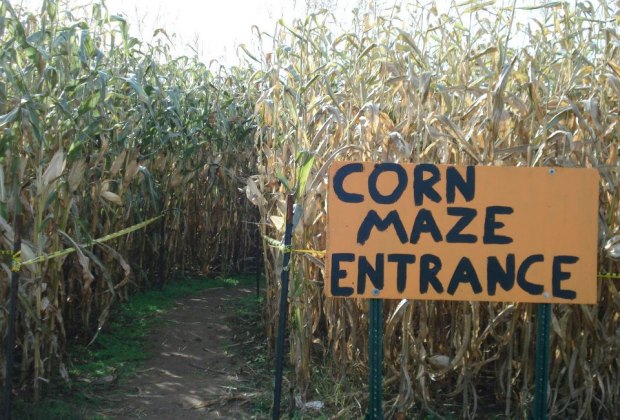 Photo courtesy of Benedict's Home and Garden
Serving Monroe and the surrounding area for more than 50 years, Benedict's is a family owned business that started as a feed and grain store run out of the family home. Today, it is a full lawn and garden, farm and pet center. And when September rolls around, Benedict's becomes a hub for seasonal agri-tainment.
Come Fall, Benedict's offers a range of activities for families to enjoy! Beginning in mid-September and running through the end of October, the home and garden center draws crowds to its corn maze, hay rides, hay bale tower and giant corn pit, to name a few.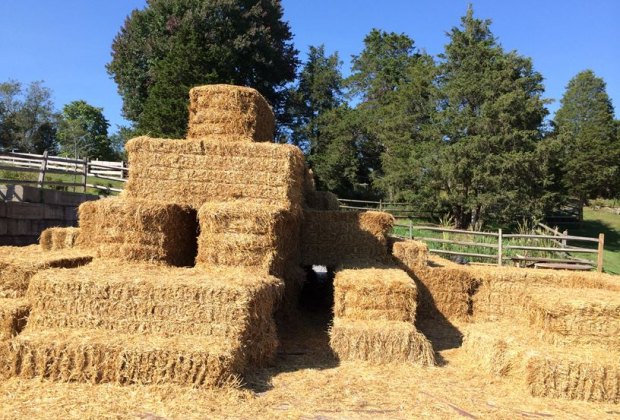 Photo courtesy of Benedict's Home and Garden
We typically head to Benedict's on weekdays afterschool and spend a minimum of two hours just climbing the hay bale tower, which is really like a 40 foot tall playground made of haybales, and rolling in the corn pit.
Sling shotting pumpkins can easily appeal to kids of all ages (and their grownups!) and hay rides through the hay fields is fun for the whole family. But, these two activities are only available on the weekends, and for a price.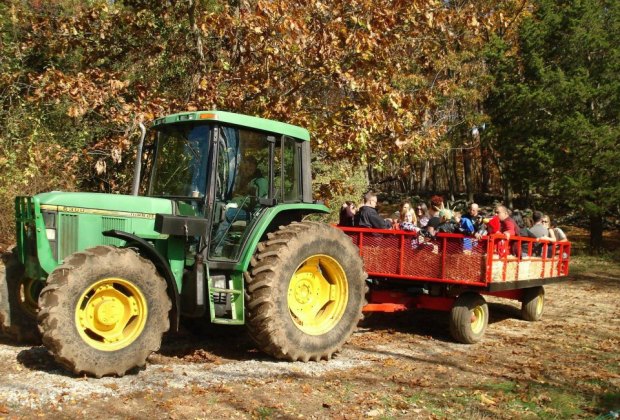 Photo courtesy of Benedict's Home and Garden
A few things we should mention before you go: first, the corn maze, corn pit, and hay bale tower is up a little hill behind the store. You can get there by walking through the greenhouse past the pond and straight up the hill. Second, once your kiddos have been in the corn pit, there will be corn in the bottom of your washing machine for the next six months. Third, Benedict's is home to a collection of birds behind the store from your basic farm fowl to a small handful of peacocks that wander freely. Chickens, however, are kept in a coop right alongside the hay bale tower. There are goats, and usually, a few kind-eyed cows wandering the fields near the corn maze. And finally, the best part about the whole shebang? It's FREE! (On weekdays!)
Benedict's is open Monday through Friday 8am-6pm; Saturdays from 9am to 5pm and Sundays from 9am to 4pm.