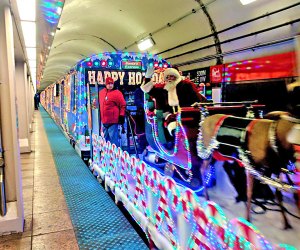 Best Christmas Train Rides and Holiday Train Shows for Chicago Families
It's easy to feel like a kid again during the holiday season, and if you're like us, your childhood memories included trains—riding the CTA for the first time, building your own model train set, or taking the trolley downtown. Now add the glittery, magical goodness of the holiday season in Chicago to relive that experience with your favorite little ones. We've rounded up some of the best holiday train rides and train shows in the Chicago area, so bundle up, grab a hot chocolate, and hop aboard. Wearing themed pajamas (matching optional) is encouraged!
Holiday Train Rides
CTA Holiday Train and Bus Rides — Chicago and Oak Park
November 22–December 20
$2.50
Make your regular, boring commute more festive with a ride on the CTA's decked out trains and buses, all included in the normal fare. You might even spot the big guy himself, his elves, or Rudolph, in bus form! Be sure to check the CTA website for exact routes, dates, and times.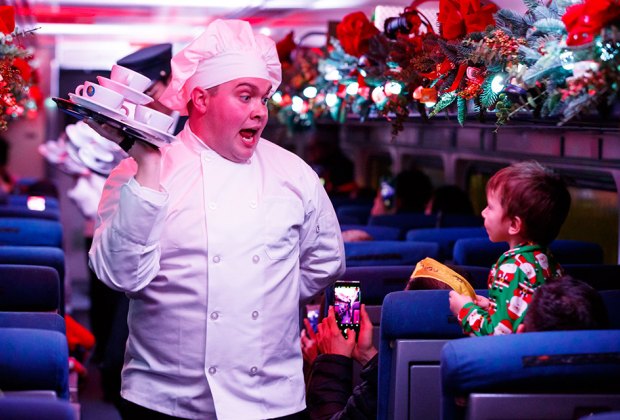 Take a magical trip on The Polar Express Train Ride. Photo courtesy of The Polar Express
Chicago Polar Express — Downtown Chicago
November 23–December 29
$48 and up
The Polar Express is probably the biggest, most over-the-top train ride experience we've ever had. Departing from the iconic Union Station in downtown Chicago, families can wear their pajamas, grab a cup of hot cocoa and a cookie, and enjoy a story and interactive performances by talented actors who bring The Polar Express to life. Kids will get a visit and a special keepsake gift from Santa himself.
Polar Express and Christmas City Express at Fox River Trolley Museum — South Elgin
November 24–December 29
$29 and up
The Fox River Trolley Museum is hosting two different holiday rides this season: the traditional Polar Express, and the Christmas City Express, featuring a story about a girl's journey to visit her grandparents for Christmas, when a snowstorm unexpectedly stops the train. Guests can enjoy performances by the museum's professional musicians, readers, and entertainers, as well as cookies, hot cocoa, a visit from Santa, and a special gift for good boys and girls.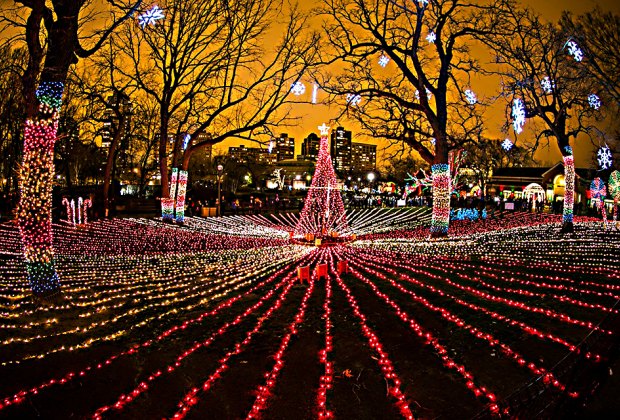 See the ZooLights at Lincoln Zoo from aboard the Chicago Trolley Holiday Lights Tour. Photo courtesy of the tour company
Chicago Trolley Holiday Lights Tour — Downtown Chicago
November 29–December 31
Adults: $35; Kids (3-15): $20; Lap Kids (under 3): Free
See all the downtown Chicago holiday sights in one trolley ride while you sip on hot chocolate, munch on snacks, and are entertained by the staff on the Holiday Lights Tour. Sights include Michigan Avenue, Christkindlmarket at Daley Plaza, ZooLights at the Lincoln Park Zoo, and more. Guests will receive a pair of ZooLights 3D glasses and a complimentary bag of Hot Cocoa CaramelCrisp.
Lionel Train Adventure at Lincoln Park Zoo — Lincoln Park
November 29–January 5, 2020
$3
For the littlest train fans who aren't quite ready to commit to one of the longer train rides, the Lionel Train Adventure at the Lincoln Park Zoo is a great solution. The whole family can enjoy the holiday Zoo Lights while you're there.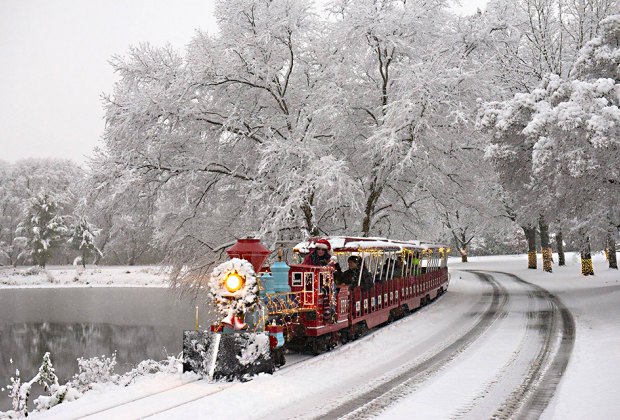 All aboard! Take a magical ride on the Blackberry Farm Holiday Express train. You'll see Lake Gregory and Blackberry Farm in all its holiday glory. Photo courtesy of the farm
Holiday Express at Blackberry Farm — Aurora
Thursdays through Sundays, December 5–22
$7
If you're looking for a more rustic setting, check out the Holiday Express at Blackberry Farm in Aurora. Guests can enjoy the farm setting decked out with thousands of holiday lights, as well as festive music, crafts, a scenic tour around Lake Gregory, a visit to an historic pioneer village, and of course, a visit with Santa.
CASA Christmas Express — Joliet
December 7–8
$25 and up
The whole family can enjoy a Christmas themed train ride from Joliet to Tinley Park and back, with snacks, songs, and a visit from Santa. The best part about this train ride is that all proceeds go toward finding safe, permanent, and loving homes for kids.
Candy Cane Train — Deerfield
December 8
$18–23
Holiday train enthusiasts of all ages can travel from the Metra Train Station on Deerfield Road to meet Santa and his friends and enjoy some holiday treats. Be sure to bring your camera!
North Pole Adventure — West Chicago
December 14–15
$20–25
Hop aboard a train to the "North Pole" in West Chicago, and enjoy music, stories, snacks, and surprises while on board. Santa will join travelers on the trip back from the North Pole, and kids will have a chance to take a picture with him.
Holiday Train Shows
Lincoln Park Conservatory Winter Train and Flower Show — Lincoln Park
November 29–January 5, 2020
Free
The Lincoln Park Conservatory hosts its annual holiday train and flower show, making a stunning and whimsical obstacle course of beautiful plants and festive holiday lights for its model trains. This show never disappoints, and is FREE to the public.
Canada Pacific Holiday Train Show — Bensenville
December 2
Free (Donation of money or food encouraged)
On their way through Canada and the United States, the talented performers aboard the Canada Pacific stop in Bensenville to entertain guests with a mix of folk and holiday music, all for a good cause. Bring a monetary donation or non-perishable food items, enjoy a concert, and spread a little holiday cheer this season.
Lego Train Show at Cantigny Park — Wheaton
December 14–15
Free with $5 parking fee
The Northern Illinois LEGO Train Club presents its annual holiday train show, featuring elaborate train routes and villages, all made from LEGOs. Visitors can bring a new, unwrapped toy donation for the Marine Toys for Tots in exchange for free parking.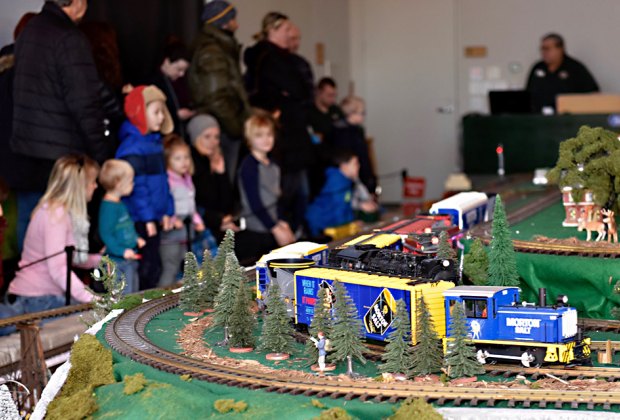 Watch an intricate railroad travel through a wonderland at a child-friendly level. Photo courtesy of the arboretum
Enchanted Railroad at the Morton Arboretum — Lisle
January 17–February 23, 2020
Adults: $15; Kids: $10; Babies (under 1 year): Free
Featuring over 10 model trains and an impressive two-level display of tree collections from around the world, the Enchanted Railroad at the Morton Arboretum is a must-see for all miniature train enthusiasts. The trains run at a kid-friendly height to thrill even the littlest fans.