Top Spots for Summer Stargazing around Boston
8/3/17
- By
Kelley Heyworth
Summer is all about exploring the wonders of the outdoor world, and we have plenty of ideas for filling your days with meaningful family activities to fill your photo albums and memories. However, some of the most brilliant spectacles of summer are visible after the sun goes down. Along with the big show—the Perseid Meteor Shower, lighting up the night sky on August 12th and 13th—there are stars, planets, and moons to behold, if you're in the right place on a clear night. Consider bringing the family to one of these observatories or "star parties" one late-summer or early-fall evening; and if daytime activities are more your family's speed, stay tuned for our upcoming article about watching the partial solar eclipse with kids on August 21st.
Note that most events involving telescopes or other equipment—not to mention late-night hours—are best for kids around age 5 and up. Also, most of the following happenings are canceled or postponed if it's cloudy or foggy, so be sure to call the organization or check its website or social media pages on the day of the event to make sure it's on. Happy viewing!
Boston Children's Museum—Boston
Fridays August 4, September 1
The boardwalk outside the museum is the place to be on the first Friday evening of the month, when the folks from #popscope bring their telescopes and infectious enthusiasm about astronomy to the general public. Line up to get a glimpse at the stars, nearby planets, and the most visible features of the current night sky. 5:30-9pm; free
Gilliland Observatory, Museum of Science—Boston
Thursdays and Fridays August 3, 4, 10, 11, 17, 18, 24 25; Fridays September 1, 18, 15, 22, 29
On Friday nights from March through mid-November (and Thursdays, too, in summertime) the MOS hosts Astronomy After Hours on top of the parking garage. Unlike most astronomy events, the event is held even in cloudy conditions—the group simply heads inside the museum to do hands-on activities related to the astronomical phenomena they had planned to see that evening. 8:30-10pm; free
Clay Center, Dexter-Southfield School—Brookline
Tuesdays August 8, September 12, 19, 26
Home to one of the most state-of-the-art observatories in the area, the Dexter Southfield school opens the Clay Center to the public most Tuesday nights in the spring, summer, and fall. Kids can peek through a telescope that's trained on whatever constellations and planets are most visible that night, see city views from the observation deck, and walk among the constellations on its fiber-optics-lit "stars court." August 8th is the last Telescope Night until the fall. 8-9pm; free (pre-registration requested)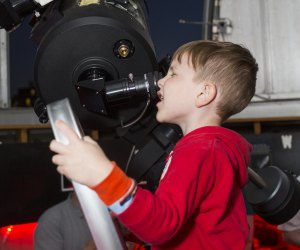 A little astronomer studies the stars at Gilliland Observatory at the Museum of Science. Photo courtesy of Nicolaus Czarnecki
Coit Observatory, Boston University—Boston
Wednesdays August 9, 16, 23, 30, September 6, 13, 20, 27
Right on Commonwealth Avenue, B.U.'s gem of an observatory is a premier place for citydwellers go to learn about the cosmos. Public Astronomy Nights are held most Wednesdays throughout the year, and are free but require advance registration (which often fills up quickly). Check the sign-up page frequently to grab spots; along with planets and constellations that knowledgeable staffers carefully select and train the telescope's lenses on, the panoramic views of the city are breathtaking, too. 8:30 (spring and summer), 7:30 (fall and winter); free (pre-registration required)
Chickatawbut Hill, Blue Hills—Milton/Braintree
Saturday, August 12
The Blue Hills Trailside Museum hosts periodic stargazing events out of the observatory tower at the top of Chickatawbut, and will hold a special event to celebrate the Perseid Meteor Shower on August 12th. At Stars, S'mores, and Meteors, families will enjoy treats and stories by a campfire before attempting to get a glimpse of early-falling meteors, as well as the Perseus constellation and other star clusters. 8-9:30pm; $10-12 (pre-registration required)
Tewksbury Public Library—Tewksbury
Tuesday, August 15
The North Shore Amateur Astronomy Club holds events about once a month in the community, and on August 15th, will be hosting a Star Party and Eclipse Presentation outside of the Tewksbury Library. The NSAAC also leads stargazing events at the Mendel Observatory on Wednesday nights year-round, and at Salem State's Collins Observatory on Monday nights from September through May. 8-9:30pm; free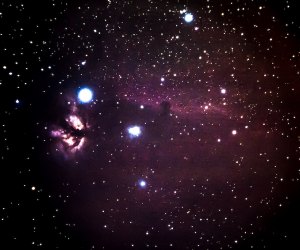 The Horsehead Nebula is an example of constellations amateur astronomers try to spy at a star party. Photo by Alfonso Navarro
The Fruitlands Museum—Harvard
Wednesday, August 16
Harvard is a little way out for many of us, but that's exactly why stargazing is so special there. At Astronomy Night on August 16th, visitors will gather on the Fruitlands' hillside to learn more about the stars, planets, and moon from high school science and astronomy teacher, Alfonso Navarro. 8-9:30pm; adults, $5-10; kids, free
Governor Hutchinson's Field—Milton
Thursday, August 17
Bring your curiosity (and a picnic dinner) to the Starry Summer Skies event, where astronomy teacher Alfonso Navarro (who runs a similar event in Harvard the previous night) will provide telescopes and guidance to observe Saturn, star clusters, the Milky Way, and constellations including Cygnus, Cassiopeia, Hercules, Lyra and the Big Dipper. 7-9:45pm; adults, $5-10; kids, free
Robbins Farm Park—Arlington
Saturday, September 2
Astronomy teacher Jeff Alexander always has at least one telescope on hand at Robbins' Farm Astronomy Nights, which happen about once a month in the summertime. This month, he's hosting a daytime event on the 21st to catch the solar eclipse, but he'll be back on the evening of September 2nd to focus on the full moon. Head to the observation area, which offers great views of the city as well as the night sky.
Your own backyard or local park
You don't need special tickets or fancy equipment to appreciate the stars, though good-quality binoculars help and a simple, tripod-mounted telescope makes the experience even more exciting. On a day or two before what's projected to be a clear night, print out these online constellation cards from Lie Back, Look Up for your kids to preview. On the big day, consider a nap for little ones so they can stay awake until 9 or 10, when stars really begin to brighten against the darkening sky. Tote blankets, bug spray, and sweatshirts to your yard or a local park that allows nighttime access, and study the sky together.
Note: Some other observatories, including those at Harvard and Wellesley College, host public stargazing nights during the academic year.

Top photo via Bigstock
Click Here to Sign Up!
i