Dinosaurs Roar into Orlando with the Jurassic World Live Tour in January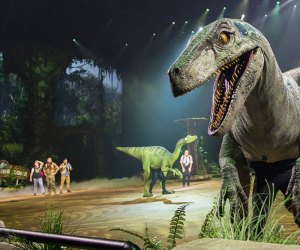 Get your budding paleontologists and little dinosaur fanatics ready! The Jurassic World Live Tour returns to the Amway Center January 13-16, bringing the thrills of Jurassic World to audiences of all ages. Watch as your favorite dinosaurs from the hit film franchise take center stage in this live arena production. Fans can see Blue, everyone's favorite Velociraptor, as well as a 40-foot-long Tyrannosaurus Rex and dozens more life-size dinosaurs operated by animatronics and performers.
Dinosaurs aren't your thing? Take a look at our Best of January article and find out what other awesome Orlando events are sure to entertain your kids!
Meet fan-favorite Bumpy, a friendly and food-motivated dinosaur ready to charm the crowd.
Jurassic World Live Tour: Dinosaurs Run Amuck
Hear Jurassic World's distinctive musical score as it combines with realistic scenery and projections to transform Orlando's Amway Center into the jungles of Isla Nublar. See Gyrospheres roll through the valley and watch as scientists work to save Jeanie, a Troodon dinosaur, from a terrible fate. This action-packed, family-friendly show contains amazing stunts and an original storyline, guaranteed to provide lasting memories!
Jurassic World Live Tour: Showtimes and Details
Jurassic World Live Tour is a unique combination of show and interactive experience, where kids will stare, open-mouthed, and the magical connection to prehistoric times. Showtimes are:
Friday, January 13 - 7:30pm
Saturday, January 14 -11am, 3pm, 7pm
Sunday, January 15 -1pm and 5pm
Monday, January 16 - 1pm
Doors open one hour prior to each show time. All adults and kids ages 2 and up require tickets.
In addition to Blue, see a Stegosaurus, Triceratops, and of course, a T-rex!
A special preshow experience is included with each ticket. Fans can partake in photo opportunities with a triceratops, stegosaurus, Baby Bumpy, a Jurassic World Jeep, and a Gyrosphere. This preshow starts one hour before showtime.
Jurassic World Live Tour: Ticket Discount Code
Tickets start at $25; however, our readers can save 20 percent when you get tickets here and use our special discount code: MOM23.
This offer is valid on select price levels and performances for the following showtimes: Friday, January 13 at 7:30pm; Saturday, January 14 at 7pm; Sunday, January 15 at 5pm; and Sunday, January 16 at 1pm. No double discounts, and service charges, handling, and facility fees may apply. Tickets are subject to market supply and demand. This offer expires January 12, 2023 so get tickets soon.
Photos courtesy of Feld Entertainment