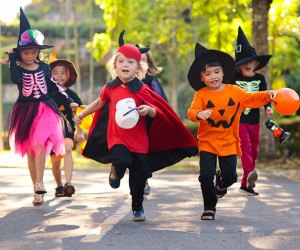 Best Orlando Neighborhoods to Trick-or-Treat
While there are many Orlando trunk or treat events and Orlando Halloween events happening all throughout the month, most kids and families still love the tradition of door-to-door trick or treating. While several families choose to trick or treat in their own neighborhoods, we realize that's not possible for everyone. We've rounded up the best neighborhoods for kids to trick or treat in Orlando and experience Halloween together. Read on to see if your neighborhood made the list!
A note: One of the most common questions asked by those who've recently moved or are visiting Orlando is, "What day and times does door-to-door, trick-or-treating take place for Halloween in Orlando?" The answer is that trick-or-treating always takes place on Halloween night (even on a school night). While there are no formal start and end times, popular Orlando trick-or-treating hours are 5:30-9pm. As a general rule, if front porch lights are on, trick-or-treaters are welcome. Keep in mind as well that with Covid precautions in place, trick-or-treating may be limited in certain areas.
For more festive Orlando Halloween fun this October, visit our Orlando Halloween Events and Activities Guide.
OUR LATEST VIDEOS
Best Neighborhoods to Trick-or-Treat in Orlando
Baldwin Park
Just five miles east of downtown Orlando and ranked as one of the top 20 neighborhoods in the country for trick or treating in 2016, Baldwin Park does not disappoint. Each year the neighborhood sees a steady increase in trick-or-treaters. The most popular street Baldwin Park is New Broad Street—most houses are decorated and include fog machines, light displays, and more. The houses are set close to the sidewalk, and most residents set up on their front porch to hand out candy (many of them in costume themselves). The street parking in Baldwin Park is public, but it fills up very fast on Halloween, so arrive early.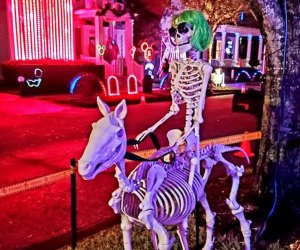 Halloween Lights Display on Jeater Bend. Photo courtesy of the venue
Celebration
This town is appropriately named for its celebration of all holidays, and Halloween is no exception. There are houses that go all-out with elaborate ghoulish décor and lights. The houses are close together and the neighborhood contains miles of sidewalks. If visiting Celebration this Halloween, be sure to check out the amazing Halloween Lights Display on Jeater Bend. The area gets very busy on Halloween so parking may be difficult. Others who have gone in past years recommend arriving around 4:30.
Dr. Phillips
The neighborhoods in Dr. Phillips offer a suburban feel close to the attractions. This spot is another highly recommended place for trick-or-treating due to the large amount of families who live in the area.
Hunter's Creek
The Hunter's Creek Community Association is hosting a fun trunk or treat event the Friday before Halloween, complete with carnival games and a Halloween movie in the park. There are many smaller neighborhoods within Hunter's Creek to walk around for door-to-door trick-or-treating on Halloween.
Old Town
While not technically door-to-door, Halloween at Old Town is a popular and highly recommended destination for trick-or-treating on Halloween night. Several parents mention that their kids have received lots of candy here in years past from local merchants. Festivities also include Thriller dancers, a costume contest, and an outdoor family movie night, plus there are several restaurants and food vendors onsite.
Tuskawilla
Well known as a wonderful neighborhood full of families, Tuskawilla is a large neighborhood in the Oviedo/Winter Springs area of Seminole County. This is a popular trick-or-treat destination with several areas to park and walk, and plenty of festively decorated houses.
Windermere
Kids can kick off Halloween weekend in Windermere and show off their costumes at the annual Halloween Costume Parade. The houses along Lake Bulter usually have lots of fun Halloween displays.
Winter Garden
Several houses and neighborhoods surround downtown Winter Garden. Take the kids door-to-door trick-or-treating then head downtown to enjoy a Halloween light show, live music, and street performers at the Winter Garden Halloween Experience.
Winter Park
Winter Park's tree-lined cobblestone streets make for a picturesque Orlando trick or treat night. Plus, several houses have fun and elaborate Halloween decorations. Downtown Winter Park has a variety of restaurants, so families can trick or treat the local neighborhoods and then head downtown to grab dinner.