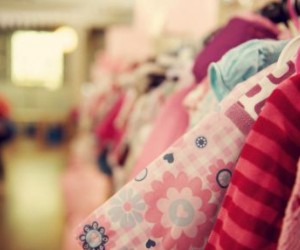 Where to Swap Baby and Kid Clothes and Toys in NYC
Clothing and toy swaps are such a New York City necessity. Buying brand-new clothes and toys every time your tot outgrows something (that often still has the tags on!) just doesn't make sense. It's environmentally unsound, and wastes money and space, something we NYC families already have too little of. Luckily, a number of neighborhood and city groups offer family-friendly swap events where you can trade in gently used children's items for new-to-you finds. It's easy—and painless on your wallet.

We've got the scoop on the top swaps in the city so you can find the right one for your family.
Stop 'N' Swap Free Community Reuse Events — Citywide
Nonprofit org GrowNYC hosts these swaps throughout the five boroughs. They go way beyond kid stuff—adult clothes, shoes and books, and housewares are welcome, too. Drop off your contributions at a designated table and dive into shopping, while volunteers weigh, sort and distribute your donations. Bonus: It's FREE and you don't even need to bring anything to participate (though really, getting rid of your stuff is kind of the point). Check the website for upcoming swaps.
Little Swappies — Brooklyn
Started by a NYC family, Little Swappies hosts intermittent events throughout Manhattan. These fun swaps typically include live kid entertainment and demos, plus stroller cleaning, goody bags and raffles. Tickets are $20 in advance and $25 at the door (kids are free), plus five good-condition items to be swapped. You can also volunteer in exchange for free admission, though you're still required to bring stuff to swap. Check the Little Swappies events page to find out about upcoming dates. Any leftover items are donated to its charity partner, Room to Grow, which helps local families in need with very young children.
RELATED: Tips for Swapping Everything
PSP Clothing Swap — Park Slope
Veteran Brooklyn parent organization Park Slope Parents hosts regular swaps that are open to members and the public for different entry fees, plus a minimum of 25 high-quality items (no toys!) for ages newborn to 10 years. Clothing, strollers, backpacks, books and maternity wear is welcome. Merchandise is organized by size and, if possible, gender, and continues arriving throughout the day. Next swap is Saturday, September 26 at the Greenwood Baptist Church. Leftover items are donated to local charities.
The Bronx New Mommies Group — the Bronx
Swaps fall into two categories: Expectant Mom Swap for maternity clothes and pregnancy books, and Fashionista Swap, both of which are for parents, not children. Visit the website for upcoming dates.
NYC Stuff Exchange
Not an event but a list of local fairs, sales and swaps that benefit nonprofit organizations. Browse the calendar for upcoming offerings.
RELATED: 5 Baby Gear Essentials for Small-Apartment Living
Other swap options include joining a local Facebook group like NYC Baby Stuff Swap or NYC Mom Buy, Sell or Swap. Parents post items online and arrange for in-person pickup.
If you're just looking to get rid of items without swapping, there are Freecycle groups in every borough where parents can post outgrown items like bouncers and changing tables, and, hopefully, someone will take it off your hands for free. Of course, a number of NYC neighborhood email classified lists also exist for unloading kid wares, including the BoCoCa group for the Cobble Hill, Brooklyn, area.
And with Halloween just around the corner, consider a costume swap instead of buying a whole new outfit. Carroll Park in Brooklyn's Carroll Gardens is hosting its third annual Halloween Costume Swap Meet this Saturday, September 26 from 10am to noon. As a bonus, winter coats and boots are being accepted.
Did we miss your favorite swap? Tell us about it in the comments.
Photo via Flickr.