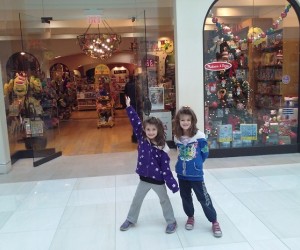 Independent Toy Stores in New Jersey
I'll be the first to admit that big box toy retailers have their place. When my daughter wants something generic like a Dora Play Kitchen, or I get very strict instructions from our 4 year old nephew about which Transformer action figure he wants for his birthday, I can honestly say there's no better place to shop. But amid the fluorescent lights and impersonal service, there's a part of me that finds mega toy warehouses just a wee bit depressing. There's something so old-school and refreshing about walking into a small "mom & pop" toy shop to browse unique gifts and – imagine this - actually receiving genuine help from the staff.
With the help of some Jersey moms, some personal experience and some great tips from NJ-based toy manufacturer Kids Preferred, we got the inside scoop on the very best independent toy shops in the state – check out this short & sweet list when you need to buy your next present.
Big Fun Toys (Hoboken, Manasquan and Pt. Pleasant Beach)
Big Fun is one-part toy store and one-part novelty shop and is 100 percent unapologetic about its brash and fun attitude. Visit either the Hoboken location or stop by their Manasquan outpost next time you're down the shore. They stock mom-approved favorites like Melissa & Doug easels, Ready, Set, Go! tricycles and Wheely Bug rockers. The website makes sense of their many quirky products by dividing toys under age appropriate tabs. Moms & dads will have just as much fun selecting an educational toy for the kids as they will checking out pickle-shaped bandages or a "public toilet survival kit". Stop by Big Fun for a genuinely great selection of kids' toys and some laughs and entertainment too. For more information, please call 201-714-9575 for Hoboken, 732-223-1124 for Manasquan and 732-714-7700 for pt. Pleasant Beach.
Lulu's Armoire (Westwood)
Run by a mother/daughter team, Lulu's fits the bill when you want a classic girly shopping experience. Step inside the tiny boutique off of the small main street in Westwood where you'll discover an eclectic mix of high-end children's clothing that can best be described as whimsical and a bit bohemian. Flowing dresses, cozy organic wrap sweaters and even a carefully edited selection of gently-used designer duds are all on display. After sifting through the racks, head to the back of the store and browse through gifts and knickknacks from hand-woven finger puppets to an adorable array of hair bows for babies and toddlers. Lulu's also stocks custom nursery art by Sara Eden Photography, super-soft stuffed animals and baby-care gifts basket from loved brands such as Weleda Baby, Noodle & Boo and Burts Bees. For more information, please call 201.664.LULU
Kidegories (Shrewsbury)
When you want a sweet newborn gift to give a first-time mom at her baby shower or a special gift for any little girl in your life, Kidegories is the place to shop. From personalized newborn baby blankets and handmade picture frames adorned with sayings such as "Big Sister" and "Twice Blessed," the merchandise at Kidegories is understated and classic. And if you want to adorn your daughter's room with an old-fashioned touch, carefully select a beautiful flower patterned jewelry box or one of their precious doll tea sets that come nestled in a mini picnic basket. Kidegories also prides themselves on their wonderful selection of furniture, crib & bassinet bedding and all sorts of wall art to complement your chosen nursery theme. For more information, please call 732-530-0066.
Toy Market (Hammonton)
South Jersey's independent spirit shows up in the toy world at Toy Market, with its huge supply of Melissa and Doug, Goldie Blox, and honest-to-goodness wind-up toys. Toy Market prides itself on providing fun choices you won't find at Target or Toys'r'Us. For more information, call 609-561-2121.
Scribbles (Edison)
A trip to Menlo Park Mall is not complete without a visit to Scribbles, an innovative toy and gift store. Kids are drawn to the store's selection of sought-after brands, like Shopkins, Beanie Boos, Melissa & Doug and Calico Critters. Plus, peruse the store's array of games and crafts kits for all ages. Scribbles also offers personalized gifts such as banks and step stools. If you're looking to do some serious gift shopping, the kids will have plenty to keep busy with train tables and toys for young shoppers to play with. Check the store's website for various events throughout the year, such as Neighborhood Toy Store Day and a visit from the Calico Critters bunny. Call 732-549-7277 for more details.
Hobby Shop (Aberdeen)
Back in the 80s, Aberdeen's Hobby Shop was the place to score supplies for friendship bracelets and ribbon barrettes. Over 30 years later, Hobby Shop is still the go-to place for trendy toys, comics, sports memorabilia, comics, trains and more. The store hosts events and classes year-round that include Shopkins Trading Day, weekly Yu-Gi-Oh Tournaments and Daisy Scouts classes. You can even throw a creative birthday party at Hobby Shop with themes such as Legos, Minecraft and Tye-dye. For more information, call 732-583-0505.
photo: Scribbles at Menlo Park Mall
*originally published September 2014