Gay Pride Events for NYC Families: Free Ways to Celebrate Pride Month with Kids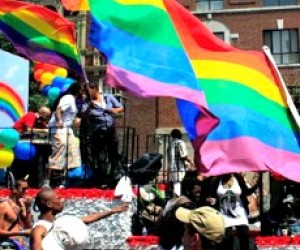 A few decades ago, Gay Pride in New York City was mainly an adult affair, with a big Manhattan march followed by parties until dawn. While those events continue today, a lot has changed about Pride and for the LGBT community as a whole. Many gay couples are now married (legally!) with children and want to celebrate Pride as a family. Plus the festivities aren't limited to Manhattan; now the outer boroughs host notable Pride events, too, with their own vibes and attractions.

Last year, my son and I spent several happy hours eating, shopping and playing our way through the Brooklyn Pride Festival right off Bartel-Pritchard Square. It was mellow and fun, and with Pride Month upon us again, we're looking forward to checking out other kid-friendly Pride celebrations throughout June. While some gatherings are still just for grown-ups, we've found a bunch that are great for the whole family. Bonus: They're all FREE.
Manhattan
Wonka by the Water – West Village
Pier 46, Charles Street and the West Side Highway
Wednesday, June 20, lawn opens at 7:30pm, movie starts at dusk
FREE
NYC Pride's official Family Night, this outdoor screening of the kooky 1971 classic Willy Wonka and the Chocolate Factory is sure to appeal to parents and kids alike. In addition to the movie, families can enjoy sweet snack stations, colorful blankets and rainbow balloons.

Family Pride Picnic – West Village
Church of St. Luke in the Fields, 487 Hudson Street near Christopher Street
Saturday, June 23 noon-3pm
Free but donations encouraged
The LGBT Community Center hosts this kid-friendly picnic that includes food, a DJ, face painting, games and crafts, and lots of socializing.

The March – Midtown to the West Village
Starts at 36th Street and Fifth Avenue and ends at Christopher and Greenwich Streets. See a map of the entire route.
Sunday, June 24th at noon
FREE
Pride Month's main event is often called a parade, and it certainly has a festive atmosphere. However, it's still known as a march since its roots are deeply political. Find a spot on the route and cheer on the participants. Highlights include grand marshal Cyndi Lauper, a slew of fabulous floats, colorful balloons and lots of personality as participants strut, dance and march down the avenue. To be clear: This march may be a bit much for some families. It's very crowded, and there is often some (usually mild) nudity, guys gyrating in go-go pants and drag queens camping it up. But overall, it's pretty PG. To get a peek at what you'll see, check out this photo gallery from years past. Don't forget water and sun protection.

PrideFest – West Village
Hudson Street between Abingdon Square and 14th Street
Sunday, June 24th 11am-7pm
FREE
After the March, revelers hit this massive street fair. It's totally family friendly, and features lots of food, vendors and live entertainment. Again, expect large crowds here.

Brooklyn
Brooklyn Pride Festival and Kids' Space – Park Slope
Prospect Park West between 9th and 15th Streets
Saturday, June 9 noon-6pm
FREE
This low-key street fair includes lots of food, shopping and a stage featuring live music, comedy, dance and other family-friendly entertainment. Be sure to check out the dedicated kids' space (open noon-4pm) where children can make puppets, enjoy storytime, bookmaking and other activities.

Brooklyn Pride Parade – Park Slope
Starts at 14th Street and Fifth Avenue and ends at Union Street
Saturday, June 9 at 7:30pm
FREE
After the fest, enjoy NYC's only nighttime Pride parade. Despite the late hour, it's actually super-family-friendly and much mellower than the Manhattan march.

Bronx

Bronx Pride Festival – the Bronx
Saturday, July 21 noon-6pm
Crotona Park
We don't have a lot of details about this celebration yet, which actually takes place next month. However, the organizers assure us that it's always family friendly. In the past, members of the borough's LGBT community have come together to enjoy food, live entertainment and vendors.

Queens and Staten Island also host annual festivals and parades, but this year they took place very early during Pride Month on the first weekend of June. We'll be sure to include them next year.