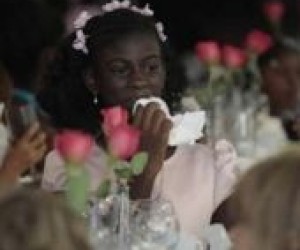 NJ Weekend Events August 28-29: OMG Glam Tea Party, Rockit! Live, Yo Gabba Gabba! and FREE Back to School Healthy Goodies!
If you're looking for some NJ-centric activities this weekend, rumor has it that Miss New Jersey and Miss Teen New Jersey 2010 are going to be at the OMG! Glam Tea Party. Beauty contestants and Glam tea? Can't get much more Jersey than that. If this is just too girly for your almost-last weekend of summer, Rockit! Live will have plenty of teenaged boys playing electric guitars, and the St. Sebastian Feast statue will definitely be male. Or just go unisex and enjoy chocolate and vanilla treats at Camden Children's Garden or haul bootie all the way down to Philly to see the immensely popular Yo Gabba Gabba Live. However you slice it, enjoy your last weekend of August!
OMG! Glam Tea Party (Union)
The "Oh My Goodness! Glam Tea Party" started in 2009 as a way to provide young girls with the opportunity to experience the tradition of tea in the beautiful 18th century restored Liberty Hall Museum mansion. It sounds extra-girly and extra-fun with a butterfly-themed garden party, flavored teas, finger sandwiches and gourmet desserts, Victorian-era games, a take-home craft, and (gulp) an etiquette lesson. Sunday, August 29 at 2pm. Tickets $35 in advance, $40 at the door (cash preferred). Call 732-713-1167 for more info.

Yo Gabba Gabba! Live: There's A Party In My City (Philadelphia)
The life-sized versions of Muno, Plex, Foofa, Brobee and Toodee stand right next to DJ Lance and Biz Markie for this colorful, music-filled extravaganza. (Um… aren't they scary enough in miniature versions?) Well, the kids do love Yo Gabba Gabba, so turn out for the two big shows at the Mann Center on Sunday, August 29 at 2pm and 5:30pm. Tickets are a bit steep, $40.50 and $50.50, but at least you have the satisfaction of knowing that $1 from each ticket will go to Habitat for Humanity. Call 215-893-1999 for tickets.

Chocolate and Vanilla Family Festival (Camden)
Just in case your kid doesn't know that chocolate and vanilla are flavors based in nature, not just in ice cream, bring them to this delicious daytime event at the Camden Children's Garden. You'll get to vote for your favorite flavor, take a tropical smell test, participate in crafts and educational activities and eat chocolate and vanilla treats. Saturday, August 28 and Sunday, August 29 from 12pm to 4pm. Adults/$6, Children 3-11/$5, free for children 2 and under. Call 856-365-8733 for more information.

Rockit! Live (Red Bank)
An all-kids band playing rock'n'roll? Now that sounds like the way to bid farewell to summer. Rockit! Live is the culminating event of a six-week young musicians' program offered by the Count Basie Theatre Performing Arts Academy and Rockit, directed by Bruce Gallipani. Guitarists, drummers, vocalists, bass players, keyboardists, brass and string players rehearse and perform together as a band, working together as a team to achieve a common goal. Saturday, August 28 at 7pm. Tickets $15. Call the box office to purchase 732-842-9000.

Fiddlin' on the Farm (Lambertville)
The Friends of Howell Living History Farm present their 25th annual Folk Exchange Fiddle Contest, the largest and longest running traditional fiddle contest in New Jersey. Also performing at the contest is the Jugtown Mountain String Band, a traditional old-time acoustic country string band. Admission to the contest and parking are FREE, but there is a small $2 materials charge if your kids want to do the Harmonica craft. Visitors are encouraged to bring a lawn chair or blanket. Saturday, August 28 from 11am to 3pm. Call 609-737-3299 for more info.

St. Sebastian Feast (Montclair)
If you've never been to a saint's feast, you've gotta try one (those saints know how to party.) The St. Sebastian feast will start with a special mass at 10 am; the procession with the statue of St. Sebastian will begin at 3:30 pm, followed by the festival with food, rides, entertainment, and Bocce Ball games. Thursday through Sunday August 26 - 29. FREE. Call Danny Arminio at 973-943-0733 or Paul Porcelli at 973-699-5670 for more info.

Get Ready! Back to School Sampling at Whole Foods (Vauxhall)
A fun way to spend a few hours with your almost-back-to-school children, sampling healthy snacks and lunch items while listening to cool kids' music. All selections are free of artificial flavors, colors, and preservatives and hydrogenated oils. Saturday, August 28 from 11am to 2pm. FREE. Call 908-668-1455 for more information.