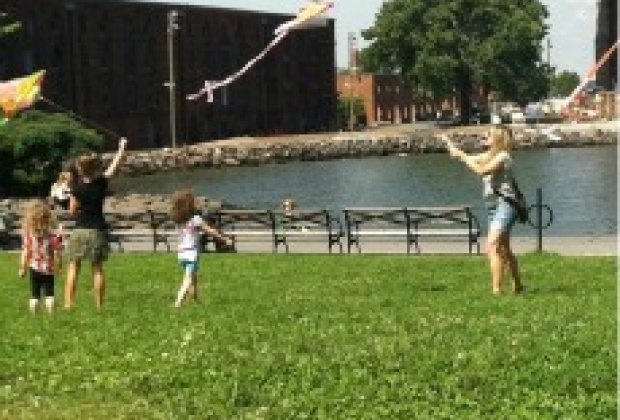 Free Kite Flying Festivals for NYC Kids
Last summer, a police officer told one of our writer's kids to stop flying a kite in Prospect Park. That was the first time we heard that technically kite flying is not allowed in New York City Parks (to protect the trees and birds, we imagine).

Of course, this rule is a bit ambiguous. According to the NYC Parks & Recreation Department's website, "no person shall engage in…kite-flying, except at such times and at such places designated or maintained therefore." Right below that, it says the same thing about roller skating and sledding. I don't know about you, but no one I know ever looks for "official" sledding, skating or flying zones.

Central Park's website says kite flying is permitted in "large, open landscapes away from trees," like Sheep Meadow and the Great Lawn. Prospect Park's site touts Long Meadow as a wonderful place to fly kites. So really, you need to use your best judgment and hope a cop won't stop you—or you can attend a kite-flying festival.

While there are wonderful kite events for families throughout the season (Socrates Sculpture Park hosts its annual Kite Flight in early spring), there are a handful of cool and colorful fetes coming up where you can go fly a kite. Sometimes you can even snag (or make) a free flyer.
Brooklyn Kite Festival – Brooklyn Heights
Saturday, June 23 10am-2pm
Brooklyn Bridge Park, Pier 1's Harbor View Lawn
FREE
It's the second year for this popular fest. B.Y.O.K. (bring your own kite) and let it soar in front of the glorious Manhattan skyline. If you don't have a kite, they will be available for purchase in the park. Afterward, explore everything Brooklyn Bridge Park has to offer, including a carousel and awesome playgrounds.

Hong Kong Dragon Boat Festival – Flushing
Saturday, August 4-Sunday, August 5 10am-4pm
Flushing Meadows Corona Park, Meadow Lake
FREE
Although the boat races are the main event at this annual fest, kite flying is a big part of the day, too. My family and I went last year and we bought a lovely rainbow kite from one of the many vendors selling flyers, and let it soar high above the water. This year, there will also be an arts and crafts tent and kite making is one of the activities. One warning: Since so many folks fly kites in a small area, you will cross strings! Afterward, stick around and explore everything Flushing Meadows Corona Park has to offer.

FlyNY 2012 – Upper West Side
Saturday, August 18 11am-3pm
Riverside Park South Pier I at 70th Street
FREE
My then preschool-age daughter and I attended this festival a few years back, and it's a really cute community gathering best suited for younger children. The Parks Department staff helps kids craft their own paper kites, which they then launch right on the pier. There's usually a good breeze here, so the flyers take right off. Of course since it's a tight spot, it creates a bit of kite gridlock. There's also live music.

Kite Flight – Midtown West
Sunday, September 23 1-4pm
Rooftop parking lot of the Port Authority Bus Terminal South Wing, 40th Street and Eighth Avenue, 7th Floor
FREE
It may seem like an odd location for a family event, but my daughter and I always have a blast at this annual fest. Sponsor the Fashion Center usually goes all out. Last time we went, guests received free kites and tickets that could be redeemed for snacks like hot dogs, popcorn, smoothies and Popsicles. In addition to two areas of kite flying—one for pros, the other for amateurs—there were jugglers and stilt walkers, live music, arts and crafts, and one of the best face painting teams currently working on the kids' circuit: Agostino Arts. (The artists don't take requests; you tell them your favorite color and they create a unique look just for you. And yes they do adults, too.)

Dumbo Kite Flying Society – Dumbo
Since Galapagos moved to Detroit, this kite fest is no longer taking place
Brooklyn Bridge Park, Main Street entrance
FREE
Robert Elmes, who also happens to be the founder and designer of famed Brooklyn institution Galapagos Art Space, started the Dumbo Kite Flying Society a few years back. On the first Saturday morning of every month, families come together at the top of the little hill at the park's Main Street entrance to fly kites. Instruction and flyers are provided but you're welcome to bring your own. Although Elmes says an occasional enthusiast shows up, the gathering is really focused on kids. If the weather is mild, the Society has been known to meet in the winter. Call 718-222-8500 to find out if it's happening off-season.

Unfortunately, the New York Kite Festival in Rockaway, Queens isn't happening this year. It was a very big deal a few years back. We hope it's resurrected one of these days.

Where to Buy a Kite
Although there don't seem to be any dedicated kite stores in the city anymore (Big City Kites on the Upper East Side closed a few years ago after four decades of business), you can pick up a flyer at most toy or big-box stores, or order one online. In my experience (and I admit that I'm an amateur), cheap kites are best for casual flyers and especially for little kids. They're light, take off easily and soar for long periods of time (so what if they don't look quite as spectacular as some of the fancier models). Buy two; that way if your kids break or lose one (and they will), you've got a spare.

Out of Town Events
There are tons of kite festivals outside the city. New York Kite Enthusiasts sponsors events throughout the state (and beyond). Plus the site has wonderful photos and info on kite building and flying. For New Jersey, check out Cobra Kite. In addition to running a store in Toms River, the company keeps a calendar of Garden State kite events and also highlights great places to fly on your own.

For additional seasonal fun, check out our Summer Fun Guide.
Updated June 22, 2012