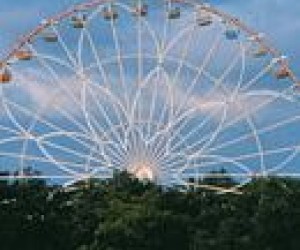 Four Car-Free Theme Park Destinations
Perhaps you've read about some of the great amusement parks around NYC and are dying to go, but if you don't have a car the trills may seem out of reach. No need to fret, we've got you in mind with this post. You can keep your commitment to public transportation (or a greener lifestyle) and still have all the fun. Here are four amusement parks accessible from New York City that are guaranteed to increase the thrills, without increasing your carbon footprint.
Great Adventure (Jackson, NJ)
NJ Transit has a bus package that takes you door-to-door from Port Authority to Great Adventure. The bus departs Port Authority at 9:30 A.M. daily thru Labor Day, and leaves from Great Adventure at 9:30 p.m. With the hour-plus journey time it's definitely going to be a long day, but have no fear, there are enough high-tech rides to keep the complaining and crankiness to a minimum. Purchase your tickets at the Port Authority NJ Transit ticket window, being sure to arrive early as lines can be long. The price includes round-trip bus fare and theme park admission, $61 per adult, $41 for kids 5-11, free for under- fives.
Rye Playland, (Rye, NY)
The popular combination train and park admission package has been discontinued, but you can still get here easily by taking Metro-North New Haven line from Grand Central or Harlem-125th Street station to Rye. Off-peak round-trip fare will run you $15 for adults, and only 75 cents each way for up to four kids ages 5-11 per adult on the Family Fare. From the station take the Bee-Line bus #75 or #76, for $2.25. Taxis wait outside the Rye station, a speedy alternative costing around $5. The entire trip should clock in at under an hour. Playland offers unlimited rides for a reasonable $30 per person, with $ 5 discounts for Westchester residents and for those entering after 6 p.m. There is even a Spectator's rate of $5, for those of us who find riding the train thrilling enough. This is a good choice for families with kids of diverse ages, as there are lots of rides that are suitable for tiny tots as well as scarier stuff for tweens.
Sesame Place (Langhorne, PA)
If you thought that spending your day with Ernie, Bert and Elmo required a car, think again. Although it takes a bit of perseverance, you can take a New Jersey Transit train from Penn Station to Trenton, $15.50 one-way for adults, $7 one-way for kids under-12. Transfer to SEPTA bus # 127, or a waiting cab to Sesame Place. The park is located 15 minutes west of Trenton by taxi, and about 40 minutes on the bus. Sesame Place admission tickets cost $53 for visitors age 2 and older, free for under-twos, and are valid for two-days, so if you want to stay the night, the Sheraton Bucks County is right across the road from the Park, and has a free shuttle.
Hersheypark (Hershey, PA)
If you like milk chocolate with your roller coaster, Hershey is your ticket. Amtrak has more than half a dozen daily trains departing from Penn Station that will get you to Harrisburg, PA. in just over 3 hours. The round-trip fare is $94 per adult, half price for kids 2-15, free for under-twos. The train station is a 15-minute cab ride from Hershey, but if you are staying overnight, both The Hotel Hershey (717-533-2171) and Hershey Lodge (717-533-3311) offer a shuttle service for $25 per adult, free for kids up to 18 years of age. The hotel concierge can reserve the shuttle for you. These lodgings are convenient to the theme park and all the chocolate-inspired attractions that have given this town the nickname "the Sweetest Place on Earth". Staying at a Hershey property gives you a range of perks, including discounted admission tickets, early entrance to Hersheypark before the general public and complimentary local transportation around town. The cost of admission varies, with online specials often available.