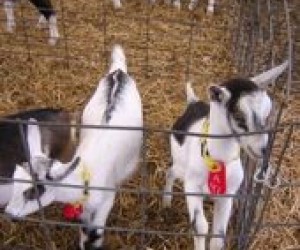 Fall Harvest Family-Friendly Car-Free Getaways From NYC
[UPDATED: September 8, 2012]
Spend a Saturday or Sunday visiting small, family-owned farms, no car needed. You can get back to nature without increasing your carbon footprint. Metro-North has teamed up with Dutchess County to offer family-friendly daytrips that include stops at a sustainable agriculture farm, a kid-friendly vineyard for tours and tastings, a charming village and an apple orchard for picking and pies. These trips are super popular with families, so the kids should have lots of company. And it's a great way for kids to gain some first-hand understanding of the farm-to-table connection. Kick back and enjoy the ride, we've got the details for you here.

Fall Harvest Wine, Cheese & Apple Picking Weekend day trips are scheduled for September 29-30, October 6-7, 13-14 and 20-21. Take Metro-North to Poughkeepsie, departing Grand Central Station at 7:50 a.m. arriving at 9:37 a.m. The ride is part of the fun, as the train hugs the Hudson River for much of the journey, affording gorgeous views. At the Poughkeepsie Train Station, your Dutchess County Farm Fresh Link shuttle will be waiting to chauffeur you around the region's rolling hills and farmland. The shuttle makes four stops, each a little more than an hour.
The first stop is Sprout Creek Farm, known for its delectable cheeses as well as its commitment to sustainable agriculture and education. The farm offers summer camp and year-round farm programs that teach kids how to connect with the land, with the help of the farm's resident cows, sheep and goats. If you fall in love with the place, there is a rental cottage available for weekend vacations.
It's on to the quaint Village of Millbrook, where you'll stay for about 1 hour and 45 minutes It is a lovely place for a stroll and a bite to eat in one of its many cafes. If your plans allow you to be on the Saturday shuttle, the weekly Farmer's Market will be in full swing 9-1. It's a fine place to purchase picnic provisions.
The third stop is a local winery, where an optional tasting is available for an extra fee. Hudson Valley vineyards are more kid-friendly than you might think. School-aged science wizards may be fascinated to learn about the process of malolactic fermentation and the bottling machine should be a hit. October is when many varieties of grapes will be ready for picking, so you may see some vineyard action taking place.
The day's last stop is Terhune Orchards, a large apple orchard owned by a charming couple. Richard, a retired teacher, mans the hayride, and Janet helms the roadside stand, where the scent of freshly-baked pies is sure to entice even the pickiest eaters. There is a wide selection of apples, so pick as many as you can possibly lug back home.
The shuttle bus brings you back to the Poughkeepsie Station to catch the train departing at 5:40pm that arrives at Grand Central at 7:21pm.

You need to reserve your seat on the Farm Fresh Getaway shuttle at least 48 hours in advance (reserve online or call 800-445-3131). Once you have made your shuttle reservation, you can purchase your Metro-North One-Day Getaways rail and shuttle ticket package at a Metro-North station ticket office or at a full-service ticket machine (excluding Poughkeepsie Station).