Art Portfolio Prep for NYC Kids: Preparing to Apply to Specialized Art High Schools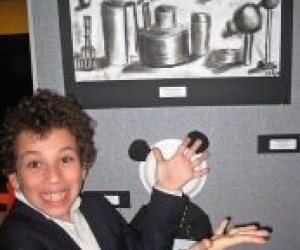 When my oldest son was 8, he said his ambition in life was to sell his art on the street. So it's no surprise that at age 13 he's set his sights on getting into Fiorello H. LaGuardia High School of Music & Art and Performing Arts.

Like other specialized art high schools, including the High School of Fashion Industries, the Frank Sinatra School of the Arts, and the High School of Art & Design, LaGuardia requires applicants to submit portfolios of their work. While talent is key, taking a professional portfolio preparation class can really give applicants a leg up on the competition. We've rounded up New York City programs that help tweens and young teens prepare their artwork to apply to these popular high schools.
The Art Students League of New York – Midtown West
215 West 57th Street between Seventh Avenue and Broadway
This is my favorite art school in Manhattan hands down. Even though it offers weekend classes for kids, it's not your average children's art program. Since the Art Students League is aimed at adults and working artists, it has high expectations for its 8- to 12-year-old students and no hand-holding, which I love (although I realize other parents may feel differently). My son began studying here in third grade and by age 11 he transitioned into a general adult class where he got to see and sketch his first live female nude. While the school doesn't offer a specific portfolio prep class, the kids' classes are basically just that. The teachers are always available to offer advice and students can enroll at any time during the school year (depending on availability).

Portfolio Development at Parsons The New School for Design – Greenwich Village
66 Fifth Avenue at 13th Street
Students in sixth to eighth grades can take weekly classes during the fall. Limited to 16 students, the program helps participants build a diverse body of work and then assemble it into an impressive portfolio.

Bridgeview School of Fine Arts – Long Island City
10-27 46th Avenue between 11th Street and Vernon Boulevard, second floor
With an emphasis on Russian classical painting and classes taught primarily by artists who studied in the former USSR, this Queens program boasts that "almost all" of its students go on to be accepted at specialized art high schools. The portfolio prep class focuses on drawing, painting and design.

Art Portfolio Prep for HS at Wet Paint! Art Studio – Tribeca
118 Chambers Street between West Broadway and Church Street
Claiming a 90 percent acceptance rate to LaGuardia, Wet Paint! Art promises students will work on various styles and techniques, both traditional and cutting-edge. After a final evaluation, 15 to 20 pieces will be put into a portfolio, and, as a nice bonus, all will be professionally mounted and labeled.

92nd Street Y – Upper East Side
1395 Lexington Avenue at 92nd Street
More expensive and time consuming than the other options, this program focuses on drawing. Students sketch still life and clothed models to strengthen their observational skills and work on their understanding of concepts like line, value, form, perspective and proportion.

Big Fish Tutoring – Cobble Hill
Court and Degraw Streets
Part of a broader program that also offers prep for various standardized tests, Big Fish vows to work with each student to select an exemplary collection of paintings, collage, photographs, sculpture, crafts and other creations in order to put together a diverse portfolio. Hours are flexible and meetings can be arranged on an individual basis.

Unfortunately, the Metropolitan Museum has discontinued its free portfolio class, which my son took a few years back. However, the museum offers other art programs for teens, most at no cost. The free Saturday Sketching sessions on the second Saturday of every month from 1 to 4pm seem to be comparable to the defunct Portfolio Class. Under the guidance of an artist/educator, kids ages 11 to 18 experiment with a variety of drawing approaches as they sketch artwork on display in the galleries. No commitment is required: Come once or every month, just make sure you register in advance online.

Read about other great classes for tweens in our Classes Guide.
This post originally published in August 2012.