Best Día de los Muertos and Day of the Dead Celebrations for NYC Kids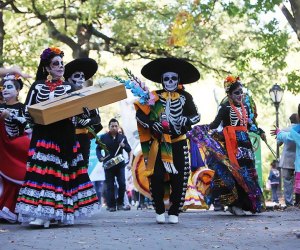 Although Halloween and the Day of the Dead, or Día de los Muertos, happen in close proximity to each other and share some similarities—including costumes, skeletons, and treats—they differ in many ways. An opportunity for families to honor ancestors and loved ones who have passed away, Día de los Muertos is a celebratory tradition that dates back thousands of years in many Latin American cultures. Though the holiday officially takes place on November 1 and 2 to coincide with the Catholic holidays of All Saints' Day and All Souls' Day, the (mostly FREE) Day of the Dead events in NYC are spread throughout October and early November.
At Day of the Dead celebrations, revelers honor friends and family members who have died by building altars, or ofrendas, and adorning them with colorful paper flowers, beautifully decorated skeletons, and candles. It's a joyful way to involve all ages in honoring and remembering the deceased.
We've rounded up ten Day of the Dead events where NYC kids and families can celebrate the holiday. You'll find more all activities in our Fall Fun Guide, and be sure to check out our Halloween Guide for all the other spooky, kid-friendly happenings in NYC this month.
Click through to the listings for all the info, including locations and times.