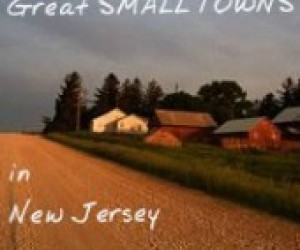 Great Small Towns in NJ: Cape May
Founded in 1857, the historic town of Cape May is known as the nation's oldest seaside resort. Travelers from all over the world flock to Cape May in the summer months. However, this charming little Jersey Shore town is not just a summer destination.
Year round attractions and events make it a perfect getaway any time of the year. If you are looking for a weekend getaway or a day trip, why not head down the Parkway to Exit Zero and fall in love with the Victorian seaside gem known as Cape May. To learn about another great small town near the Jersey Shore, check out our post on Ocean Grove.
Things to do
The entire town of Cape May is a National Historic District, with nearly 600 Victorian buildings. Learn all about them by taking a trolley tour of the town followed by a visit to the Emlen Physick Estate. The Estate, Cape May's only Victorian house museum, allows visitors get a glimpse into turn of the century Victorian living in Cape May. The Emlen Physick Estate is open year round for tours, children's tours and holiday events. Tickets can be purchased at the visitors booth at the Washington Street Mall.
A visit to Cape May would not be complete without a trip to the Cape May Lighthouse. Built in 1859, the lighthouse has been a NJ landmark as well as an aid to navigation for mariners. Guests who climb to the top are rewarded with phenomenal views of the both the ocean and the bay. For another great view, check out the World War II Lookout Tower, located in the Cape May Point State Park. Listed on the National Register of Historic Places, the Tower was part of the Harbor Defense of the Delaware System known as Fort Miles. Guests can learn about the history of the Tower while climbing up its spiral staircase.

According to the locals, Cape May is one of the most haunted towns you'll ever meet. Dozens of Cape May's Victorian homes have been documented to have "spirit" residents, all of whom are quite friendly. See for yourself on one of Cape May's ghost tours. The town offers a "Ghosts of Cape May" trolley tour, a "Ghosts of the Lighthouse" trolley tour, as well as several "ghost" walking tours. For more information, call 609-888-5404.
Sit back and enjoy the view on the Cape May Whale Watcher for their "Around Cape Island Cruise". This 2-hour narrated sightseeing cruise circles Cape May. Passengers see and hear stories about the Cape May Canal, the Delaware Bay, Cape May Harbor and the Victorian Ocean Front of Cape May.
Make sure to spend some time at the award winning beaches of Cape May. From riding the surf at The Cove, to hunting for Cape May Diamonds on Sunset Beach to watching the sun go down on the beaches of the Delaware Bay, visitors will come to understand why Cape May is a beach lovers paradise. For information on all of the beaches Cape May has to offer, visit www.capemay.com.
Shopping
The centerpiece of downtown Cape May, The Washington Street Mall, is a three block outdoor shopping mall. With everything from candy shops, to hand made jewelry, to one of a kind gift shops, there is definitely something for everyone. Some of our favorite stores include: Winterwood, a two story wonderland filled with Christmas decor; A Whale's Tale, one of Cape May's most popular gift shops; and Pearls, which carries a beautiful selection of women's clothing.
Cape May also has several antique stores located throughout the town. Stop in the Antique Doorknob on Park Boulevard to view their collection of original, restored building artifacts including lighting, stained glass and mantels. A detailed map of the areas antique shops is also available at their front desk.
Dining
For a great family meal, head to The Lobster House. Open year round, 7 days a week, this waterfront restaurant boasts five dining rooms which overlook Cape May Harbor. The menu offers a variety of locally caught seafood options as well as burgers and salads. Another great casual option is Harry's Ocean Bar & Grill. Open spring through fall, this eatery has an extensive breakfast, lunch and dinner menu. Make sure to try their award winning New England Clam Chowder. For great American comfort foods, stop in the Blue Pig Tavern at historic Congress Hall. Also open all year, the Blue Pig Tavern has a delicious farm-to-table menu.
For a restaurant with more of a sophisticated vibe, check out the Washington Inn. With an extensive wine list and a gourmet menu, Washington Inn is a great place to dine all year long. Also check out 410 Bank Street. This award winning restaurant is known for its New Orleans accented cuisine.
Be sure to save room for dessert. The original Fudge Kitchen, located on Washington Street, has been hand whipping creamy, delicious fudge in small copper kettles for the last 40 years. The shop also carries a variety of chocolates, candy and salt water taffee.
Upcoming Events
Upcoming events in Cape May include Cape May Spring Festival (April 25-May 4), Easter Egg Hunt (April 20), Cape May Music Festival (May 25-June12), Cape May Flower Show (May), Victorian Family Fair (June 28) and the Cape May Food and Wine Celebration (September 13-21). Holiday events include 2 weeks of Halloween happenings culminating in the annual Halloween parade, a jazz festival, holiday house tours and a Christmas Parade. For a full list of events, check out the town's event calendar
Nearby
Naval Air Station Wildwood Aviation Museum (Cape May Airport, NJ), Morey's Piers Amusement Park (Wildwood, NJ), Cape May Zoo (Cape May Courthouse, NJ)