New Year's Eve Celebrations for Kids near Miami: Fireworks, Balloon Drops, & Ice Skating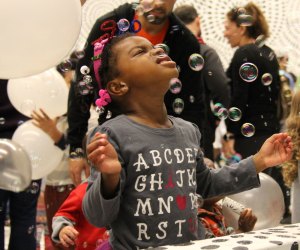 Babysitter for New Year's Eve? Ha! You could take out a second mortgage and do that OR you could ring in 2023 at one of these kid-friendly New Year's Eve celebrations around South Florida. Enjoy a noon countdown and ball drop with little kids at several locations around the Miami area, or celebrate later in the evening at one of the many family-friendly celebrations we found to greet the new year. And if a cough or sniffles has you housebound this New Year's Eve, the Story Pirates are throwing a free interactive celebration for kids online as well!
As always, check out our events calendar for more events for families and kids in South Florida, or our list of 15 ways to ring in the new year at home.
Happy New Year from all of us at Mommy Poppins!