Gymnastics Classes for Kids on Long Island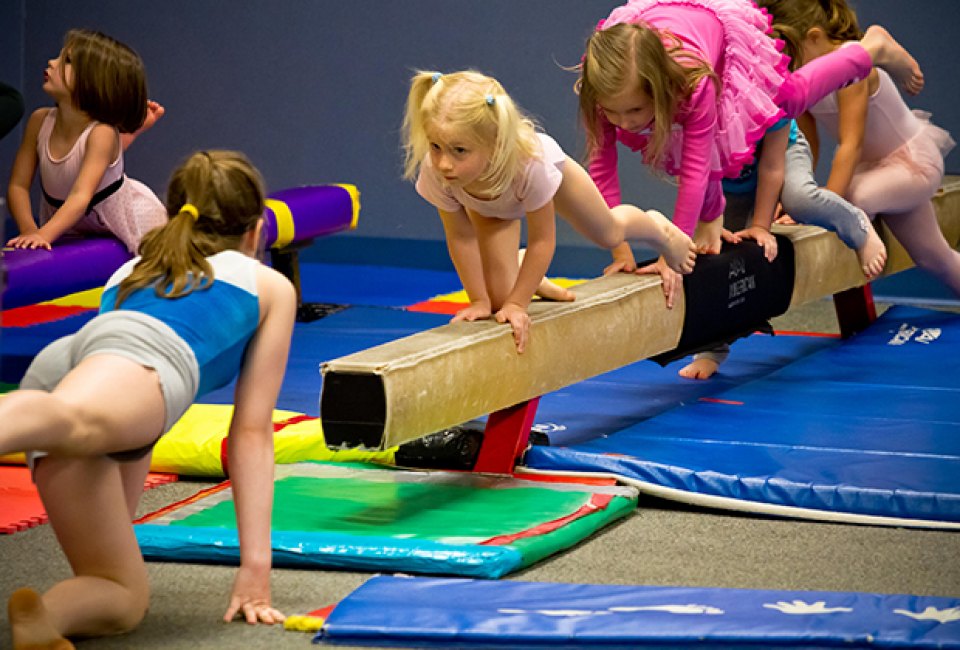 9/2/21
- By
Lisa Mancuso
Gymnastics is a multidimensional sport that improves endurance, strength, and flexibility, as well as grace and poise. Few sports challenge participants in so many areas.
Gymnastics classes on Long Island can help a shy child learn to express him or herself in a whole new way. There are many class options available, from mommy-and-me programs for younger kids to beginner and advanced gymnastics instruction for older students.
For additional class suggestions, see our Classes and Enrichment Guide for Long Island Kids.
Gymnastics Classes for Kids Across Long Island
Fully equipped facilities at six Long Island locations offer classes for all ages and abilities. In addition to gymnastics classes, Gold Medal also provides tumbling, trampoline, and cheerleading instruction. The focus is on athletic skills, goal setting, and achievement. Instructors are certified and provide plenty of individualized instruction. Children younger than 3 enroll in mommy-and-me classes, and there's even a drop-off option for preschoolers 3-6 years old. Kids ages 5-7 who show a serious interest in gymnastics can join a Gold Medalists class, which meets twice a week and includes optional fun competitions in an informal environment.
The Little Gym provides several classes for children ages 4 months through 12 years. The program is designed to get kids moving, encourage problem-solving skills, and develop cooperation, listening, and leadership skills. Parent/child classes for kids younger than 3 combine music and movement for a fun and interactive experience. Kids 3 and older register for gymnastics, dance, or sports skills classes. FREE introductory classes are also available. Locations are in Roslyn, Levittown, Rockville Centre, Huntington, and Smithtown.
Gymnastics Classes for Kids in Nassau County
These fully equipped training centers feature programs taught in a positive atmosphere by certified coaches. Classes include preschool gymnastics, cheerleading, karate, dance, and men's and women's competitive gymnastics. A fun feature is the gym's cross-gym zip line that is available for class participants and birthday parties. The Lynbrook location is scheduled to open in fall 2021.
Boys and girls can begin learning the basics of gymnastics as soon as they start walking. The center offers a unique class for toddlers and preschoolers that slowly separates the child from his or her parent. Instructional classes are an hour and a half for older kids. The center also has Kids Night Out, where parents can drop off kids for a couple of hours. The children can enjoy the gymnastics equipment as well as inflatables while parents get a needed break.
Boys and girls participate in a number of classes at this state-of-the-art facility. Classes include tumbling, cheer and dance, competitive gymnastics, mommy-and-me, special-needs classes, and the popular Elite Warriors Ultimate Obstacles. Owner and head coach Tammy Marshall is an award-winning former college gymnast. The center is open to children and young adults of all abilities eager to have fun and learn new skills.
MGA — Massapequa
MGA does more than just gymnastics. Kids can focus on gymnastics, cheer, dance, rhythmic, or ninja courses. There are instructional gymnastics classes as well as competition teams. Mommy-and-me is separated into two classes: pre-walkers and walkers to 24 months. Ninja classes start at 2 years old and run until 11 years old, and are for both boys and girls.
This large facility offers a range of classes for all ages, including gymnastics, dance, cheerleading, and a flip-and-learn preschool class. Qualified gymnasts can join a competitive team. Instructors strive to build character along with muscles. Even littles ones in the mommy-and-me classes can participate in gymnastics.
​Kids can start learning gymnastics skills at as early as 15 months at Phoenix Gymnastics. There are mommy-and-me, preschool, recreational, and advanced classes. It also has two competitive teams if your child is looking for a challenge.
The center has instructional classes, competition classes, and classes that are invite-only. Kids can begin tumbling in mommy-and-me classes and continue into their teen years.
Gymnastics Classes for Kids in Suffolk County
Little daredevils looking to gain parkour skills can find what they need at Free to Fly. In addition to traditional gymnastics classes, it has four Parkour Ninja Warrior classes for various age groups.
A variety of classes are offered at this studio, including gymnastics, dance, cheerleading, and dancenastics, which is a blend of dance and gymnastics. Little ones begin developing gymnastics skills in the tiny tots program, which is for ages 18 months to 5 years. Older children enroll in gymnastics classes at all ability levels and can compete on several dance, gymnastics, and cheer teams.
The Gym-Nest program provides gymnastics instruction based on age and ability. Coaches work with children to improve skills and strengthen self-esteem and confidence. From mommy-and-me classes all the way to competitive gymnastics, Gym-Nest offers something for the beginner to the advanced gymnast. Gymnastics and Ninja warrior summer camps are also offered in addition to birthday parties.
This multisport training facility has a variety of equipment, including in-ground trampolines, an in-ground foam pit, tumble track, multiple bars, and spring surfaces. Younger participants can take part in mommy-and-me, tiny tumblers, and junior gymnastics while older kids and more experienced participants can enjoy trampoline, athletic agility, competitive gymnastics, and cheer. GymNation New York hosts parties as well as summer camps.
Towers offers competitive and noncompetitive programs for kids ages 6 months through 18 years. Mommy-and-me classes help little ones up to 3 years old gain coordination skills. Competitive, evaluation-only programs start at age 5. Towers also has classes for noncompetitive gymnasts of all skill levels.
A version of this post was published in 2012. It was updated in August 2021.
Writer Lisa Mancuso contributed additional reporting.