Sports Classes for Young Athletes at Chelsea Piers, Connecticut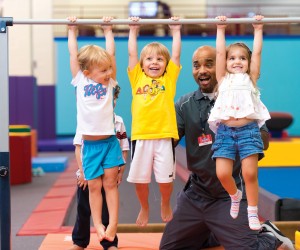 Our sponsor Chelsea Piers Connecticut offers a variety of classes for children ages 4 months to 18 years, as well as programs for adults so mom and dad can get in on the action, too. Its state-of-the-art facility is a family's one-stop destination for tons of sporty fun.
Chelsea Piers Connecticut has 400,000 square-feet at its disposal, and every inch is put to good use. The building boasts two ice rinks, an Olympic-sized pool, and a Splash Zone water park for an impressive start. Athletes can raise a racquet at the 12 squash courts and 7 tennis courts, or have a ball at the Field House with a 100-yard indoor turf field for soccer, lacrosse and field hockey and Aacer Maplewood basketball and volleyball courts. Baseball/softball and gymnastics training centers complete the picture, plus there's a preschool and child care center, a pro shop, a cafe and a restaurant.
Chelsea Piers is mostly about the sports, though; from baseball, basketball and tennis to figure skating, ice hockey, swimming and water polo (really!), just about every sport your child wants to play is offered under one roof (this means less chauffeuring for mom and dad). Some of the fall programs available include Little Athletes (4 Months to 5 years), Developmental Sports Instruction (5-17 years), and Elite Training (ages 10 and up). Even better: All classes are taught by the area's finest coaches, who boast an impressive resume of athletic accomplishments on collegiate, semi-pro, professional and international stages. And they have the experience to teach kids at all levels how to excel in a particular sport, whether kids are just learning the basics or ready to take their game to the next level.
Adults are encouraged to have some fun, too. Chelsea Piers offers competitive teams and adult sports leagues in basketball, ice hockey, soccer and volleyball. And even better—a 65,000 square-foot fitness center and clubhouse is scheduled to open in late fall. Memberships are available for families, single adults and youth. There's also a wide range of birthday party options, including Splash Zone and Adventure Center (Trampoline & Rock Climbing) parties.
If you're not too busy enjoying all that Chelsea Piers Connecticut has to offer, be sure to check out our Connecticut Events Calendar for tons of activities to keep the whole family busy this season.
This post was sponsored by Chelsea Piers Connecticut, but the opinions are those solely of the author.