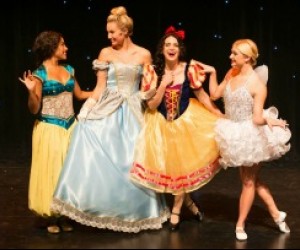 Summertime Panto: Princess and Pirates Sing-a-long Concert (Parent Review)
Princess and Pirates Sing-a-long, the new show from Lythgoe Family productions has everything you could hope for in a children's theater event: princess after princess (as well princes and pirates), high-spirited dance numbers, fun, silly comedy, and rousing sing-a-longs. If you're wondering whether this summer show is the right one for your family, read on!
My daughter and I were huge fans of last winter's Aladdin and the Winter Wish, so we were very excited for this latest production. Princess and Pirates Sing-a-long does not disappoint! The show is a series of Lythgoe Panto greatest hits, with one or two songs from each of the previous productions.
The minimal storyline has court jester character Muddles inviting various royals to a gala ball. He travels through the land, meeting up with Snow White, Cinderella, Yasmin, Aurora, Peter Pan & Wendy, and Maid Marian and well as bad guys Sheriff of Nottingham and Captain Hook. The show features many Lythgoe Panto veterans (though they're not necessarily reprising their previous roles).
Sing-along participation is enthusiastically encouraged, with monitors on either side of the stage displaying the lyrics for each song. It doesn't work perfectly - a fair portion of the audience can't read yet! - so audience participation relies largely on familiarity with the music. Any guesses on which song brought down the house? Let it go, Elsa, because in this production, "Let It Go" belongs to Cinderella. As well as Every. Single. Audience member. Man, woman, and child filled the room with song, with every nuance and hand gesture down pat. "Let It Go" exemplifies what a sing-a-long should be, with everyone so engaged that the line between performer and audience is erased.
No other number had such universal appeal (is there any song that could?), but there were a few other favorites. Soon-to-be tweeners reacted from the opening notes of One Direction's "What Makes You Beautiful," Katy Perry's "Firework," and Carly Rae Jepsen's "Call Me Maybe." It was left to the parents to carry the tunes for golden oldies including Huey Lewis' "Power of Love" and The Village People's "In the Navy."
(Though my daughter went in not knowing the most of the songs, she quickly added many of them to her repertoire. In recent days I have repeatedly been serenaded with both "In the Navy" and Lady Gaga's "Applause.")
I'm not usually big on buying merchandise at shows, but I make an exception for these pantos. Kids use their swords and wands as props to help make the magic occur on stage. (My daughter opted for a crown over a wand this time, so we ended up using our magic pen instead.) The $5 price tag on the crown is relatively painless; light-up toys were only slightly more.
If you're prepared to drop a slightly bigger chunk of change, Lythgoe Family Productions offers a Golden Ticket option. Kids get to go on stage for some repartee with Muddles, participate in a sing-a-long ("What Does the Fox Say?"), and receive a goodie bag. The call for "volunteers" may make it seem that any child can go on up, so you might want to explain this in advance to kids who like to go on stage.
Anything Scary?
The lights go down between numbers, leaving the theater fairly blackened. If your child is especially sensitive to darkness, I suggest buying one of the light-up souvenirs, or using a small flashlight during those brief moments.
In addition, the show includes extended scenes with two bad guy characters, the Sheriff of Nottingham and Captain Hook. The panto-style encourages the audience to see bad guys as comic buffoons, and the audience is empowered to boo loudly whenever they appear. Unfortunately, that was little comfort to the 2 year old behind us, who ducked behind the seats and refused to emerge during those numbers.
Coming Attraction!
If you're the plan-ahead type, mark your calendars! Princess Aurora's appearance in the show is also a teaser for the Lythgoe Family's next production: Sleeping Beauty and Her Winter Knight.
, which premieres at The Pasadena Playhouse in December.
The Nitty Gritty
Princess and Pirates Sing-a-long Concert plays at the Kirk Douglas Theatre in Culver City on Fridays, Saturdays and Sundays from July 18 - August 10. Tickets are $29, a limited number of Golden Tickets are available for an additional $75.
Parking is free.

Kirk Douglas Theatre
9820 W Washington Blvd
Culver City, CA 90232

Top Photo: Philicia Endelman