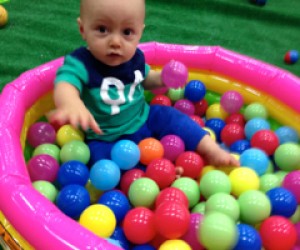 Play at the Bay! Toddler Town Opens Its Doors to Boston Families
When I received a flyer in the mail for the grand opening of Toddler Town at the Marina Bay Sports Complex, I practically jumped for joy. As the days grow colder I can't help but think about the indoor house itch we all tend to get with young kids. There are plenty of museums in Boston and lots of great indoor play spaces outside of Boston to the west, but there wasn't much available to us south of Boston. Until now. The Bay's massive indoor turf field in Quincy has been turned into the king of all jungle gyms, complete with a snack bar, infant play area, and even Disney tunes bumping! That's my kind of turf. Below are some highlights and tips to maximize your play time at the Bay.
Toddler Town at Marina Bay Sports Complex comes equipped with plenty of play structures for a wide range of ages and ability. There are two large bouncy castles, a gated infant play area, tunnels, ride-ons, blocks, mini slides, and trampolines. Parents can engage as much or as little as they choose; the entire area is secured and blocked off so you don't have to chase little ones to keep them from running off. The infant play area features a mini ball pit, which was a huge hit with the crawling crowd. The soft tunnels in the larger section were often meshed together to create one large passageway and became popular with the toddlers very quickly. It's always fun to watch kids make up their own increased play value using what they are given!
The snack area was not finished on opening day, but it will soon feature a variety of snacks, cold drinks, and pizza for purchase. I loved the way this separate area provided "down time" for kids and adults, but still gave a full few of the field. It boasts a large screen TV playing kid-friendly shows, tables and chairs, and organized bins for belongings. The bathrooms come equipped with changing tables and diaper bags (bonus!). There are also two snack vending machines located right outside the restrooms. Parking is plentiful, so no worries about lugging the kids from far away. From gated play areas to free wifi to parking, the whole place is very family-friendly and seems to have been designed with parents and young children in mind.
Tips:
Taking your shoes off is not mandatory, but I suggest it. The turf has little pellets that are nearly impossible to get out of shoe grooves.
Don't put your kids in their Sunday best. Although those pellets don't stain, they do tend to stick.
There is Wi-Fi in the snack area, look for the posted sign for the password.
Toddler Town is a perfect place to host your little one's birthday party!
If you think you will be a frequent visitor, consider purchasing a Toddler Passport. It's good for 10 visits, doesn't expire, and the passes are transferable. You also save a chunk of change.
Toddler Town is open from 9 AM to 2PM Monday through Friday, and is for children 7mo. to 6 years of age (accompanied by an adult). The cost for admission is $8 per child, with sibling and group discounts available. Toddler Town at Marina Bay Sports Complex is located at 260 Victory Road in Quincy, MA.
---