Outdoor Play in Warwick: Where Hudson Valley Kids Can Romp, Splash and Skate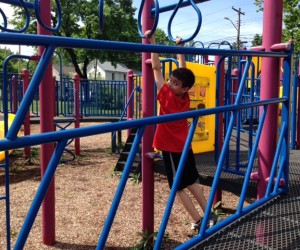 We began our month-long focus on Warwick with a list of our top 25 things to do with kids in the agriculturally rich community in Orange County. Now we're digging into some of our favorite places to run amok in this Hudson Valley town. Whether you're looking for an organized activity or just a wide-open space for unstructured cavorting, there are lots of wonderful spots to play outside in Warwick.
Stanley Deming Park
South Street & Park Way
Warwick Village's flagship playground, Stanley Deming has several play structures of varying size, regular and bucket swings, basketball and handball courts, drinking fountains and large swaths of fields to run and play. Waywayanda Creek cuts picturesquely through the middle of the park, affording young scientists a place to watch for frogs and ducks. There is plenty of shade beneath the majestic weeping willows, as well as several picnic tables and park benches. Many children (mine included) love to spend snow days sledding down the gently sloping fields in the back. It's worth noting that, although there are bathrooms, they are often locked, so plan accordingly. Also, Warwick holds its summer recreation program for resident children at Stanley Deming, so it can get quite frenzied on weekday mornings from 9am-2pm in July.

Thomas P. Morahan Waterfront Park
Windermere Avenue
Situated on Greenwood Lake, there is swimming on a small sandy beach (with lifeguards on duty) and a small playground with swings. There is a fee to enter (residents can receive a discount) and you can choose from daily and seasonal passes. The restrooms and changing facilities are typically well-maintained and kept very clean. Although there's no concession stand, it's a popular destination for Warwick's ice cream man and a rotating list of other food trucks. The Greenwood Lake area also features kayak and paddle board rental opportunities, as well as fishing--even ice fishing!

Pine Island Park
Kay Road and Treasure Lane
In addition to a baseball diamond, tennis courts and large grassy fields, this park has the much-loved wooden pirate ship for children to climb aboard and crawl beneath. There is also a merry-go-round, swings and a second play structure. As with Stanley Deming, there are bathrooms but they too are often locked.

Warwick Town Park
Union Corners Road
Disc golf enthusiasts will find a full, 18-hole course here. The park, which is home to nearly 50 acres, also boasts large soccer fields, a playground, walking trails, and large, shady pavilions with plenty of picnic tables. Directly across the street are even more fields, batting nets and a roller hockey rink. Warwick Town Park is where the town's recreational soccer league congregates on Saturdays, so it can get a bit busy during those spring and fall seasons.

Mount Peter
51 Old Mt. Peter Road
Family friendly is Mount Peter's tagline, and the small hill succeeds well in this goal. In addition to private and weekly lesson programs for both children and adults, Mount Peter also offers FREE group lessons three times a day on weekends for beginners. Well-staffed by unfailingly patient instructors, it also has a special fun and positive "Pete's Pals" program for the littlest skiers (they can enroll as long as they're potty trained). One bunny hill has a "magic carpet" for easy transport, while another has a tow rope, allowing both novice skiers and boarders to learn with (minimal) frustration. Although the trails are fairly short, there are greens, blues and blacks to suit all abilities. Rentals are available, and there is a snack bar in one of the two lodges, as well as a small pub and a pro shop.

Skate Park
Memorial Park Drive
Situated near the front of Veterans Memorial Park, this free skate park is a concrete playground with mega ramps and rails for teens and preteens on wheels. The park is also home to Warwick's multiple Little League baseball and softball fields.

Pennings Farm Market
161 South Route 94
Pennings is a leisurely way to kill some time during the afternoon. The wooden train remains a favorite a climbing spot for my children--especially during scorching summer days because much of the play area is shielded by shady trees. The play area also houses the goats and chickens and their coin-operated feed machines.