July GoList: The Best Things To Do with Westchester Kids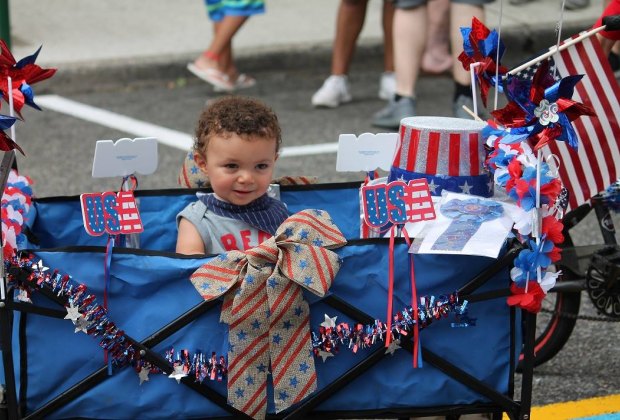 Highland Falls will celebrate the 4th of July with a parade, music, food, fun family activities, and fireworks. Photo courtesy of the Highland Falls 4th of July Committee
Highland Falls 4th of July Festivities – Highland Falls
Wednesday, July 3 – Thursday, July 4, 2019
This two-day Independence Day celebration includes a parade, fireworks, outdoor concerts, a 5K race and children's fun run, a decorating contest (bikes, wagons, strollers), watermelon-eating contest, egg toss, hula-hooping, and--get this--bed races. FREE
Orange County Stampede Rodeo Festival – Middletown
Friday, July 5 – Saturday, July 6, 2019
The rodeo visits the Hudson Valley, bringing bull riding, steer wrestling, tie-down roping, bareback riding, barrel racing, and other feats, along with barbecue, live music by Poco and Pure Prairie League, fireworks, and more. A total of $13,000 in prize money is at stake for the competitors.
Summer Arts in the Amphitheater – Yonkers
Fridays and Saturdays, July 5 – August 16, 2019
Eclectic performances take to the outdoor amphitheater stage of The Hudson River Museum on 13 summer nights. Theater, concerts, dance, and variety acts are part of the agenda. FREE
Dancing at Dusk – Katonah
Wednesdays, July 10-24, 2019
A multicultural panoply of dance performances and instruction are on tap for select Wednesdays in July, with international flavors from Tahiti to Ireland to Greece to Argentina. Some of the instruments used are just as exotic—like the auhuroa, and apartima. Craft activities add to the fun.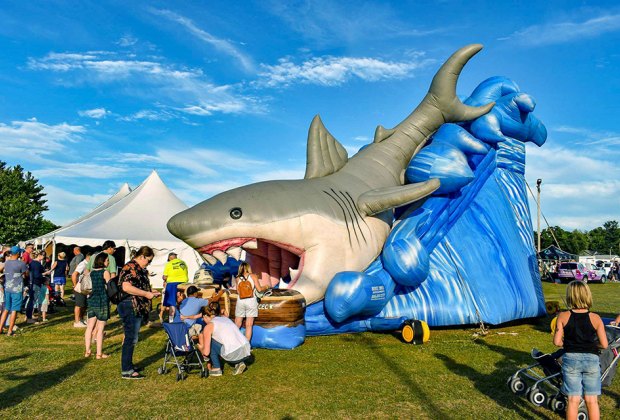 The Hudson Valley Hot-Air Balloon Festival features plenty of kid-friendly activities. Photo courtesy of the festival
Hudson Valley Hot-Air Balloon Festival – Rhinebeck
Friday, July 12 – Sunday, July 14, 2019
As we mentioned in our post about the annual Hudson Valley Balloon Festival, this event is truly a sight to behold. Hot-air balloons take to the sky in synchronized launches, with loads of kid-friendly activities in between.
Pleasantville Music Festival – Pleasantville
Saturday, July 13, 2019
In addition to nine hours of live music (including by headliners Soul Asylum, Aimee Mann, Everclear, and Matthew Sweet), this family-friendly festival features food, vendors, and kids' activities.
Food and Farm Day – Cold Spring
Saturday, July 13, 2019
Get in touch with your inner farmer at this FREE day of farm fun, designed to help visitors of all ages celebrate local agriculture. In addition to meeting farmers, families can enjoy tours, workshops, and kid-friendly activities. Consult our guide for other things to do in Cold Spring.

Not ready to rough it? Set up camp at the Overnight Family Campout at Greenburgh Nature Center. Photo courtesy of the center
Overnight Family Campout – Scarsdale
Saturday, July 13 – Sunday, July 14, 2019
Pitch a tent and unroll your sleeping bags in this oh-so-comfortable approach to roughing it. A BBQ dinner will be provided (complete with s'mores, of course), and a naturalist will lead a moonlight tour around the grounds before everyone snoozes under the stars.

Spend a summer evening enjoying rides and games at the Orange County Fair.
Orange County Fair – Middletown
Thursday, July 18 – Sunday, July 28, 2019
This annual fair made its debut in 1840! In addition to traditional fair features like rides, games, and food, this fair also boasts stunt performances, eclectic musical performances, stock-car racing, and demolition derbies.

The energetic Jazz Festival has plenty to keep kids entertained. Photo by Gabe Palacio
Jazz Festival – Katonah
Saturday, July 20, 2019
This annual musical extravaganza is developed in partnership between Caramoor Center for Music and the Arts and Jazz at Lincoln Center. This high-caliber, day-to-evening performance boasts a bucolic setting and kids' activities. Read our review. Bring a picnic!
Valley Con – Yorktown Heights
Saturday, July 20 – Sunday, July 21, 2019
This weekend-long event returns for a second year with a robust list of attractions for fans of gaming, comics, and cosplay. Enjoy video-game tournaments, movie screenings, cosplay competition, vendors, celebrity meet-and-greets, and more.
Putnam County Fair – Carmel
Friday, July 26 – Sunday, July 28, 2019
Good old-fashioned fun is to be had at this three-day county fair, with pet shows, BBQ, touch-a-truck, games, and lots more. Admission and parking are FREE.
Insane Inflatable 5K – Rhinebeck
Saturday, July 27, 2019
This 5K features approximately three miles of a giant inflatable obstacle course that tours the country, stopping at the Dutchess County Fairgrounds. Form a team and wear costumes or just go solo. Kids aged 4-9 get their own course, a discounted rate, and a midway.
Hudson Valley Brassroots Festival and Community Day – Kingston
Saturday, July 27 – Sunday, July 28, 2019
This festival celebrates multi-cultural brass-band music with eight bands recruited from up and down the East Coast, each taking the stage for about an hour. On Sunday, join the children's processional and meet-the-musicians workshops. Mardi Gras costumes encouraged!
KMA Family Day – Katonah
Sunday, July 28, 2019
Learn about the art of developing animal characters with illustrators Jerry Pinkney and Marisabina Russo as they demonstrate their style and discuss their process. Kids can draw with the artists and ask questions, then stick around for illustration and bookmaking activities around the museum.
Check our Event Calendar for even more happening this month and beyond in Westchester and the Hudson Valley!