Submerge: NYC Marine Science Festival
Hudson River Park Pier 84

Cirque-tacular presents 'The Art of Circus'
BMCC Tribeca Performing Arts Center

Sugar Skull! A Dia de Muertos Musical Adventure
The Sheen Center for Thought & Culture
How to Make a Mask Lanyard or Chain So Your Kids Stop Losing Them!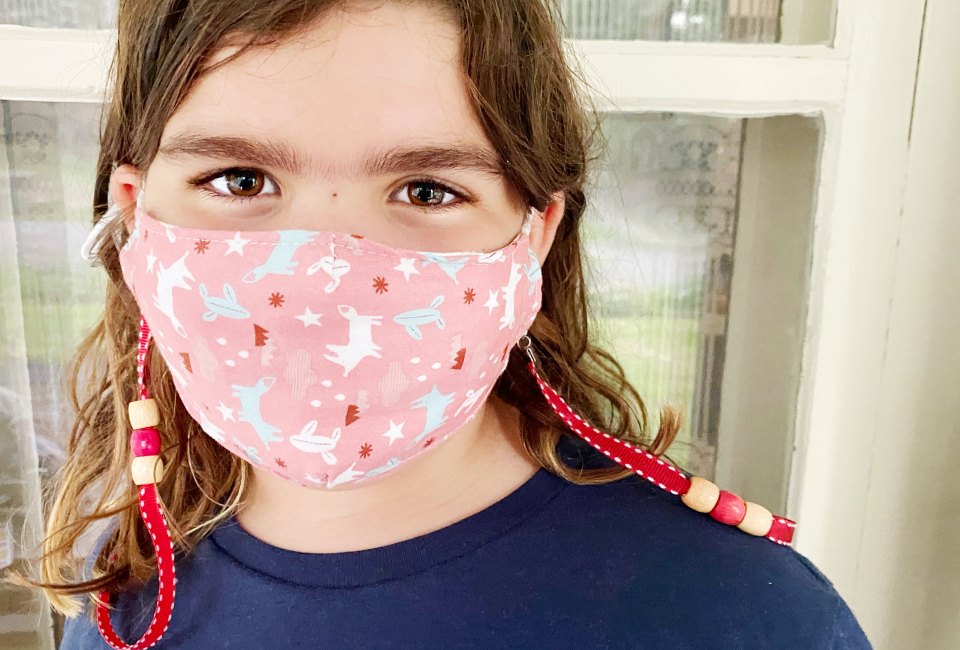 9/14/20
- By
Ally Noel
Between mask breaks, outdoor play, lunchtime, and snack time, our kids take their masks on and off at least a couple dozen times a day. Each time the masks come off of their face, there is the potential for it to get trampled on the ground, shoved in the bottom of a backpack, or lost and never to be seen again. These handy DIY beaded and ribbon mask chains will allow your kid to keep their mask safe and easy to access.
As we all embark on the weirdest school year ever, adding one of these DIY mask chains to your back to school supplies list might just be essential. It's also just a fun at-home family activity that works those fine motor and design skills.

How to Make A Beaded Mask Necklace
Materials List
Alligator Clips
Elastic Cord
Jewelry and Bead Glue
Beads
Step 1
Cut a piece of the elastic cord about 24-30 inches long.
Step 2
Tie one of the alligator clips to the end of the elastic cord with a knot.
Step 3
Start threading beads onto the elastic cord. You can use any kind of beads you like, just keep in mind that they should be smooth so they don't irritate your neck. You can even add initials or a name by using alphabet beads.
Step 4
When you have finished beading, tie the other alligator clasp to the elastic cord with a knot.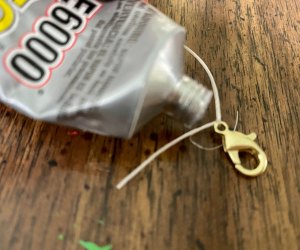 Step 5
Cover the knots in bead glue. This will stop the knots from slipping out of the elastic cord and make the mask necklace more secure. Make sure you allow for the glue to completely dry before using it.
RELATED: Guide to Science Experiments and STEM Activities for Kids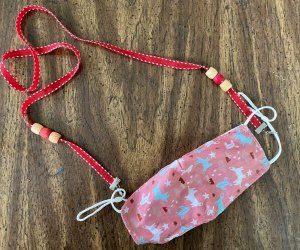 How to Make A Ribbon Mask Lanyard
Materials List
Ribbon
Ribbon Crimps
Alligator Clasps
Jewelry Pliers
Beads (optional)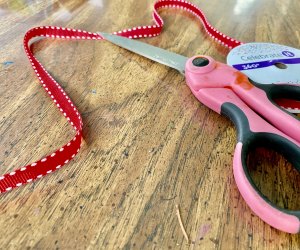 Step 1
Cut about 18 to 20 inches of ribbon. Keep in mind that you will be wearing this around your neck, so a smooth ribbon will usually work best.
Step 2
Attach a ribbon crimp to one end of the ribbon.
Step 3
If you are adding a few beads to your ribbon, thread them on now.
Step 4
Attach the other ribbon crimp to the other end of your ribbon.
Step 5
Attach the alligator clasps to the end of the ribbon crimps, and you're ready to go!

Sign up for our free
newsletters.
Mommy Poppins is a family activity website that helps people find things to do with kids.
©
2023
MommyPoppins. All Rights Reserved.
mp-prod4-v4.32.99
Click Here to Sign Up!
i