Online Robotics Camp
Young Gates - Kids Online Personalized Classes

Artificial Intelligence with Scratch Online Camp
Young Gates - Kids Online Personalized Classes

Spark Math: Free Trial Class
Virtual
Sign up for our free newsletters.
Fun & Unique Kids' Birthday Party Places in Hartford County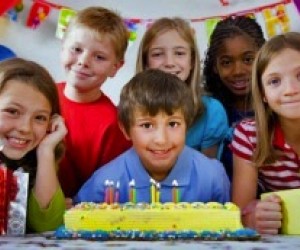 5/9/15
- By
Erin McNamee
Your child's birthday is coming up and your house is a mess—totally unsuitable for hosting a bunch of little bodies. But your kid wants the coolest party ever. So what do you do? Read this post, of course! We've found some great kids' party places in the Hartford area that are original and offbeat, ensuring an awesome birthday experience that doesn't involve you cleaning your house. You can find even more birthday bash options in our Party Guide, including roundups of museum, spa, and artsy party packages all over Connecticut.
Mini Golf
Take advantage of the warm weather and have a mini golf party. Farmington Miniature Golf and Ice Cream Parlor offers a birthday party package consisting of a round of mini golf and special birthday sundaes from their famous ice cream parlor. If you don't want to risk getting rained out, check out Glow Cove Blacklight Mini Golf at the Canton Indoor Golf Center. Kids play glow in the dark mini golf and have the option to play in the arcade.
Skating Rinks
Remember roller skating rinks? They were en vogue in the eighties, but Ron-A-Roll in Vernon still exists and offers birthday packages for a great throwback party!
If the summer heat is getting to you, consider an ice skating party. Kids will think it's great fun to dig out their skating gear (parents, perhaps, not so much) and pretend it's winter for a day. Veterans Memorial Ice Skating Rink in West Hartford, International Skating Center of Connecticut in Simsbury, and Champions Skating Center in Cromwell offer birthday parties year-round. Packages typically include admission, skate rentals, and use of the party room.
Rock Climbing
Climbing is becoming more popular these days. Central Rock Gym in Glastonbury and Stone Age Rock Gym in Manchester both host indoor climbing birthday parties. Winding Trails, an outdoor recreation facility in Farmington, hosts "adventure" birthday parties, where kids can climb the 40-foot climbing tower and zip line over the trees to a safe landing.
Ponies
For your budding equestrian, a party at a horse stable can't be beat. These parties typically allow partygoers to take turns riding and grooming a horse under the supervision of a riding instructor along with time for pizza and cake in a party room. Avon Valley Show Stables is a great option west of the river; if you hail from the East, Hillside Stables and Hunter's Run, both in Glastonbury, offer party packages.
Active Play
Many people in the Hartford area know to head to Timbergyms when they want to purchase a swing set, but did you know that they host birthday parties too? Kids can play on all of the swing sets in the showroom as well as a bounce house. It's like going to a giant playground with the convenience of being indoors. A magic show and scavenger hunt can be added for an extra fee.
Between both of my kids I have been to many My Gym parties, and they have always been exceptionally run. Older kids, however, might appreciate a more grown-up venue. Check out Gymnastics Training Center in Simsbury and New York Sports Club in West Hartford for variations on the gym party theme.
As an alternative to bounce house parties, check out the trampoline parks Launch, in Hartford, and Flight, in New Britain.
Martial Arts
Master Hwang's Martial Arts Studios in West Hartford and Bloomfield hosts a great party, culminating in each child breaking a board.
Dance
For budding ballerinas, many local dance studios will host dance-themed parties. Imagine Studio and Ballet Theater Company, both in West Hartford, and Glastonbury Dance Center are a few options.
Cooking
I was surprised to learn that Stew Leonard's (Newington) and Whole Foods (West Hartford and Glastonbury) both host cooking birthday parties. Whole Foods offers a ton of cool themes, like Hawaiian Luau, Parisian Cafe, and Kids Can Kabob! -- I would love to be a guest at one of these yummy parties!
Movie Theaters
For a low stress party, Hoyts Simsbury Cinemas and Bow Tie Cinemas in Hartford and West Hartford offer movie-themed birthday parties. Seats are sectioned off so party kids can sit together during the movie before celebrating in the party room.
If you still can't find what you're looking for, don't sweat it: birthday parties are more about who you are with than where you are. A low-key event out or at home surrounded by friends and family is sure to brighten the day of any birthday girl or boy.