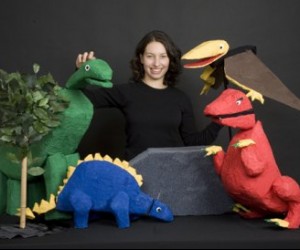 Free Summer Children's Entertainment in Suffolk County
Not all summer entertainment for children has to come with a hefty price tag. In fact, several shows across Suffolk County on Long Island are being offered for free. We've rounded up those local concerts--now all parents need to do is grab a lawn chair or picnic blanket and get ready to shimmy, shake and smile with the little ones!
If you can get enough free entertainment for your kiddies, cross the border and view our Nassau County version. Looking for more cool things to do together? Check out our Summer Fun Guide of the Best Things to Do With Long Island Kids.
Meet the Farm Animals
Caumsett Foundation
25 Lloyd Harbor Road, Lloyd Harbor
July 10, 10am-12pm
Cornell Cooperative Extension will visit Caumsett again this year, with their popular program, Meet the Farm Animals, arriving with goats, ducks, sheep, and often surprise guests.
Kids at SouthamptonArts
25 Jobs Lane, Southampton
Starting July 10, 4:30pm
Every Thursday afternoon, The Kids at Southampton Arts program is offering puppet shows, live animal encounters, etc. The next programs are on Thursday, July 10 - Puppet Showplace Theatre Retells Robin Hood and Quogue Wildlife Refuge: Meet the Animals. Then on July 17, Goat on a Boat Pupper Theatre and Talking Hands Theatre will present Two Dinosaurs are Better Than One.
Children's Shows at Port Jefferson Village
Port Jefferson Village Hall
121 W. Broadway, Port Jefferson
Starting July 10 at 6:30pm with comedian/magician Steve Rodman.July 17 – Mike Maione – The Silly Magician, July 24 – Songs by Lena, July 31 – The Very Cool Music School and Aug 14 – Cheryl the Circus Performer
Family Fridays at The Common Ground
The Common Ground
Candee and Gillette Avenues, Sayville
Next one is on July 11, 6:30-9:30pm
Every Friday will have a different theme and/or live performance. Click here to see the schedule.
Didi Maxx in Concert
Hoyt Farm
200 New Highway, Commack
July 11, 7:30pm
Children's entertainer Didi Maxx will perform. Concert-goers are welcome to bring a picnic, chairs and/or a blanket.
The Funny Man Show
Caumsett Foundation
25 Lloyd Harbor Road, Lloyd Harbor
July 12, 10am-12pm
Ellis Adler, creator and star of The Funny Man show will have children continually laughing while they watch him perform.
Dirty Sock Funtime Band
Heckscher Park, Huntington
July 15, 7:30pm
Family-friendly rock band.
Magic in the Walled Garden
Caumsett Foundation
25 Lloyd Harbor Road, Lloyd Harbor
July 19, 10am-12pm
Visitors will witness a variety of amazing magic, and many funny and unusual things will happen during the show.
Movie on the Lawn: Monsters University
Town Hall Park, Lindenhurst
July 21 at 8:30pm
Soul Street Dance
Heckscher Park, Huntington
July 29, 7:30 p.m.
A street-dance ensemble in concert, featuring family-friendly hip-hop, classical and new dance styles.
Butterfly
Heckscher Park, Huntington
August 5, 7:30 p.m.
Performed by Hudson Vagabond Puppets. Follow Mari, a Monarch Butterfly, as she grows from her tiny egg, through her caterpillar state, amazing metamorphosis in the chrysalis, and finally on her incredible 1,500 mile journey to Mexico.
Main photo: Two Dinosaurs Are Better Than One, courtesy of Goat on a Boat Puppet Theatre and Talking Hands Theatre.