Best Family Friendly Restaurants in North Salem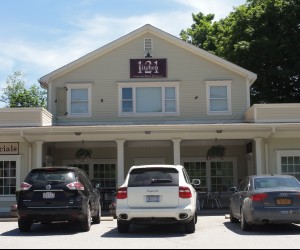 Even though it is a small town, North Salem has become something of a foodie destination in Westchester County. Surrounded by open fields and small farms, many local businesses focus on making the most of the fresh foods available in the spring, summer and fall months. Seasonal dishes and daily specials are common at many of the restaurants and farms in North Salem, Purdy and Croton Falls and it only takes a few bites to understand why.
We continue our month-long coverage of North Salem with a look at the best places to dine or take out with kids in tow. Our picks offer delicious food to satisfy the pickiest palettes and more adventurous diners, and indulgent desserts to top off any meal.
Purdy's Farmer and the Fish - North Salem
100 Titicus Road
Westchester County restaurants don't get much more home-grown than this--nearly all of the vegetables used in this farm-to-table restaurant are grown on the farm just a short distance away from the tables. Specializing in seafood purchased from their supplier, Down East Seafood, the cuisine at Purdy's can best be described as surf and turf with a creative twist. The restaurant has brunch, lunch and dinner menus and, while kids are welcome in the restaurant for all meals, lunch is the best time to test this one out with young adventurous eaters.
Blazer Pub - Purdy
440 Route 22
If you're looking for an all-round fun and family friendly restaurant in the North Salem area, Blazer pub is a great place to go. It's a little loud, very laid back and the food is exactly what you'd want from a local pub--appetizers, sandwiches, salads, burgers and sides. There is no dedicated children's menu, but with regular menu items like chicken fingers, French fries, grilled cheese sandwiches, hamburgers and hot dogs, there really is no need to have one.
Bella Ella's Pizzeria - Croton Falls
2 West Cross Street
Wedged into a tiny storefront parlor in downtown Croton Falls, this adorable pizzeria must put magic into its pies. Though there are a few small tables inside, Bella Ella's is primarily a take out spot. In addition to pizza, their menu features wedges and calzones along with Italian staples like chicken parm and penne al a vodka. For some truly inventive taste combinations (Clams Casino Pizza!) try some of the Gourmet Pies.
121 Kitchen - North Salem
1 Dingle Road
For the parent on the go, convenience often trumps taste. Luckily, in North Salem, this trade off isn't necessary! 121 Kitchen, the quick-stop sister shop to restaurant 121 across the street, offer delicious meals ready to grab and go. For the super fast pit-stop there are cold cases with salads, beverages and yogurts and stands filled with snacks that range from healthy to indulgent. Wait around for a few minutes and order from the ever changing array of options available at the counter. Diners have the option of packing everything up to go or eating at one of the tables in the store.
Who's Cooking? - Croton Falls
14 Front Street
A perennial question in our house, Who's Cooking? in Croton Falls has the answer--they are! This small storefront shop boasts a mouth watering array of grab-and-go items, daily specials, deli sandwiches and home cooked meals that you don't have to cook in your home. Kid friendly options like fruit salad, yogurt, cookies and cheese sandwiches abound and everything is freshly made. Even the pre-prepared deli sandwiches have delicious small touches like grilled bread and herbed mayo--I'm partial to the turkey sandwiches. Feel like doing your own cooking? Take a peek in their deli case for store made sausages, common cuts of meat and organic chicken.
And for dessert...
Bates Northern Farm - North Salem
1 Bloomer Road
What is dinner without a little dessert? Bates Northern Farm, located just across the street from 121 Kitchen, has an adorable little ice cream counter serving up SoCo Creamery ice cream in cups and cones as well as in pints ready-to-go. Dirty Chocolate is our current favorite.
Harvest Moon Farm Market - North Salem
130 Hardscrabble Road
In the mood for pie? Head over to the Harvest Moon Farm Market and pick up a pie made with the best in-season fruits available. While you're there, treat your sweet tooth to some cookies, cider donuts, fudge, cheesecake and coffee.