6 Sweet Ice Cream Parlors & Shops in the Hamptons & North Fork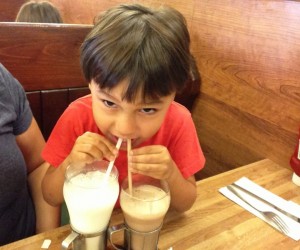 Think about summer and ice cream immediately comes to mind. Sure it's messy: the ice cream melts quickly, creating sticky little hands and the sugary goo inevitably gets everywhere. But just one lick of these homemade sweet treats makes it all worth it--even the calories! So we've rounded up some of the best ice cream parlors and shops on the East End of Long Island. And for more things to do in the area, take a peek at our Hamptons and North Fork Family Guide.
Snowflake
1148 West Main Street, Riverhead
631-727-4394
A Main Street staple for nearly 30 years, Snowflake hand makes both hard and soft flavors. Customer favorites such as vanilla and chocolate and strawberry are on the menu, but so are localized concoctions such as Peconic Swamp Thing (chocolate ice cream with raspberry and fudge). The shop also offer seasonal flavors such as Pumpkin and Egg Nog.
Magic Fountain
9825 Main Road, Mattituck
631-298-4908
Operating at its Mattituck location since the 1970s, Magic Fountain's barn-like facade goes along with the East End farm life. Yummy soft and hard ice cream, as well as cakes, sandwiches and even frozen dog treats, are all on hand. Special flavors include Lavender and Rice Krispie Crunch.
Sandpiper
142 Main Street, Greenport
631-477-1154
This family-owned ice cream shop in downtown Greenport has been around since 1979. This fun place is a great way to end a day of window shopping, strolling and carousel riding. There is also a countertop-height eating area.
Candy Kitchen
2391 Montauk Highway, Bridgehampton
This old fashioned luncheonette on Montauk Highway serves up lunch and homemade ice cream and milk shakes. Large seating area can accommodate big groups. Note: This establishment accepts cash only.
Star Confectionery
4 E Main Street, Riverhead
631-727-9873
This family-run old school luncheonette serves up delicious breakfast and lunch, as well as homemade ice cream, shakes, egg creams and more. Vanilla ice cream with Oreos is our favorite here, as well as the thick milk shakes. Simple food and friendly service. Note: This establishment accepts cash only.
Scoop Du Jour
35 Newtown Lane, East Hampton
631-329-4883
At Scoop Du Jour, the warm waffle cone/bowl smell wafts into the streets. In addition to ice cream and frozen yogurt, it offers donuts. Located in the heart of East Hampton village, this charming shop only has a few seats, so plan to take your goodies to go.
Main photo: Star Confectionery, Riverhead. By Jaime Sumersille