26 Free and Fun Kid Spots in Connecticut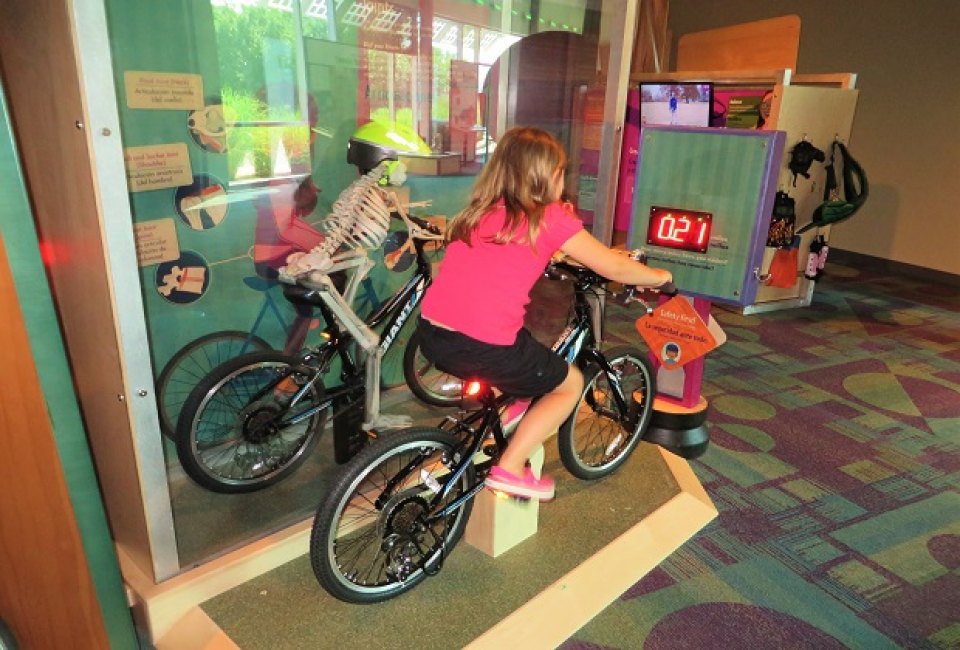 3/4/16
- By
Clementina Verge
They say there is no such thing as a free lunch, but there are certainly plenty of places in Connecticut where you can enjoy free admission throughout the year. In no particular order, below are some favorite and worthwhile destinations that will entertain and educate your family, whether your preference is sports, history, art, nature, or hands-on play. Considering free access to state beaches (and many parks and forests) before Memorial Day and after Labor Day, and local library passes that provide discounted or free year-round admission to many state attractions, it's easy to see that having fun doesn't require a fortune -- or crossing state boundaries.
HARTFORD COUNTY

Dinosaur State Park
Though visiting the Exhibit Center entails a small admission fee, exploring the grounds is free. Enjoy two miles of trails and the Dinosaur State Park Arboretum, go bird watching, have a picnic, and observe a pond ecosystem. In 2016, the park is celebrating the 50th anniversary of the discovery of dinosaur tracks in Rocky Hill; special programs and giveaways take place throughout the year.

400 West Street, Rocky Hill 860-529-5816
Northwest Park
Lace up your walking shoes and enjoy 12 miles of trails. Children will enjoy visiting farm animals, and a nature center equipped with interactive exhibits and a cozy reading/play area. Admission is free to the grounds and the nature center, but be prepared for the kids to spot something in the small gift shop.
145 Lang Road, Windsor 860-285-1886
New Britain Youth Museum
Learn, play, bond with animals, and participate in weekly arts and craft classes offered in the Children's Studio. This museum focuses on the history, art, and cultural heritage of the diverse people of Central Connecticut. Activities include puppet theater, construction toys and games, and the Dinosaur Room. Admission here is free, but please note that this is not the case at the Hungerford Park location.
30 High Street, New Britain 860-225-3020
Heublein Tower at Talcott Mountain State Park
Hike a 1.25-mile trail that leads to the top of Talcott Mountain where beautiful vistas await, along with the Heublein Tower. The historic home, which belonged to Gilbert Heublein (manufacturer of A1 Steak Sauce and Smirnoff Vodka) is open Memorial Day weekend through Labor Day weekend. Free tower tours are offered Thursday through Sunday at 11 a.m., 1 p.m., and 3 p.m. Situated 1,000 feet above the Farmington Valley, the tower offers incredible views and the grounds are equipped with restrooms, picnic tables, and a water fountain.

Summit Ridge Drive, Simsbury 860-242-1158
Westmoor Park
Enjoy trails sprawled over 162 acres, visit farm animals, say hello to the snakes and turtles in the small nature center (where a few other critters reside), test your knowledge of botany in the green house, or celebrate sunny days with a picnic overlooking flower gardens; Westmoor Park is a local treasure enjoyed by visitors of all ages.
193 Flagg Road, West Hartford 860-561-8260
Museum of Connecticut History
A visit here will provide an enjoyable lesson in social studies and teach visitors of all ages about our state's history. You can peruse portraits of governors, browse the Colt Firearms collection, study American coins from the 17th century to the present, and check out other important state souvenirs. The museum is located in the Supreme Court and Connecticut State Library building. On Saturdays from 9 a.m. to 2 p.m., you can score free parking in the lot adjacent to the building (enter from Oak Street), and all-day free parking is available on Hungerford Street.
231 Capitol Avenue, Hartford 860-757-6535
4-H Education Center at Auerfarm
Sprawled on 120 acres, Auerfarm is a perfect spot to experience tranquility and learn about farm life. Children will be happy to romp in the meadows, spot butterflies in the flower gardens, and greet farm animals. Read more about A Visit to Auerfarm.
158 Auer Farm Road, Bloomfield 860-242-7144
Elizabeth Park
Open every day of the year, this historical park is beautiful in every season and host to many free events such as the winter sled derby, and summer concerts and dance productions. Its flower beds are impeccable and the pond is a favorite place for young visitors enchanted with the ducks and geese. Bring a picnic, art supplies, or a good book, and make it a special day under the canopy of majestic trees.The food at the Pond House Cafe is not free, but it sure is delicious.
1561 Asylum Avenue, Hartford 860-231-9443
New Britain Museum of American Art
Enjoy free admission every Saturday when you enter the museum between 10 a.m. and noon. Peruse the latest exhibitions, relax in the newly expanded children's play area, create a masterpiece during Family Open Studios (Saturdays from 11 a.m-2 p.m.), and stroll through the sculpture garden in the adjacent Walnut Hill Park. Many local libraries provide museum passes that grant free admission anytime for up to four people.
56 Lexington Avenue, New Britain 860-229-0257
Connecticut Historical Society
Enjoy free admission to the galleries during the first Saturday of every month and enjoy special family programs, such as Happy Birthday Dr. Seuss! and Cars, Trains, and Airplanes. A child favorite is the Making Connecticut exhibit, which contains more than 500 artifacts highlighting life in our state for the past four centuries.
One Elizabeth Street, Hartford 860-236-5621
Wadsworth Atheneum Museum of Art
Arrive between 10 a.m. and 1 p.m. on the second Saturday of each month and enjoy free admission for the day. Each month features a variety of family programming, such as Green Up, Making Sense of Sound, and Steampunk! If you're interested in visiting at other times, check with your local library for museum passes that grant free admission to two adults and two children.
600 Main Street, Hartford 860-278-2670
Historical Hartford Tours
Though tours are by reservation only and available only eight months a year, visiting the Governor's Mansion in Hartford allows the opportunity to see the Colonial Revival home built in 1909, which has served as the residence for Connecticut governors and their families since 1945. While in the city, take time to visit Bushnell Park, home to the Soldiers and Sailors Memorial Arch, and the beloved carousel that runs Friday through Sunday, 11 a.m. to 5 p.m. Rides are just $1. You can also enjoy State Capitol Tours Monday through Friday.
NEW HAVEN COUNTY
Hubbard Park's Castle Craig Tower
You can break a sweat hiking to the summit of East Peak, or drive to the top between May 1 and October 31. Enjoy sweeping views from the top of Castle Craig, and then relax while taking in the beauty of Hubbard Park. Let the kids burn energy on the large playground, or take a stroll around Mirror Lake. Throughout the year, enjoy seasonal celebrations, such as the Daffodil Festival in April and the Festival of Lights in December.
999 West Main Street, Meriden 203-630-4259
Ansonia Nature Center
Enjoy miles of trails, a beautiful playground, and a nature center that is home to critters and a play area. Every Saturday at noon, resident animals are featured during the popular Creature Feature program, and a guided hike takes place every Sunday at 1 p.m.

10 Deerfield Lane, Ansonia 203-736-1053
Yale Peabody Museum of Natural History
The museum offers free admission from 2 p.m. to 5 p.m. on Thursdays, between September and June. Let your imagination soar as you roam with dinosaurs in The Great Hall, get up close to gemstones, learn about daily life in Egypt, and let dioramas provide insight into North American creatures. The museum offers a handful of free admission days throughout the year, including Dr. Martin Luther King, Jr. weekend in January, Fiesta Latina! in October, and Summer's Last Roar in August.
170 Whitney Avenue, New Haven 203-432-8987
FAIRFIELD COUNTY
Weir Farm National Historic Site
The only national park dedicated to American painting is a must see for any art enthusiast. The landscape is exquisite, and the historic house holds many memories and special artifacts. Children can participate in the Junior Ranger program, and the entire family can explore the pond and streams, or enjoy painting outdoors, drawing inspiration from the tranquil surroundings. Grounds are open year-round; the buildings (including the visitor center) are open May 1 to October 31.
735 Nod Hill Road, Wilton 203-834-1896
The Barnum Museum
Interested in seeing a 4,000-year-old mummy? Circus enthusiasts will enjoy exhibits including artifacts that belonged to P.T. Barnum, Tom Thumb, and others. The museum is open Thursday and Friday from 11 a.m. to 3 p.m.
820 Main Street, Bridgeport 203-331-1104

Stepping Stones Museum for Children
The museum offers free admission on the first Thursday of every month between 5 p.m. and 8 p.m. That's plenty of time for fun exploring exhibits like Energy Lab, ColorCoaster, Build It!, and Express Yourself, the newest addition.

303 West Avenue, Norwalk 203-899-0606
Bruce Museum
Enjoy free admission on Tuesday and all the museum has to offer: its collections include art, textiles, science, history, and ethnology. Learn about changes in our land, life between the tides, the earth's minerals, and community connections.
1 Museum Drive, Greenwich 203-869-0376
National Helicopter Museum
Opening for the season on May 26, this small museum features photographs, multiple models, and a helicopter simulator; an upcoming exhibit includes a photo essay and model of the first helicopter flight in Stratford 75 years ago. Aviation buffs will be interested in seeing all the helicopter pioneers, and learn more about Igor Sikorsky.
2480 Main Street, Stratford 203-375-8857
OTHER AREAS
KidCity Museum - Middlesex County
Enjoy free admission on the third Thursday of every month, between 5 p.m. and 7 p.m. Children will have a blast in the Fishery, visiting the pint-sized medieval village called Middleshire, and checking out the Farm and the Video Theater. The Main Street Exhibit is closed on-and-off for construction during the upcoming few weeks, but the rest of the museum is open for exploration.
119 Washington Street (Route 66), Middletown 860-347-0495
Submarine Force Library and Museum - New London County
Open every day except Tuesday, the museum contains a comprehensive collection of submarine artifacts. As the only submarine museum operated by the United States Navy, it includes thousands of documents, photographs, and artifacts. The best part for children is descending into the USS Nautilus and exploring its many rooms and history.
One Crystal Lake Road, Groton 800-343-0079
The New England Civil War Museum - Tolland County
Open the second and fourth Sunday of every month, this small museum was established by Civil War veterans who sought to make sure that those fallen in the war were not forgotten. Over time, many members donated personal wartime relics, bringing the museum to fruition. It is a place that provides historians and those interested in the past a place to study and conduct research related to the Civil War in southern New England.
Vernon Town Hall, 14 Park Place, Rockville 860-870-3563
J. Robert Donnelly Husky Heritage Sports Museum - Tolland County
A trip to the Husky Heritage Sports Museum will make any UCONN fan happy since the collection spans more than a hundred years of intercollegiate athletics competition. Admire team photos and national championship logos, and browse the National Champions Gallery highlighting key moments in soccer, field hockey and basketball. Closed on weekends.
UConn Alumni Center, Alumni Drive, Storrs 860-486-1500
The Benton - Tolland County
This Connecticut State Art Museum is open seven days a week and features more than 6,500 works of art reflecting the 15th through the 21st centuries. Special events include family-friendly programs such as Carefree Drawing, every Friday between noon and 2 p.m.
245 Glenbrook Road, Storrs 860-486-4520
White Memorial Nature Center - Litchfield County
Explore thousands of acres (about 4,000 to be exact) of pristine landscape lush with plant life, grand evergreens, insects, and woodland critters. This is a wonderful place for hiking, biking, horseback riding, and other outdoor activities. Kids will love the Boardwalk trail; other popular destinations include the Trail of the Senses, the Ice House Trail, and the Interpretive Nature Trail. Access to the property is free, but the Nature Museum (a visit is optional) requires admission. They consistently offer free admission weeks which can be confirmed by visiting their website.
80 Whitehall Road, Litchfield 860-567-0857

Have a wonderful time exploring these state treasures, and if you know of other attractions that offer free admission, feel free to share with us in the Comments section.
Sign up for the Mommy Poppins Newsletter today!