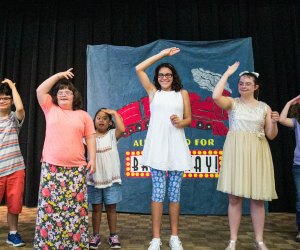 Extracurricular Classes in Houston for Children With Special Needs
One of the many benefits of living in a large city is that there are many, many resources (and places to play) for children of all abilities. While this is not a comprehensive list, here are some great options for classes, lessons, and activities around Houston for children of all ages with disabilities. For more ideas on classes and enrichment opportunities, check out our classes guide for Houston kids. And please send us a note at editor@mommypoppins.com if you would like to recommend an organization to add to our list.
Horseback riding
SIRE Therapeutic Horsemanship - Various locations
SIRE has three facilities around Houston - in Richmond, Hockley, and Spring - and each offers lessons and programs for children (and adults) with disabilities. The organization stresses the impact equine-assisted activities have on riders with disabilities, including how riding helps with development, social, physical and intellectual growth. Participants must be at least 3-years-old and are accompanied by volunteers until they are able to ride independently.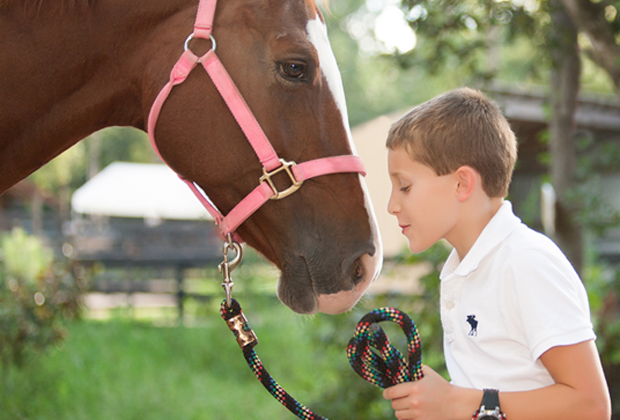 Equine therapy is said to greatly improve an individual's physical and mental wellbeing/Photo courtesy Panther Creek Inspiration Ranch
Panther Creek Inspiration Ranch - Spring
25902 Glen Loch Drive, The Woodlands 77380
281-719-9322
Panther Creek offers therapeutic horseback riding lessons and horse care for children and adults with disabilities. Lessons are typically 30-45 minutes and once a week, and instructors pair horses and students based on personality, disposition, and the child's developmental needs.
Fine arts
River Performing and Visual Arts Center - Midtown
1475 W. Gray St., Houston 77019
713-520-1220
Houston's Theatre Under the Stars offers a wide variety of performing arts classes for children and young adults with disabilities. Siblings are also encouraged to participate. Children must be at least 4 years old, and classes are grouped by age and include piano, mixed media, acting, and even dance. Packages are typically four classes in four weeks, and times and days vary depending on the topic.
En Avant Studio - Katy
2525 Porter Road, Katy 77493
281-391-7779
En Avant dance studio's Special Dancers class is for dancers with special needs who are 5-years-old and older. Participants must be mobile and will learn basic steps, ballet movements, and character miming. There is a spring performance in April/May each year for dancers to show off their moves!
Gymnastics
Discovery Gymnastics - The Heights
747 N. Shepherd Drive, Ste. 400, Houston 77007
713-680-0045
The classes for children with special needs at Discovery Gymnastics cover basic gymnastic skills, balance, gross and fine motor coordination, personal development, and, of course, lots of fun. Participants need to be at least 4-years-old, and each class has a ratio of at least 10 to 1. Call the office for updated class times and details.
K2 Academy of Kids Sports - Cypress
15255 N. Eldridge Parkway, Cypress 77429
281-655-7272
The gymnastics center's SOAR program features one-on-one lessons for children with special needs as well as a shadow program, where the child participates in one of the facility's other classes and is accompanied by their own coach. K2 also hosts Respite, which is a free parents night out for children with disabilities and their siblings.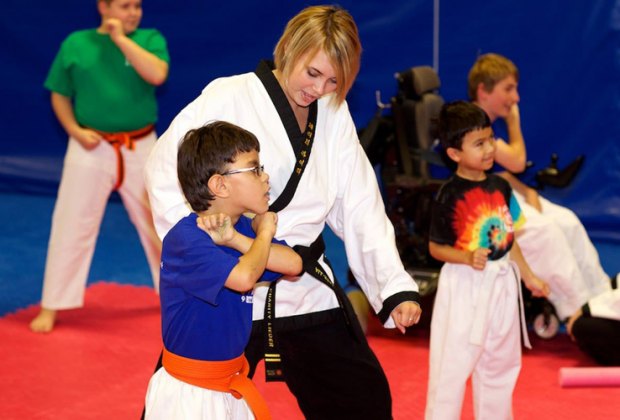 The Samurai program is tailored for children with special needs/Photo courtesy All-Star Martial Arts
All-Star Martial Arts - Cypress
14405 Telge Road, Cypress 77429
281-373-5425
All-Star Martial Arts' Samurai program is for individuals with disabilities, and participants must be at least 6-years-old. Classes involve a range of martial arts and practices, and there are also scholarships available through nonprofit Inspiring Possibilities.
Water activities
SafeSplash Swim School - Various locations
SafeSplash has five locations around the greater Houston area: Cypress, Katy, Sugar Land, Missouri City, and Pearland. It offers private and semi-private swim lessons to children with disabilities, and staff will meet with families to assess each student prior to the lessons.
Texas Adaptive Aquatics - Atascocita
103 Page Lane, Huffman 77336
281-324-4653
Texas Adaptive Aquatics is located northeast of Atascocita on the shores of Lake Houston and offers people with mental and physical disabilities to enjoy the thrill of water sports! Available programs include water skiing, sailing, and kayaking, and include classes for beginners to serious competitors. Note: TAA's facility was damaged during Hurricane Harvey. As of Fall 2017, clean-up efforts were still underway and the facility expected to re-open in Spring 2018. Check the website and Facebook page for updates and ways to help.
Sports
Little League Baseball - Challenger Division
Little League commissioned the Challenger Division in 1989 to allow children ages 4-18 years old with disabilities to play in a league of their own. Players are typically accompanied by a "buddy" who helps them fine-tune their skills and abilities, and the equipment used is lighter and softer than typical balls and bats. The following Houston Little League charters offer the Challenger Division:
Sagemont Beverly Hills Little League - Southeast Houston
9400 Hall Road, Houston 77089
sbhill@hotmail.com
West University Little League - West University
Huffman Little League - Huffman (Northeast)
2100 Wolf Road, Huffman
hillkeeper@yahoo.com
East End Little League - Inner Loop
713-306-4182
Pearland Little League - Pearland
pearlandlittleleague@gmail.com
Combination
Social Motion Skills - West Houston
1450 W. Sam Houston Parkway N., Houston 77043
713-461-7200
Social Motion provides classes, programs, workshops, support groups, and more for both children and adults with disabilities and their caregivers. In terms of extracurricular classes, there is a huge variety to choose from - music, robotics, sports, and more.
For posts like this delivered to your inbox, subscribe to our FREE newsletters!
Top photo courtesy River Performing and Visual Arts Center