Beaches Negril Jamaica: All Inclusive Caribbean Resort for the Whole Family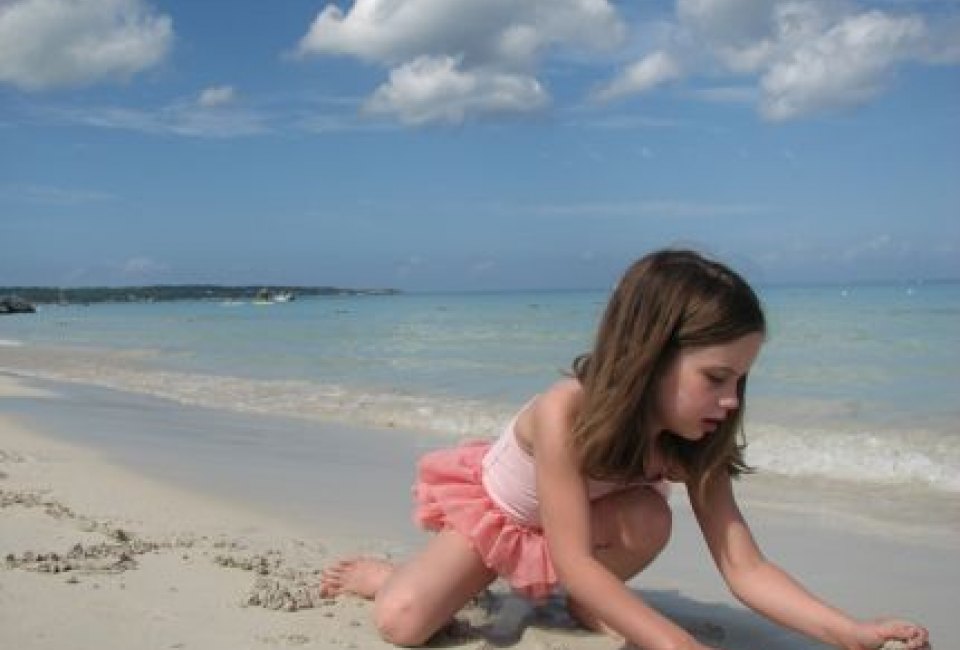 6/22/12
- By
Katia
I'm not the best candidate for a tropical vacation in Jamaica. I freckle and burn, I don't like seafood and I'm not crazy about reggae. So when we were invited to review Beaches Luxury Family Resort in Negril I felt a little guilty that all that sun, sand and fun may be wasted on me. Or that having our children with us would stress my husband and I out, since I tend to think of island vacations as relaxing, romantic destinations. I even thought maybe I didn't really need all that luxury.
I was so wrong. This vacation was everything I needed and Beaches Negril is an amazing family vacation destination where everyone will have fun. Read on to find out why Beaches Negril should be top on your list for your next family vacation.
All Inclusive Dining
I had a jaded idea that all-inclusive was going to be a slightly better, slightly larger version of the crappy "buffet" that roadside hotels offer. This was not the case. The Beaches all inclusive food selection was extensive, fantastic and completely took the stress out of all meals.
All-inclusive means that I don't have to require all four members of my family to agree on a cuisine type. When my picky eater tasted the many courses and didn't find them delicious (as the rest of us did) I was able to lean in and say, "It's okay. You must be polite, but you do not have to eat right now. As soon as we are done we can get you a burger or pizza or any number of other things." And so it went for the entire three days of our trip. Meals were a breeze. The kids were pretty happy with the self-serve ice cream too.
I had my favorites among the restaurants, but I didn't get to try them all and there is such a variety that you can stick to familiar favorites, like pizza or burgers, or indulge in seafood and more local cuisine, like the amazing jerk chicken. The first night of our stay we were lucky enough to secure a reservation at Kimono's (one of the two restaurants at Beaches Negril that takes reservations, the other six need no reservation). Kimono's is a teppanyaki restaurant, where the chef chops and prepares all the food on the iron griddle in front of you. Our chef kept a constant lively banter and clowned and sang for the kids. They loved it.
Water slides, The Lazy River, and the Swim Up Bar
Beaches Negril has an 18,000 Square foot water park included in your stay with two water slides, three pools, a lazy river and other amenities.
Both my son and daughter loved the lazy river, and it was a great low key way to relax and stay cool. My kids, 6 and 8, were both comfortable on the slides and still found them thrilling, and all of us loved the swim up bar (can I get one of those at home please? ) By the end of our stay, my six year old was swimming up to the bar in the pool next to the water park area (which naturally seemed to be the pool for families with younger children), and ordering a Pink Princess or a Superman slushy kid's drink. Honey, can you spell "heaven"?
Kids' Entertainment
Beaches Negril is an official sponsor of Sesame Street. We saw Sesame Street shows that were fun and lively--even for my oldest, who is clearly too old for Sesame Street (as he will tell you). There are many opportunities to mingle with the characters as well as add-ons that you can pay for, like a special breakfast or a character tuck in.
My daughter was tucked in and read a bedtime story by Cookie Monster. The actual reading was done by a friendly staff member in pjs and a sleeping cap. Both participants were kind, sweet and super funny. She was over the moon. The tuck-in is a splurge, but it's a worthy splurge that had all the parents talking.
During my tour of the property, I also got to peek in at the nursery, which seemed calm and cozy and was staffed by such nice and gentle child care attendants. Actually, though every member of the staff was exceptionally courteous, the child care staff, from infant care to kids camp to the person in charge of the tween and teen programs were especially engaging and caring. My kids warmed up to the counselors immediately in kid's camp.
In addition, there are locations like Scratch DJ Academy, where anyone from 5 and up can learn how to scratch and be a dj, a playground, a mini-golf course, tons of scheduled activities and a hangout room and club room for tweens and teens. My son's favorite was the X-box garage, which had 20-something stations of Xbox games on large screens, plus a few Kinect stations, complete with two couch areas for those who just want to watch.
The Beach and Water Activities
A half hour after our arrival we joined the weekly parade. Sesame Street characters, stilt walkers and a band all perform and mingle in front of the hotel and then lead the guests in a parade down to the beach for a barbeque. When the parade got to the beach my children split off from the group and walked like lemmings straight to the water.
Being creatures of the northeast, they had never gone swimming in water that wasn't a little chilly. They waded in, and this is when our vacation really started, because when they turned and asked if they could just swim in their clothes, I gave them a whole-hearted yes. The water is lukewarm to warm and so salty that it is easy to float on the surface and gaze at the sandy bottom. (Bring your goggles for the beach. All that salt can sting!)
Part of that all inclusive wonder is an area to the side of the swimming beach with free access to snorkels and goggles, kayaks, windsurfers and paddle boats. You can even go scuba-diving. It's just gilding the lily to tell you that the resort is part of the Earth Check Program and has sound environmental practices, like water conservation, so you can swim in the beautiful waters of the Caribbean and know the resort is making efforts to take care of that water.
The Spa
In addition to all the amenities for your children, I will mention the beautiful, serene Red Land Spa. I was a little too busy swimming and flying down the water slide to partake in the spa services and it is my only regret about my visit. I toured the facility and it was pristine and, well, spa-like.
If I were planning for you, I'd recommend scheduling a massage for your first day, before you have the chance of getting your shoulders a little pink. If being in Jamaica isn't enough to make all your cares melt away, Red Lane Spa will do it for you. I spoke to a few new friends who did get a massage and they all had that glowy, pleased look about them. Note that spa services are not included in the all-inclusive. Rates are on the Beaches Negril website.
If you'd rather work up a sweat to leave the world behind, there are plenty of sports available to guests, and an impressive gym.
Going
On a side note, when we were in Negril it was May, the beginning of the rainy season, which I found to be lovely. Just when the day was hitting the highest temperatures, a fifteen minute light shower or sprinkle of rain would breeze through and then be gone. And further, though there seemed to be lots of people around all the time (including watchful lifeguards), the resort never felt crowded. There are more amenities than I can mention, more than we could take advantage of in the few days that we visited, but I left feeling so incredibly content.
This is not an inexpensive trip, and my husband and I questioned the airfare alone, as we are more accustomed to staycations. But within hours we were overjoyed that we had decided to go, and agreed that it would be worth saving for a future stay. There are so many ways to make this vacation customizable to your family and your family's interests, but no matter what you choose, the real magic of Beaches Negril is that at the end of the day the kids were completely exhausted in that wonderful, fall-asleep-in-five-minutes way, and my husband and I were relaxed and happy. The entire stay was effortless, and I think secretly we each felt like we were having the most fun. I might even like reggae a little now.
Beaches Negril Resort and Spa
Negril, Jamaica

Click Here to Sign Up!