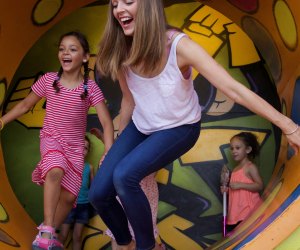 Summer Fun in Connecticut: Festivals, Fairs, and Carnivals You Don't Want to Miss
Ahhh, summer—the sun rises early and sets late, and the day's pace is slower. There are countless hours to fill with excitement and relaxation, and our Connecticut Summer Fun Guide will help you plan some seriously awesome adventures. On those days not spent at the beach, Connecticut's many outdoor festivals and fairs will have your family feasting on cotton candy or dancing in your lawn chairs. Indulge in fresh strawberries, introduce the kids to poetry and jazz, show them how cool old cars can be, and listen to their screams of excitement coming from carnival rides. Grab a picnic basket and a blanket, pack your camera, and marvel at all the fun Connecticut's festivals and fairs have to offer.
Want more? We've got guides on TONS of idea on how to get the MOST out of Summer! Check out our Theme & Water Parks Guide for ideas to stay cool, or peruse through our complete Summer Fun Guide. Click through to our listings for all the details, including address, time and prices.
Eastern CT
Niantic Lobsterfest/Arts and Craft Show - Niantic
The Niantic Lions Club has cooked up the Lobsterfest and Chicken BBQ into a local summer family tradition. Besides the delicious food, peruse tons of vendors and browse amazing works of art at the juried art show.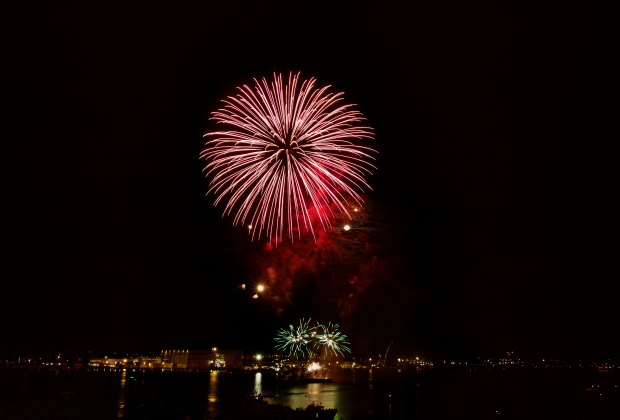 Sailfest - New London
New London's premiere summer event with vendors, three stages of entertainment, amusement rides and midway, tall ship tours, and more. Kiddos can enjoy their own entertainment at the children's stage. The highlight of the weekend festival is the Saturday Night fireworks display, one of the largest in the nation, over the Thames River. Skip downtown for fireworks viewing and head over to Fort Trumbull for excellent views and a large area for the kids to run around.
Connecticut Family Festival - New London
Two festivals have come together as one to create the single largest family fest in southeastern Connecticut. This year's event will celebrate it all, literature, the arts, boats, music, and the environment.
North Stonington Fair - North Stonington
Carnival rides, tractor pulls, hay bale tosses, music, all the good things that make a country fair special.
Stonington Village Fair - Stonington
Don't be fooled by the small sound of this village festival. Stonington Village Fair draws thousands every year to check out the pottery tent, artisan booths, live music, amazing food, and all sorts of fun activities for the entire family. The best part? Admission is free.
Lebanon Country Fair - Lebanon
Not only will you find all the country fair staples like livestock, carnival rides, indulgent food, and contests of all sorts, there's also monster trucks, a full lineup of music, and much more.
Mystic Outdoor Art Festival - Mystic
New England's premiere juried art show, right on the streets of Mystic. Fine artists in oil painting, sculpture, watercolors, photography, and more, will show their work, along with local crafters and artisans. Stop by the Mystic River Park for the Children's Art Park where kids can make their own masterpieces. Don't miss the delicious food vendors, too.
The Brooklyn Fair - Brooklyn
Founded in 1809, this is one of the oldest continuing agricultural fairs in the state. There are all the things you'd expect, live animals, agricultural exhibits, contests, rides, food, plus a lineup of music on two separate stages.

Photos Courtesy Of: PFC, B. Carilli, S. Boyle, A. LaRose
​
​Plainville Balloon Festival - Plainville
​Plainville Fire Department hosts this fair now in its 33rd year. There are three days of events, including a fireworks show on Friday night, but for the highlight of the whole weekend, you have to be extremely punctual. Balloon launches are scheduled for Saturday at six in the morning and evening or Sunday at six am Don't be a second late, they go fast.
Woodstock Fair - Woodstock
It's a Labor Day tradition! Held at the Woodstock Fairgrounds, the Woodstock Fair offers agricultural exhibits (including a birthing center, where you can view a cow birth a calf right before your eyes!), animal and farm equipment competitions, entertainment, music, food, and carnival rides (not to mention, the biggest Ferris wheel around).
Four Towns Fair - Somers
The story goes that this fair began with a friendly competition between farmers back in 1839 to see who had the best oxen team. The event was so well received that a committee formed and the Four Towns Fair was born. These days it's everything a country fair should be.
Ledyard Fair - Ledyard
Pie eating contests, oxen pulls, and tons of family fun, this fair is a celebration of all things Ledyard.
New Haven County
Midsummer Fantasy Renaissance Faire - Ansonia
Enter a world of history, imagination, magic, and fun for all ages. Here the fairies are real and the food really delicious. Shoot arrows, throw axes, meet a princess or a sword fighter. No matter what, this will be an epic day for the whole family.
Connecticut Irish Festival - North Haven
Enjoy the sounds of Irish music, savor traditional food, and partake in entertainment for adults and children, including a petting zoo. Nick Fradiani headlines on the mainstage Saturday night. Free admission for kids 12 and under.
Guilford Art Center Craft Expo - Guilford
The Guilford town green will be home to the Annual Guilford Art Center Craft Expo. The Craft Expo is considered to be one of the top craft shows in New England, featuring American crafters, children's crafts, a silent auction, and a food court. Children under 12, active military, and members receive free admission.
Orange Volunteer Firemen's Carnival - Orange
Have an evening of family fun at the Orange Volunteer Firemen's Carnival. Enjoy rides, entertainment, food, games, and raffles. A spectacular fireworks display will light up the sky on Friday and Saturday night. Admission and parking are free.
Potato & Corn Festival - North Branford
An event for the entire family, the North Branford Potato and Corn Festival features live music, food, games, contests, hay rides, a car show, and much more. Enjoy fireworks on Saturday. Admission: Free. On-site parking for a fee. Free Shuttles from Stanley T. Williams School and North Branford Intermediate School.
Milford Oyster Festival - Milford
Rain or shine, the 44th Annual Milford Oyster Festival will be a hit. Enjoy live entertainment, arts & craft vendors, amusement rides, a schooner boat cruise, plus canoe and kayak races. Don't forget about the more than 30,000 oysters! Free admission and parking, and shuttle service from Jonathan Law High School and CT Post Mall.
Fairfield County
Ethos Greek Festival - Stamford
From authentic Greek fare to rides and games with Stewart Amusement, the Ethos Greek Festival in Stamford will have plenty of fun for the whole family.
Porch Jam - Rowayton
If you dream of summer days hanging out on your front porch listening to music, then this event is for you! This year is the inaugural Porch Jam! Sixteen Rowayton homes have generously donated their porches for sixteen bands whose performance times will be staggered over the course of the afternoon.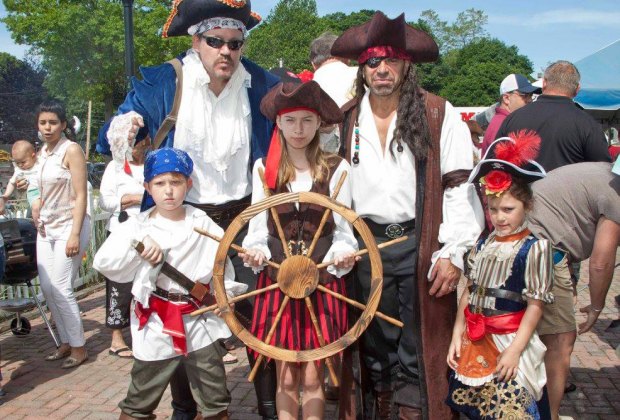 Pirate Day - Milford
Ahoy Matey's! Join the rest of the scaliwags for a family-friendly day of adventure, treasure-hunting and a swashbuckling good time! Start the day with Pancakes with Pirates and stay for the arrival of Captain Kidd himself as he arrives aboard "Oz" in Milford Harbor.

Yankee Doodle Fair - Westport
Enjoy amusement rides, Touch-A-Boat, sand art, musical performances, an international food court, and more at Westport's carnival-style Yankee Doodle Fair on the grounds of the Westport Women's Club.
46th Annual Strawberry Festival - Monroe
Celebrate strawberry season with this juried crafts show complete with strawberry shortcake, strawberry pie, children's games, and music.
Weed Beach Festival - Darien
Kick off the summer at Weed Beach with three great bands, inflatable slides, sailboat rides, kayak and paddle board rentals, and kids activities in the Kids Cove.
Rowayton River Ramble - Rowayton
This annual tradition is a day of fun and festivity for kids and adults. There are plenty of fun games and activities on Five Mile River, such as the petting zoo, bouncy castle, giant water slide, obstacle course, face painting, and the ever-popular dunk tank.
Darien Sidewalk Sale and Family Fun Days - Darien
Visit the Goodwives Shopping Center and merchants around Darien for a few days of shopping, live music, bouncy castles, and lots of kid fun. Food, fun, and bargains galore.

Image courtesy of NICE Fest
NICE Festival - Norwalk
The Norwalk International Cultural Exchange is hosting its second annual NICE Festival to celebrate global heritage and culture through music, food, art, and talent. The NICE Festival will feature dancers, musicians, food, and craft vendors. Proceeds from the festival will support local charitable organizations and their fight against poverty, hunger, and slavery.
Village Fair and Sidewalk Sale - New Canaan
Sponsored annually for more than 50 years by the Chamber of Commerce, this fair offers local residents and regional visitors an action-packed, bargain-filled, entertaining, and delicious way to spend a summer day in one of the most charming towns in Connecticut. In addition to sales and discounts, there will be live music, magic shows, and face painting for the kids.
Easton's Annual Fireman's Carnival - Easton
Head to Easton's Annual Fireman's Carnival the first week of August for an old-fashioned local carnival that appeals to all ages. Grab a seat on the bumper cars, The Ali-Baba Swing, or The Cliff Hanger.
St. Leo Fair - Stamford
Sample international foods, enjoy carnival rides, and try your luck at The Bingo Parlor at the St. Leo Fair. Plus, there will be live music each night starting at 7:30pm in the Lion's Den.
Norwalk Oyster Festival - Norwalk
Join the Norwalk Seaport Association's 40th annual Oyster Festival for three days of entertainment, arts and crafts, and great food. The Kid's Cove will host children's activities on both Saturday and Sunday including karate demonstrations, variety shows, and character meet and greets.
Hartford County
Pride Week - Manchester
Celebrate the city's arts and culture scene with a week-long celebration featuring concerts, a rodeo, an art show, hikes and history walks, dancing, and a sandwich contest. Many activities are free.
Celebrate West Hartford - West Hartford
This fair allows local organizations and businesses to showcase themselves to the community. Enjoy games, rides, food, entertainment, road races, and more. There is no admission charge for the event and many of the activities are free.
Strawberry Festival and Craft Fair - South Windsor
A fun event filled with kids' activities, including face painting, tractor and train rides, a petting zoo, and more. They are also said to have the World's Best Strawberry shortcake, so go find out for yourself.
New Horizons Strawberry Festival - Farmington
Featuring an arts & crafts fair, face painting, costumed super heroes, a magician, an antique car show, fun carnival games, music, and strawberry shortcake, this day is sure to be fun.
Strawberry Festival - Cheshire
Enjoy mouthwatering fresh strawberry shortcake and other treats at the celebration of this traditional New England Festival. Activities include a petting zoo, face painting, toddler games, and more.
Klingberg Vintage Motorcar Festival - New Britain
Admire hundreds of antique and classic cars spanning decades of automotive history, sprawled on 40 acres. The family-friendly event features children's activities, music, and food.
Sunken Garden Poetry Festival - Farmington
Pack a picnic dinner, grab a blanket, and listen to some poetry and music in the garden at Hillstead Museum. Children under 18 are free, and free on-site parking is available.
Riverfest - East Hartford
Enjoy the largest one-day fireworks celebration in Connecticut. Riverfest features live bands, amusements, kids' activities, great food, and more.
Litchfield County
Roxbury Pickin' n Fiddlin' Contest - Roxbury​
Bring a picnic blanket and sit back and relax as you watch folk musicians pick and strum their way through this annual contest - the biggest of its kind in the Northwest Hills!
Litchfield Jazz Festival - Goshen
Spend a day (or two) sitting on a blanket in the Litchfield Hills watching amazing jazz musicians perform on stage. Launched in 1996, this annual festival attracts people from across the country.
Bridgewater Fair - Bridgewater
The fun kicks off on Friday night with the traditional Fireman's Parade and keeps rolling through the weekend. The rest of your weekend will be filled with activities and entertainment, amazing food, rides, games, music, livestock, shopping, arts and crafts, contests, and more.
Cover Photo courtesy of Chris Mandelburg Sailfest Photographer.