Inflatable Fun! A Visit to Bounce Town in Canton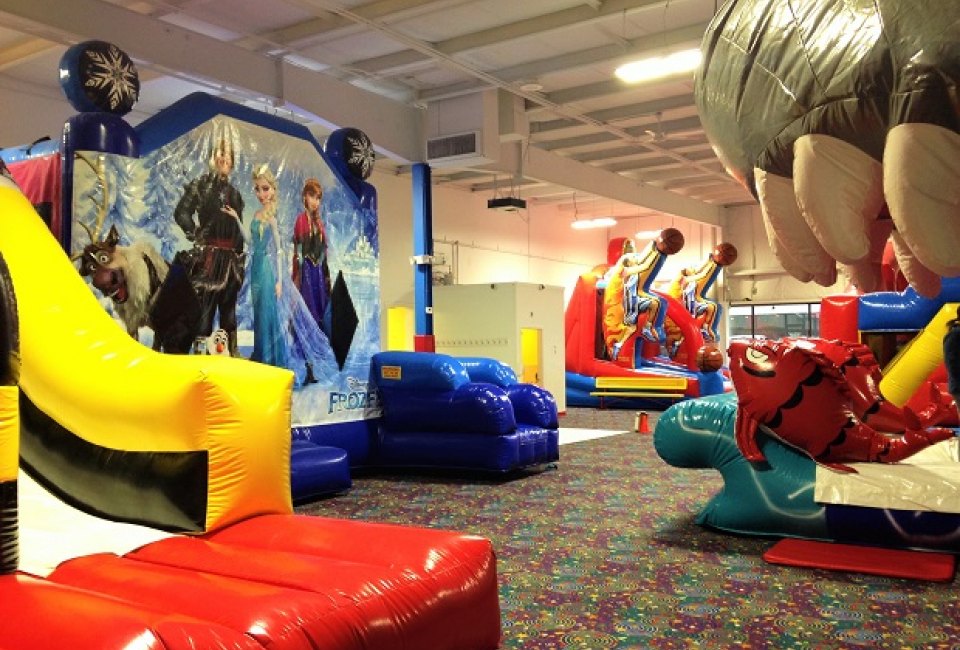 12/30/17
- By
Clementina Verge
Too wet? Too cold? Too hot? No problem. The climate-controlled Bounce Town in Canton provides a great outing for children, no matter what the season or the reason. Oversized inflatables will entertain for hours: rush up the ladder of a fire truck, go under the sea on a Nemo-like adventure, chase each other through a Frozen bouncy house, giggle your way down the bumpy Kahuna slide (my daughter couldn't get enough of this one), and challenge each other to a basketball shootout. Kids will leave exhausted, happy, and begging to return.
So what can you expect? After a quick check-in at the friendly front desk - sign a waver and pay $10 per child, plus tax (no charge for adults) - you'll step into a small area dedicated to shoe cubbies and coat hooks. If you forgot socks, you can purchase them here for $2 a pair.
Something that's priority on this mom's list is cleanliness, and this place has it. Don't be upset that you have to leave shoes at the door and that no outside food and drinks are allowed; it's for good reason. You won't find sticky spots, stains, or crumbs on the inflatables.
What you will find in addition to the bouncy playscapes is an EyePlay interactive floor mat that's fun for all ages (no children over 12 are allowed on the equipment unless they are assisting younger siblings). Score a soccer goal, try to win a hockey round, or chase and squish a variety of items.
Instead of heavy-duty metal benches, the seating could be a bit comfier for parents, but perhaps that will come with time; then again, if you're chasing young kids, you won't be lounging too much. The same goes for the flat screen mounted on the wall: the screaming and laughter of children will drown out any television programming, so you might as well take a few trips down a slide.
The admission cost covers four hours of play and don't be surprised if the kids want to bounce, pounce, and climb for that long. When they do need to catch their breath, they'll be thrilled to head to the arcade room. Here, you can purchase tokens and the children can play a variety of games, turning their winnings into prizes (like at Chuck E. Cheese's).
No outside food and drinks are allowed, but you can order pizza (inquire at the front desk) and dine at one of the two tables in the entrance area. You can also purchase snacks like crackers or fruit gummies for under $1, and ice cream. A fridge is stocked with soda, lemonade, and Powerade. Bottled water is also an option, as is the water fountain in the main play area.
If you'd rather dine off site, Dish N Dat, Panera, and Chipotle - all child-friendly establishments - are located in the Shoppes at Farmington Valley, about half a mile down the road (turn right onto Albany Turnpike).
Bounce Town's open play hours are 10 a.m.-2 p.m., and 3 p.m.-6 p.m. during the week (closed on Tuesdays), and weekend availability depends on scheduled birthday parties. Call or check the website for details before you head for a visit.
If you're looking for a discount, consider the Play 60 pass, which offers six open play visits for $40. If making single purchases, don't leave without a loyalty card that grants a free play session after eight purchased ones.
Bounce Town is not visible from Albany Turnpke, so look for the Volkswagen dealer. You'll turn right near it on Colonial Road, then make a left on Cheryl Drive where the play zone awaits.
Have fun keeping up with the kids!
Places featured in this article:
Sign up for the Mommy Poppins Newsletter today!