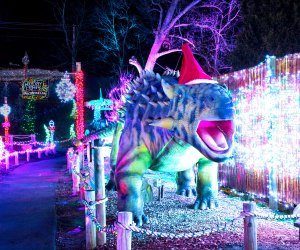 Connecticut's Best Holiday and Christmas Light Displays
Holiday Lights in the Fairfield Area
Light the Lights—Danbury
December 7, 2019
This nostalgic trip down Main Street is always a crowd pleaser. Santa will arrive in a firetruck, and children will enjoy cookies, carols, and more before the lighted parade. Welcome Santa for the season. Free.
Holiday Lights in the Hartford Area
Holiday Light Fantasia—Hartford
November 28, 2018 - January 1, 2020
Fantasia is a very popular two-mile drive through Goodwin Park featuring more than a million whimsical holiday sights. Familiar characters and local tributes shine brightly over 35 scenes and 200 individual displays. Be sure to stop in to the Candy Cane Café in the clubhouse for a bite to eat and to meet with Santa Claus.
Winterfest —Hartford
November 29, 2019 - January 5, 2020
Formerly known as the Festival of Lights, features an array of dazzling lights illuminating Bushnell Park. While you are there, enjoy the free ice skating and free skate rentals at the lighted Winterfest Hartford rink, open daily now through February 1, and visit Santa at the Pump House Gallery on weekends.
The Festival of Silver Lights—Meriden
​Tuesday, November 26, 2019- January 1, 2020
Located at Hubbard Park, you can walk or drive the loop that goes around Mirror Lake and other tiny roads. The display is filled with more than 200 figurines and 350,000 twinkling white lights around the park. It is open daily.
Holiday Lights—Bristol
Open Fridays, Saturdays and Sundays, November November 22, 2019 - December 22, 2020
Located at Lake Compounce theme park, Holiday Lights is a fun holiday event that transforms the amusement park into a winter wonderland filled with thousands of lights, entertainment, and activities. Some of the festivities include a spectacular light show that runs every half hour and the usual Lake Compounce train turned into the North Pole Express. Family-themed rides will be in operation. There will also be indoor activities such as gingerbread house making, photos with Santa, and cookie decorating. They also boast the state's tallest Christmas tree.
Winterfest and the Tunnel of Lights—East Windsor
November 29, 2019 - December 29, 2019
You and your family are invited to enjoy Winterfest. Ride a restored trolley as you travel through a tunnel of colored lights. Return to the winter wonderland that features model trains, entertainment, refreshments, and a visit with Santa. Open weekends through December 30.
Torchlight Parade—Windsor Locks
December 14, 2019
Watch the firetrucks parade through town completely lit up. Children will march with Santa as the lit up vehicles make their way to light up the town Christmas tree. Windsor Locks has a special history as the site of the FIRST decorated Christmas Tree.
Meriden Yulefest and Holiday Market - Meriden
Saturday, November 30, 2019
Santa will be arriving by train to kickoff the holiday season. There will be shopping, food trucks, kids activities, and a tree lighting ceremony. Santa arrives at about 3 pm.​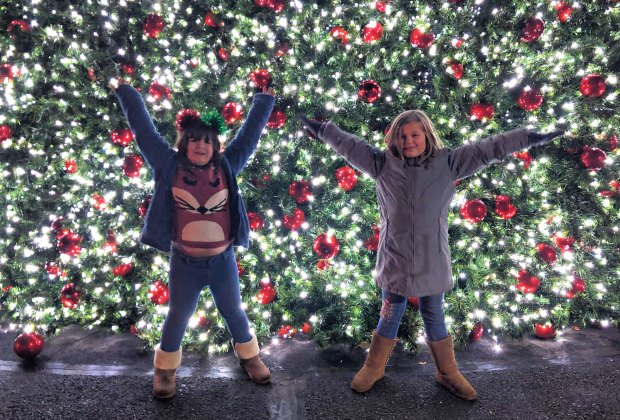 Lake Compounce Holiday Lights. Photo by Ally Noel
Holiday Lights in the Litchfield Area
Christmas Village —Torrington
Saturday, December 8, 2019 - Tuesday, December 24
Head to Church Street and find that special house where Santa, Mrs. Claus, and elves await. This free holiday attraction has been a tradition since 1947. Check the Parks and Recreation website for more information.
New Milford Tree Lighting - New Milford
Saturday, November 30, 2019
Join the Chamber of Commerce for their 53rd annual Trees on the Green event. Santa will be making a visit!
A Christmas Town Festival - Bethlehem
Saturday, December 6 and Sunday, December 7, 2019
A huge family celebration to welcome Christmas-time. There will be music performances, carolers, a concert, a visit from Santa and of course, the town's tree lighting.

Photo courtesy of Lighthouse Point Park Fantasy of Lights
Holiday Lights in the New Haven Area
Shoreline Trolley Museum —East Haven
December 1, 2019 - December 15, 2019
Enjoy holiday lights while riding on a real antique trolley. You can meet Santa, and enjoy complimentary cookie and hot chocolate.
Firelight Festival—Guilford
December 6, 2019
A quiet appreciation of the holiday spirit with festive luminaria, lanterns, popcorn and an outdoor fire. The will be a reading of "The Night Before Christmas." Located at the Henry Whitfield House Museum.
Fantasy of Lights—New Haven
November 15, 2019 - December 31, 2019
Held at Lighthouse Park, unique lit displays include 100,000 lights and 80 animated displays. Purchase 3D glasses so you can enjoy some of the lights in an even more thrilling way.
Holiday Lights in Eastern CT
Northern Lights at the Mystic Aquarium - Mystic
December 7 - January 4, 2020
Mystic Aquarium will be decked out in lighted pathways for you to follow. See the Arctic Animals lit up. Search for hand-crafted lanterns.
Mystic Tree Lighting and Lighted Boat Parade - Mystic
November 30, 2019
A unique way to bring in the holidays. Watch as Santa arrives in a legion of lit boats at 2pm. Later in the day, the Mystic tree will be lit as well. Boats will be given awards for creativity and team spirit.
Original published December, 2016