18 Fun Chicago-Area Outdoor Restaurants for Families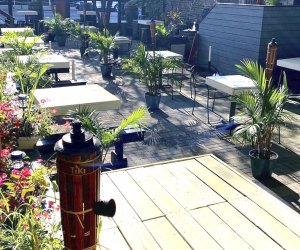 5/7/21
- By
Maureen Wilkey
Deep dish pizza season has ended and grilling season has begun throughout the Chicago area, which means it's also time to enjoy a meal outdoors at Chicago area restaurants. Many restaurants have vastly expanded their outdoor seating areas (and tricked them out!) during the pandemic, and now families can take advantage of the gorgeous weather and outdoor seating to dine out in style.
Sure, lots of kid-friendly foods are available from Chicago restaurants serving takeout, but it's nice to have a break from eating out of paper bags and boxes. From grilled sausage to whole roasted duck and lazy coffee-fueled brunches to late afternoon pretzel-fueled beer breaks, these are our favorite Chicago-area outdoor restaurants where families can enjoy a delicious meal outside their own four walls.
During Phase 4 of the Restore Illinois plan, restaurants can open their outdoor dining as long as tables are at least six feet apart and no parties of more than 10 are seated together.
North Side Restaurants with Outdoor Seating
After indulging in sausages and brews on the expansive rooftop patio, you can buy some to bring home from the European market downstairs at this Lincoln Square hot spot. Kids will love the hot dogs, pierogis, potato pancakes, and pretzels as big as your head, all served with at least half a dozen different mustards. The menu rotates weekly, so come back often to try every kind of sausage.
Big Star—Wicker Park and Wrigleyville
True to its name, this patio is, well, big. Big Star serves nearly every kind of taco you can think of, plus kid-sized quesadillas, all priced individually so you're not paying for food your kid may or may not eat. Nachos, queso fundido, and flautas are great for the whole table to share, and big ol' margaritas and palomas for the adults add to the fun. If kids need even more space to roam than this big patio, get lunch to go and eat at the park.
The Royal Grocer & Co. has a patio that sits slightly below sidewalk level, giving a unique perspective to families dining there. Its kids' menu features a burger, mac and cheese, and chicken tenders—or families can order snacks like pimento cheese or French onion dip for the table. Bocce, curling, and cornhole make this patio fun and gives kids something to do while parents finish dining.
These sister restaurants are teaming up to serve diners in the Broadway area of East Lakeview. This was the first street in Chicago to shut down to vehicle traffic to accommodate additional seating. Kids enjoy the thrill of sitting near the street while adults can take in house-brewed beers, bar snacks, and burgers.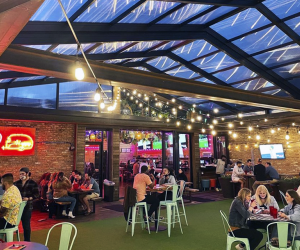 Dine on the heated patio or in the actual camper at The Happy Camper.
Dine on the heated patio or in the actual camper at this Wrigleyville pizza destination. The restaurant sells Happy Camper hoodies and blankets for extra warmth on days or evenings when the temperature dips. Choose from pizzas with meats, chicken, or veggies only and save room for a s'mores skillet or trio of ice cream sandwiches rolled in different cereals for dessert. Reservations are required through Open Table.
Want to pretend you're an early American settler on the Great Plains? Frontier's rugged fireplace-heated patio is the perfect place. The restaurant is known for its whole-animal dinners, which serve 10 or more adults, but during these days of smaller-group dining, you might be better off ordering some of the meat-heavy standards from the menu, including burgers, ribs, salmon, and brisket. Kids may also like the five-cheese mac and cheese. The restaurant's rustic brunch—which includes peach cobbler French toast, biscuit (sandwiches or with gravy), and breakfast burgers—is also popular. Reservations are required.
Kids eat free from 4pm - 6pm at this Southport Corridor Midwestern-style restaurant. The eatery has been serving the justly famous takeout lemonade since early in the pandemic, but now diners can enjoy Chicago favorites like Paulina Market sausages and barbecued baby back ribs on its large patio (with some lemonade to wash it down). Save room for the cookie skillet for dessert.
This 100-year-old building used to be an auto body shop, but now it houses a butcher, deli, restaurant, and bar, with a beautiful rooftop patio open for dining. Families can enjoy burgers, deli sandwiches, steak frites, and salads, with a view that stretches all the way to the Willis Tower.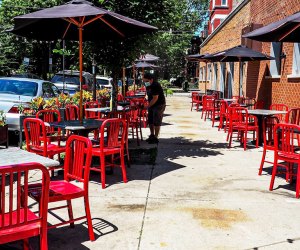 Grab a pie and enjoy the fresh air at Roots Pizza.
Roots Pizza—West Town and Lincoln Square
This Quad Cities transplant has two of its locations open for patio seating (the Second City location is still takeout and delivery only). Families can choose traditional favorites, like sausage or garden pizzas, or go a little more adventurous with chef collaboration options like Korean fried chicken or chili cheese curd pies. Reservations are available on the Roots website.
Downtown and South Side Spots with Outdoor Seating
Both kids and adults can indulge in hot dogs made with duck fat at this South Side hot spot. Other favorites include Italian beef sandwiches, burgers, and duck wings served with Japanese barbecue sauce. Families with more adventurous palates can order a whole rotisserie duck complete with potatoes, baby kale, strawberries, and green garlic. Duck Inn's garden features both high-top and low seating.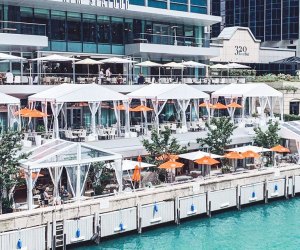 Pizzeria Portofino is a sun-drenched casual restaurant right on the Chicago riverfront.
We all love the lakefront, but the Chicago River has its perks too, especially on a hot summer day. Enjoy appetizers, salad, pizza, and pasta at this Lettuce Entertain You restaurant in the heart of downtown. Pizza Portofino even has boat parking, if that's your preferred mode of transportation.
For breakfast, brunch, or lunch this shaded patio in the South Loop has something for everyone. The reasonably priced kids' menu includes French toast, egg and cheese sandwiches, grilled cheese, PB&J, and hot dogs. Adults can enjoy upscale, locally sourced bakery treats and sandwiches, plus a wide selection of coffee and tea or local craft beer. A second bakery location in Pilsen also has a smaller patio.
Outdoor Dining at Suburban Al Fresco Spots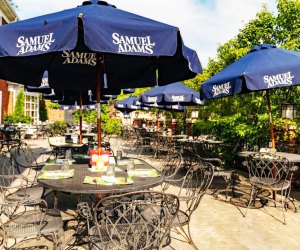 Enjoy a family meal under a shady umbrella at Hackney's.
Hackney's—Glenview (North Suburbs)
Famous for the Hackney Burger on dark rye bread and original French-fried onions, this classic North Suburban restaurant has plenty of space on its outdoor patio. Open since the 1930s, this family-friendly eatery offers something for everyone, from burger sliders to a full bar.
The large beer garden adjacent to this microbrewery offers plenty of room for social distancing. Elmhurst Brewing Company's kids' menu includes burger sliders, buttered noodles, cheese flatbread, mac and cheese, and chicken fingers—and all items come with both fries and fruit (so no need to choose between healthy and tempting). Pre-COVID, the brewery had a kids' play area including a train table and play grill, so kids may be able to look forward to that once things go back to "normal." For now, adults can enjoy a flight of local brews while kids enjoy the crayons and kids' menu mazes.
After weeks of drive-through pig roasts (!), this four-acre backyard restaurant is now open not only for eating, but also for live entertainment, volleyball, basketball, and lawn games. Daily drink specials may appeal to adults while the whole family can enjoy ribs, fish fry, and barbecue. Seating may be limited on weekdays when the restaurant has less staff.

Devour a delicious brunch on the lush green patio at The Hen House.
This locally owned breakfast, brunch, and lunch spot serves an extensive menu on a lush green patio. The Hen House has something for every member of the family, from basic eggs and bacon to indulgent chocolate and strawberry waffles to specials like the filet mignon benedict.
A South Suburban chef returned home to create an extensive menu at The Girl in the Park, which has wrap-around patio with well-kept flowers. Family-friendly menu items range from burgers to pizza to street tacos to corn dogs. Grown-ups can even enjoy specialty bourbon drinks to complete the meal.
Since 1973, this North Shore restaurant has served upscale American food in a scenic setting. The adjacent hotel, opened in 1984 and acquired by Hilton in 1992, and could make the perfect staycation for North Shore families (just sayin'). The patio here has several firepits and the kids' menu features spaghetti, burgers, pizza, and mac and cheese.
Some photos were taken prior to the pandemic. Photos courtesy of the restaurants