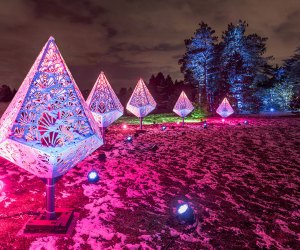 Drive-thru Christmas Lights and Holiday Displays Open in Chicago
Christmas can still be a bright spot in this frequently dark year; several drive-through Christmas lights displays are coming to the Chicago area for the 2020 holiday season.
The new Let It Shine holiday lights show debuts in north suburban Northbrook on November 15 with LED lights synchronized to classic holiday music that families can listen to in their cars. But that's just the beginning.
At the Morton Arboretum in the western suburb of Lisle, the Illuminations: Tree Lights event from years past is to be a drive-thru holiday lights show in 2020 as we all try to maintain social distancing during the pandemic. In previous years, it was an outdoor one-mile nature hike to see the beautifully decorated trees. Illuminations starts November 20.
Both light shows are hoping to be able to provide families with a little holiday cheer during a time when many traditional holiday and Christmas events in the Chicago area, such as Macy's Santaland, are going completely virtual to prevent the spread of the coronavirus.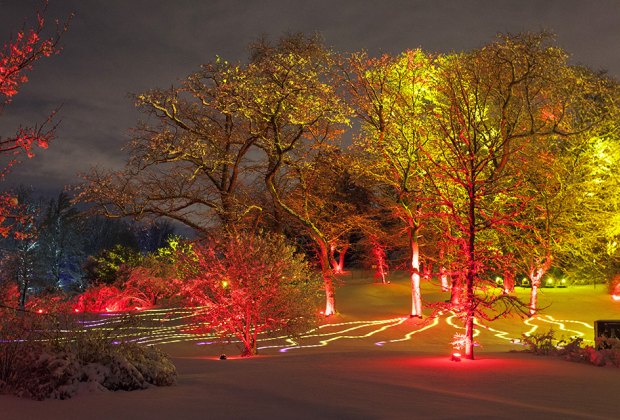 Immerse yourself in the captivating lights all from the warmth of your car.
The new Northbrook drive-thru Christmas lights event features giant archways, glittering candy canes, glowing snowmen, and more throughout the parking lots of the shopping center. Visitors must buy tickets in advance for a time slot between 4:30pm to 10pm, nightly from November 15 through January 9, 2021. Prices start at $29.99 per carload. Fast passes are available for $15 and guarantee that families wait no more than 10 minutes to get into the show. A portion of the proceeds from the event goes to support NorthShore University HealthSystem Kellogg Cancer Center.
RELATED: Best Things to Do in Chicago This November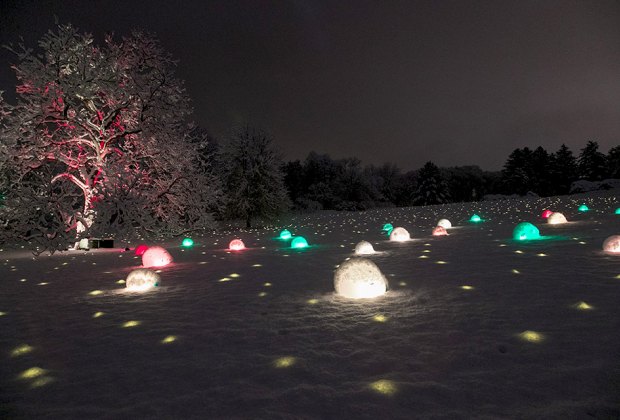 The landscape filled with thousands of lights dancing to a musical soundtrack is magical.
Illuminations: Tree Lights in Lisle, normally a walk-through event, this year is setting up as a 30-40 minute drive through the arboretum's grounds. Some favorite displays return, including Symphony Woods, Woodland Wonder, and Crystal Promenade Many new displays are promised as well. Members rates start at $29 per carload, while non-members pay an additional $10. Larger family groups can make use of a 15-seater van for an additional fee. Illuminations is open on Thanksgiving and Christmas Eve this year to provide more time slots so families can spread out.
"The safety of Illumination guests during this pandemic was the top priority in our decision to transform it into a driving experience this year," says Alicia LaVire, vice president of Marketing and Communications, in a news release. "It also gave us an opportunity to create an innovative new twist on this tree-focused exhibition..."
Far west suburban Aurora's Festival of Lights, which has been a drive-through experience for the last 14 years, continues into 2020. The Rotary Club-sponsored event is free and can accommodate larger vehicles, including buses, for families willing to drive a little farther from Chicago for some top-notch Christmas lights. Families can drive a one-mile loop through Phillips Park to see Santa's Toy Factory, Old Man Winter, elves and reindeer, holiday trains, gigantic snowflakes, and beautiful lighted swags. The event runs from November 27 to December 26, 2020.
Please keep your family and others safe by always wearing masks and maintaining social distancing measures. If an event appears too crowded, try using the "nearby" search feature on our event calendar to find something else to do.
Photos courtesy of the Morton Arboretum