SPONSORED
Temple-Emanu-El's New Manhattan Location Offers Parenting and Play Groups for Downtown Families
Big news for Downtown families in Manhattan! Temple-Emanu-El has opened a new satellite location, bringing their highly esteemed family programming to Chelsea. Temple-Emanu-el operates one of the most coveted NYC preschools and religious programs at their historic Fifth Avenue location. Now families living in Chelsea, the West Village, Tribeca, Flatiron, and other downtown neighborhoods have the opportunity to benefit from educational programs, drop-in classes, special events, and holiday celebrations for babies, toddlers, and young children.
Whether you are curious about Jewish culture, or looking to get your child involved in the Jewish community from a young age, register for the free kick-off Rosh Hashanah festival on September 18 to learn more about Emanu-El Downtown's new satellite campus at 440 West 21st Street (between Ninth and Tenth Avenues) in Chelsea.
Here's a preview of some of the programming and information on how you can save 20% on classes!
Let's Play! – A play-based program for parents or caregivers and toddlers ages 18-26 months (as of September 1, 2022). The class focuses on socialization, independence, cooperative play, sharing, following directions, and more. Toddlers will also learn about Jewish holidays and observances.
Shabbat Together! – A class that helps kids from 12 months to 3 years old get in the shabbat spirit through music, movement, and crafts. Parents or caregivers will attend this Friday morning class with their children.
Downtown New Parent Group – A supportive group for parents of babies up to 12 months old. This group allows new parents to share the abundance of joy and challenges that come with having a new baby.
Religious School – For learners in grades Pre-K-4th grade. A fun meaningful, relevant, and empowering after-school program.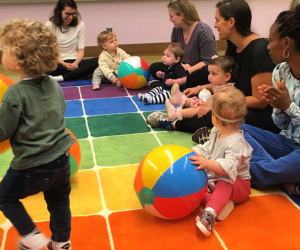 Families of all backgrounds are welcome to join the downtown parenting and play groups.
Temple Emanu-El is currently offering a 20% discount on all classes if you use the promo code DOWNTOWN when registering for Fall 2022 classes. Full and partial scholarships are available for those in financial need. Learn more about the Temple and its programming on the Temple Emanu-El Downtown website.