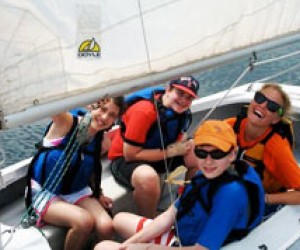 Learn to Sail Programs for Kids in and Around Boston
Taking full advantage of Boston's location - the Charles River to the west and Boston Harbor to the east - community boating programs provide numerous opportunities for kids and families to learn to sail in Boston. Look a little further to the north and south, and options multiply. From annual memberships to five-day passes to one-day rentals, the following sailing centers offer packages that will fit your budget and schedule. Note that many of the lesson and camp programs fill up fast, so be sure to plan ahead.
Community Boating
21 David Mugar Way, Boston
617-523-1038
Community Boating, started in 1946, is the oldest continuously running public community sailing program. Its Junior Program gets about 2,000 kids out on the water each summer. The open, drop-in program for kids ages 10 to 18 runs from mid-June through mid-August. Membership includes classes in sailing, windsurfing and kayaking, access to the CBI's fleet of boats, and the chance to take part in special events like trips to Boston Harbor, family sails, and other field trips.
Program membership for juniors ages 10-18 operates on an income-based sliding scale; application is available via the Community Boating website.
---
Courageous Sailing Center
Pier 4 Charlestown Navy Yard, Charlestown
617-242-3821
Courageous sails out of two locations in Boston - Charlestown Navy Yard and Jamaica Pond. Its 5-Step Summer Youth Program takes students, ages 8 and up, from basic "learn-to-sail" classes, to more advanced cruising and racing classes, right through to instructor training. This program is lottery-based, which means that children are randomly selected. During the spring and fall, Courageous offers after-school sailing for summer sailors who want a little extra practice.
---
Piers Park Sailing Center
95 Marginal Street, East Boston
617-561-6677
info@piersparksailing.org
The Piers Park Sailing Center is a non-profit community sailing program that provides access and instruction for children and adults. In addition to a range of classes for adults, from learn to sail to advanced sailing, Piers Park Sailing Center provides free, fully inclusive sailing and environmental programs for underserved youth who are at-risk or living with a disability (ages 10 and up), and nature programs for those aged 7 and older. Participants in the sailing program work through a curriculum that teaches teamwork, responsibility, and leadership while teaching sailing. Registration opens the end of April.
---
Crimson Sailing Academy
45 Memorial Drive, Cambridge
857-245-4641
The Crimson Sailing Academy offers racing clinics which give scholastic racers the chance to raise their game to the next level; and summer camp which introduces beginning and intermediate youth to the sense of freedom and independence that comes from harnessing the energy of nature and controlling one's own vessel.
---
Boating in Boston
5 Locations
617-299-3392
Boating in Boston began in 2002 by hiring out boats at Hopkinton State Park, and now rents canoes and kayaks, sailing boats, peddling boats, stand up paddleboards and wind surfers at 5 locations: Boston, Spot Pond, Hopkinton, Wakefield, Plymouth, and Bristol, RI. Learn-to-sail lessons are available at all locations.
Kids ages 8 to 15 (10-15 at the UMass Boston location) can spend the summer on the water, learning about sailing or kayaking - or both! Summer camp is available at the Boston, Hopkington, Spot Pond, and Wakefield locations.
Boating in Boston offers membership programs, with which you can turn up to any of the 5 locations and choose from the available sail boats, kayaks, canoes, peddle boats, stand up paddleboards and windsurfers. Your guests pay half price, and there are discounts on day camps and lessons.
What's offered at each location:
Boston (UMass Boating): Kayak rentals and lessons; sailing lessons; kids birthday parties
Spot Pond, Stoneham: kayak, canoe, rowboat rentals; summer camp; sailing and kayaking lessons; kids' birthday parties
Hopkinton State Park: kayak, canoe, rowboat rentals; summer camp; sailing and kayaking lessons; kids' birthday parties
Lake Quannapowitt, Wakefield: kayak, canoe, rowboat rentals; kids' birthday parties
Bristol Harbor, RI: kayak rentals; bicycle rentals
---
Duxbury Bay Maritime School
457 Washington Street, Duxbury
781-934-7555
DBMS offers a variety of programs for all ages and abilities. On-the-water programs include sailing and rowing for children and adults from beginners to racers, windsurfing and kayaking for children, sailboat rental program for adults and motorboat training for teens and adults. On-shore programs include ecology programs for ages 3 through 12 and boating safety courses.
---
Manchester Sailing Association
Tuck's Point, Manchester
978-526-8345
Manchester Sailing Association offers classes for children ages 8 and up (as of September 1st), as well as adults. Most classes are offered in 4 two-week sessions (the introductory Sea Urchin class is a one-week session). MSA is a community sailing program open to both residents and non-residents of Manchester. The program takes place at scenic Tuck's Point and on the docks of the Manchester Yacht Club, with easy access to the Manchester Harbor and surrounding waters.
---
Photo courtesy of Boating in Boston
Originally published in 2012 and updated April 2013; updated by Tara D August 2014